When we discuss digital wallets that allow us to send and receive money, one of the first that comes to mind is Venmo. Originally designed to transfer between acquaintances, the application has now taken a more commercial field, thus providing the opportunity to transfer and receive money to people we may or may not know. Knowing that, is Venmo protected? does Venmo offer buyer protection? does Venmo protect the buyer? are Venmo payments protected? Let's find that out in this article.
Being one of the most widely used payment applications, Venmo seeks to provide its users with certain safety measures searching to provide
protection against possible
scam threats through Venmo
, which have been increasing in number within the payment application. Protection that all users of the application should consider since you never know if at some point it will be necessary.
Buyer Protection with Venmo
Many users wonder if does Venmo have purchase protection because they are unaware that Venmo does have a buyer protection service to protect any type of purchase made by the user. The details of this program are specified in Venmo's user agreement manual, and it is called Venmo purchase protection.
There you will find in detail the specifications of the protection given to users who pay for a personal purchase with Venmo; there you will know if Venmo refunds the money from a scam.
However, a feature of this program is the fact that it does not guarantee money back on purchases made to unidentified users. That is to say, if the payment is made to a personal account not confirmed as a seller, the buyer protection program will not be able to take care of it.
This buyer protection program protects users against any type of refund once they have paid to a registered buyer. It even covers full amounts for shipping costs as long as this has been paid. It also protects sellers so that they will not be scammed.
What is the Buyer Protection Venmo
Venmo offers a robust Purchase Protection program for its users, specifically tailored for payments that are designated as purchases on personal profiles. The primary objective of this program is to provide a safety net for users in scenarios where the purchased item fails to meet expectations. This could be a result of the item not being delivered, arriving in a damaged state, or deviating from the seller's description.
The Purchase Protection program is financed by a nominal fee levied on the seller for each transaction. This fee is computed as 1.9% of the total transaction value, supplemented by a Venmo purchase protection fee of $0.10. Consequently, the buyer is not burdened with any additional costs for this protection, making it an invaluable feature for users of the service.
Occasionally, payment may be erroneously tagged as a purchase, potentially leading to confusion or transactional issues. To address this, Venmo encourages users to contact their Support team. This team is well-equipped to manage such situations and can aid in rectifying the error.
There might be instances where the option to tag a payment as a purchase is not accessible. This could be attributed to a variety of factors, such as technical glitches or service updates. Nevertheless, Venmo reassures users that this feature is likely to be available for future payments, indicating that any disruptions are probably temporary.
For users who need to execute time-sensitive payments, Venmo endorses the use of PayPal. As Venmo's parent company, PayPal offers a comparable suite of services, including secure online payments. This positions it as a dependable alternative for users who need to expedite payment and cannot wait for the purchase tag option to be reinstated on Venmo.
How does Venmo Buyer protection work?
In order for the Venmo Buyer Protection system to work, certain key points must be met. First, as we have already mentioned, the seller must be registered with Venmo properly. So the company clears itself of responsibility for purchases paid through the application to personal sellers not registered as such.
Similarly, if the item has been delivered, the buyer must return it and in the same way prove its return. This is to protect sellers, who are also Venmo customers, from any scam attempts. If an item has never been delivered, there is a greater chance that the return order will be approved. Best of all, you won't have to pay a
Venmo fee
to get a
Venmo purchase protection refund
.
How can I be part of Venmo buyer protection?
One point to note is that not just any transaction or any Venmo account can be part of the buyer protection system. Both the transaction and the account must meet certain requirements.
In the case of a purchase transaction, the following requirements must be met:
The purchase should never have arrived (Proof is required)
The purchase did not meet the expectations set (Must meet the expected standards outlined in the user manual)
The condition of the item, once delivered, was not good
The purchase was not made in person (Including purchases made with Venmo cards)
The seller does not have proof of delivery (In case the claim is made for a product that was not delivered)
The item was damaged during the shipment
Likewise, the Venmo account of the user making this claim must meet the following characteristics:
Have a Venmo protection account in use
Have already tried to solve the problem with the seller
Provide the information in the required time
Open a claim process no more than 180 days after the purchase
No refunds received by any other means
Venmo goods and services protection
Venmo provides Purchase Protection for goods and services transactions. When a payment is marked as "goods and services" or directed to a business account on Venmo, both the purchaser and the seller become eligible for buyer protection Venmo benefits.
In such cases, if any problems arise with the transaction, such as the non-delivery of the item or significant discrepancies from the item's description, Venmo may offer assistance in resolving the matter and potentially provide reimbursement if required.
However, it is crucial to bear in mind that Venmo's Purchase Protection is subject to specific terms and conditions. To gain comprehensive insights into the extent of protection offered and for precise details, we recommend reviewing Venmo's terms of service or directly getting in touch with Venmo
How to dispute a Venmo payment?
Whenever you want to dispute a transfer of a purchase paid through Venmo, it is recommended that you contact customer service. The support team will evaluate your case and will consider a refund depending on what happened.
Likewise, in the case of a purchase, the ideal is to comply with the claim process for the return of a product explained above. You will be able to request a full refund as long as you comply with certain parameters.
Likewise, in the case of payments unrelated to the purchase, although Venmo does not cancel them, you can always request your money back. This is a process that depending on the case could become somewhat tedious, but according to many users, a solution is usually found.
Will Venmo refund my money if scammed
In case your Venmo account shows a payment that you have no idea about, either for a purchase or a personal transfer, the application presents a claim system. It is designed for cases like these where phantom purchases appear in the user's account. In this case, you should immediately contact Venmo's helpdesk and ask for Venmo payment protection.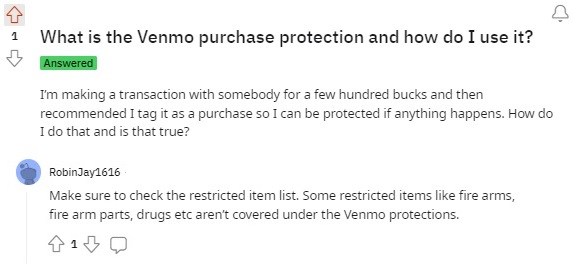 They will verify your information and take care of protecting your account against any kind of hacking or scam, giving a solution to the problem and refunding the money if necessary. However, this does not mean that a solution will be given as such, that is why with a Venmo account you have to be careful to protect yourself from scams.
File a claim on Venmo
To make any type of Venmo purchase protection claim, either related to the purchase of a product or a possible scam, Venmo encourages communication through its contact networks. This can be done through the help chat available on your mobile application or your email support@venmo.com.
Likewise, different help forms are offered through its website depending on the case. The aim is for users not only to report their problems but also to obtain a clear response to these problems.
How to use Venmo purchase protection
Many people ask "Does Venmo goods and services have buyer protection?", "how does Venmo purchase protection work?" Venmo Purchase Protection is designed for Venmo seller protection and Venmo buyers protection in case they do not receive the item they paid for or receive an item that does not match the description.
Purchase protection Venmo only covers certain transactions, such as payments for goods and services. It does not cover payments made for personal reasons.
You must pay through the Venmo app to be eligible for Purchase Protection. Payments made outside of Venmo are not covered.
If you have a problem with a transaction, you must report it to Venmo within 180 days. You can do this by going to the transaction in your Venmo feed, tapping it, and tapping "Problem with Purchase."
Venmo will ask you for information about the transaction and the problem you're experiencing. Be sure to provide all the necessary details.
Finally, wait for Venmo's decision, as Venmo will review your case and make a decision. They will refund the transaction amount to your Venmo account if they rule in your favor.
How To Turn on Purchase Protection on Venmo
To enable Purchase Protection on Venmo, adhere to the following steps:
Ensure that you have the latest version of Venmo installed.
When sending money to another Venmo user's personal account, designate your payment as a purchase.
During the payment process, you will encounter a specific checkbox dedicated to Purchase Protection.
Tick the checkbox to include Purchase Protection for the transaction.
Finish the payment.
By selecting the Purchase Protection option, you will qualify for Venmo's Purchase Protection program, which provides added security and coverage for your purchases.
References