You will be excited to know that there are a lot of job opportunities for teens 14 years old out there in the market. To do a job as a teen can be a fantastic experience for you.
Every job on the list can help you earn money and fulfill your needs. You will be making some cash and gaining valuable experience on your CV. You can use the money to buy your favorite music album or clothes or save it for your college fee or a new car. Let's find out what jobs I can get at 14.
How to get a job at 14: Tips for finding jobs at 14 years old
Securing jobs to do at 14 in the USA can be challenging due to labor laws and restrictions on the types of work that minors can undertake. However, there are still opportunities available if you know where to look for jobs for 14 years old, where to work at 14 and how to prepare for the best jobs for 14 year olds. Here are some detailed steps you can follow:
Understanding Labor Laws
The initial step before searching what jobs can you get when you are 14 is to acquaint yourself with the labor laws in your state. These laws aim to protect minors from exploitation and ensure their safety in the workplace.
Each state has unique regulations regarding the minimum age for employment and the number of hours you can work. Some states may also impose restrictions on the types of jobs and industries that minors can work in. It's crucial to understand these restrictions and requirements before you commence your job search.
Obtaining a Work Permit
"How old do you have to be to work" is a frequent and confusing question because, in numerous states, minors under the age of 16 are required to secure a work permit before they can start working. This legal document permits a minor to work in certain types of jobs.
You can typically obtain a work permit from your school's guidance counselor or your state's labor department. The process for securing a work permit may differ by state, so it's crucial to find out the specific requirements in your area.
Exploring Local Opportunities
Once you have a grasp of the labor laws and have secured a work permit, you can begin exploring job opportunities in your community. Look for jobs that take 14 year olds workers, such as grocery stores, restaurants, movie theaters, or amusement parks.
Some places may have specific programs or positions available for teenagers. These jobs can provide a great opportunity to gain work experience and learn valuable skills.
Preparing a Resume
Even if you lack substantial work experience, you can still create a resume. This document should highlight your skills, interests, and any volunteer work or extracurricular activities you have participated in.
Even if these activities are not directly related to the job you are applying for, they can demonstrate to potential employers that you are responsible, motivated, and capable of learning new skills.
Networking and Asking for Referrals
The power of networking should not be underestimated. Speak to family, friends, and neighbors to see if they know of any job opportunities for someone your age. Personal connections can often help you discover job openings that may not be publicly advertised.
You can also ask for referrals, which can provide an advantage when applying for jobs and seeking who hires at 14.
Approaching Employers Directly at stores that hire at 14
If you're feeling confident, you can visit local businesses and inquire if they have any job openings for teenagers. Dress appropriately and be prepared to fill out an application or provide your resume.
Be polite, confident, and show enthusiasm for the job. This can leave a positive impression on potential employers and increase your chances of getting hired.
Considering Online Opportunities
If finding a traditional job proves challenging, you can explore online opportunities. This could include freelancing, tutoring, or participating in paid surveys. Just ensure to research and verify the legitimacy of any online jobs for teens offers. There are many scams out there, so it's important to exercise caution.
Lastly, remember that your education should always be your primary focus. Ensure that any jobs you can have at 14 doesn't interfere with your schoolwork or violate any labor laws. Balancing work and school can be challenging, but with careful planning and time management, it's certainly achievable.
After discussing whether can you get a job at 14 and the main points to keep in mind when looking for jobs for a 14 year old, let's look at what jobs can you do at 14.
What jobs can you have at 14?
If you're wondering, "What jobs can I do at 14?", "what can you do at 14?" and are looking for employment opportunities, a diverse range of options are available. Many companies offer part time jobs for 14 year olds, allowing you to earn some extra money while gaining valuable work experience.
When teens reach the age of 14, they often crave independence and want to earn their own money. Fortunately, many options are available for young people who want to gain work experience and earn extra income.
A standard job for 14-year-olds is to work as a babysitter or nanny. This job offers the opportunity to gain childcare experience, develop communication skills, and earn money while helping families care for their children. Many families are willing to hire responsible young people to care for their children for a few hours daily.
Another possibility is to work in the hospitality industry as a busboy or dishwasher in a restaurant or cafeteria. These jobs may involve physically demanding work but can provide valuable work experience and teamwork skills. Teens can also learn to communicate with customers and handle difficult situations while working in restaurants.
In addition, some teens perform small chores for neighbors or family members, such as mowing the lawn, gardening, or walking the dog. These jobs can be a great way to earn money and learn responsibility and time management skills. Taking on these tasks can also help develop a sense of community and responsibility toward helping others.
Starting a small business is also an option for entrepreneurial people. You could offer tutoring services, create and sell handmade products, or provide graphic design or video editing services if you have specific skills or talents. Starting a small business at a young age can be a great way to generate income and gain business experience while learning how to manage finances and work independently.
You may also be able to work as a newspaper or leaflet delivery person. This flexible employment option allows you to manage time and work within your local community. It can also help you develop communication skills and marketing and advertising knowledge.
If you are passionate about animals, consider working as a dog walker or pet sitter. Many people need help caring for their pets when busy or on vacation. It's a fun way to earn money by spending time outdoors and with animals. It can also help develop a sense of responsibility toward pet care and animal welfare.
Finally, exploring online opportunities is another option. Many companies and websites offer online jobs for teens, such as taking online surveys, writing product reviews, or even creating and selling crafts on e-commerce platforms. This can be a convenient and flexible way to earn money working from home and help develop digital skills and an understanding of online marketing. In the next section, we will look at jobs 14 year olds can do in detail.
What job can you get at 14? Jobs to work at 14
In the United States, there are restrictions on the types of jobs that individuals under the age of 16 can perform. However, there are still some jobs for 14 year olds. Let's see what jobs hire at 14.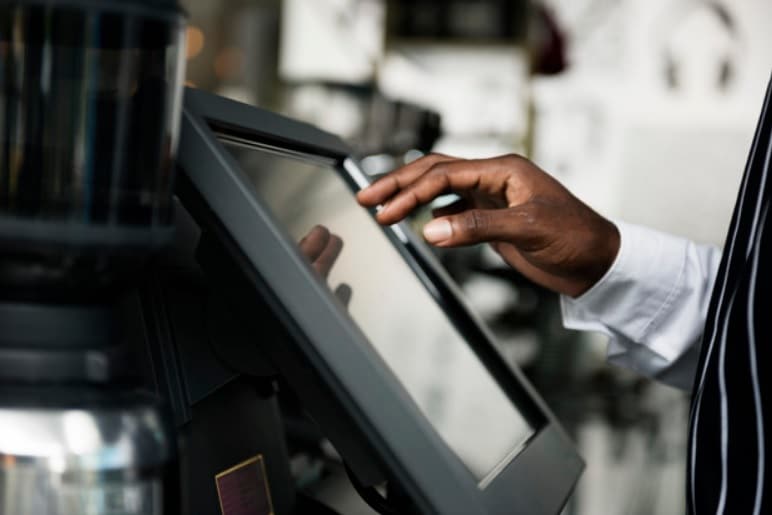 Cashier
One of the jobs you can get at 14 is Cashier. You can work at retail stores and fast-food restaurants to receive payments, issue receipts or refunds, count the money, and balance the cash drawer.
Caddy
Caddies work in golf courses and country clubs. They are responsible for carrying golf bags, holding the flags, consulting the players about which club to use, raking sand bunkers, and cleaning golf balls. This is an excellent option for those asking where can you work at 14.
Barista
If you can make a good coffee, try your luck as a barista. Coffee shops hire baristas to prepare the beverages, assist customers in choosing menu items, and keep the work area, equipment, and sitting area clean.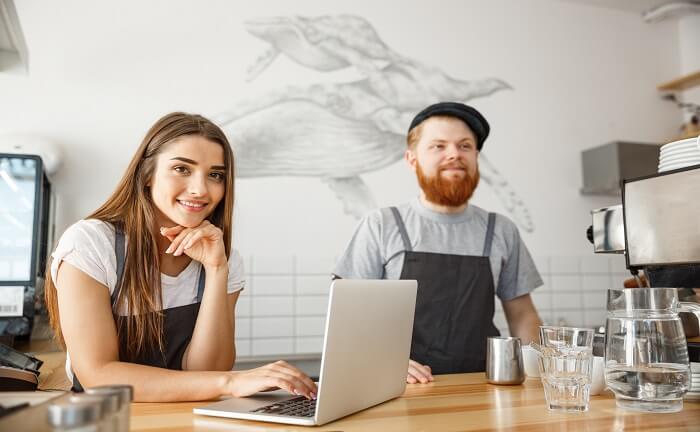 Busser
Another job for 14 year old is at a restaurant as a busser. Your task will be to clear the utensils and drinkware from tables, clean the eating surfaces, beverage refilling, and carry food to the tables.
Tutor
If you are good at your studies, why don't you leverage it to earn money? As a tutor, your role is to help students focus on their education, understand the concepts, and prepare them for their exams. You have to give one-on-one time to the student and teach a specific subject.
Dog walker
For a pet lover, a dog walker can be a dream job. You need to take out the dogs for a walk and exercise. You may take one or multiple dogs at a time. Depending upon the dog's health and breed and your client's instructions, the duration of the walk for each dog will be different.
➡LEARN MORE: 10 Jobs that don't Require a Degree
Grocery bagger
Grocery bagging is a simple task of assisting customers who enter the grocery store by organizing and carrying the grocery bags to the customer's vehicles.
Lifeguard
This is a great idea for those who love summer, but where can I work at 14 as a lifeguard? Well, lifeguards work at public and private pools and maintain the pool environment. Their task is to ensure visitors follow safety rules and provide immediate emergency care, such as CPR until the emergency crew arrives.
Camp counselor
A camp counselor spends time with youngsters who love spending their time outside. If you can lead those youngsters and enjoy playing with them, the camp counselor can be the best job for you.
Dishwasher
At 14 years old, you are probably experienced at doing dishes. You can use this skill to earn some cash. Dishwashers typically work at restaurants, clean dishes, and other cookware, and arrange the dishes properly.
Babysitter
The job that generates the most opportunities for a 14 or 15-year-old is babysitting. Not only can you get it quickly, but it will also allow you to get good pay. You can earn between $13 and 18 dollars.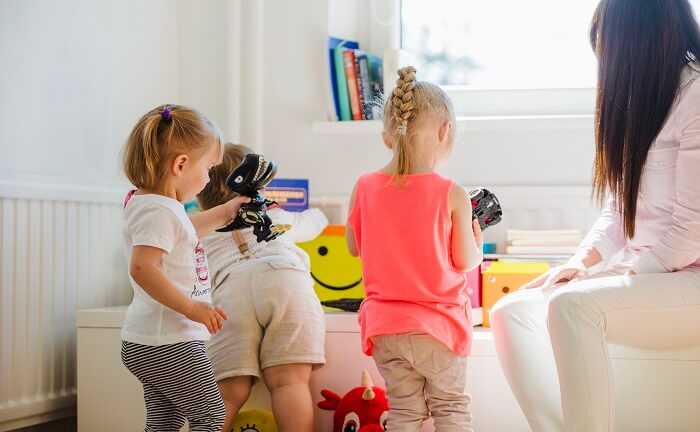 If you are interested in finding a babysitting job, you can apply on BabySits, a community dedicated to this profession. On Jooble, you can also search for jobs that hire at 14 and jobs u can get at 14 without experience.
Car Washer
Places that hire at 14, like Automatic car washes, have replaced manual washes. It is a job where you can get between $10-$15 per hour. While it has been trendy, you may have to look hard to find one. However, you can still get the supplies to do the job, for example, in your neighborhood.
Paper Delivery Person
Newspapers continue to offer these 14 years old jobs to those interested in starting their work experience. The job application is simple, although a work permit may be required. The pay is minimal. If you are interested in delivering newspapers, go to your local newspaper and check the requirements to get started.
Pet Sitter
Just as children also need care, so do pets. It is an excellent possibility to generate income since it is a job that people usually give to young people between 14 and 15 years old. Best of all, it only requires attention and care. In addition, it complies with the legal aspects of part-time jobs for minors.
The pay also varies, but you can earn between $15 and $18 per hour.
Garden Assistant
Gardening is an ideal job for those looking to gain work experience. If you're good with plants, you can search for jobs as a garden assistant in your neighborhood or on popular platforms like Indeed or Snagajob. According to ZipRecruiter, pay ranges from $14 to $25.
Pool Cleaner
Several neighbors probably have pools if you live in a neighborhood with large homes. A good alternative is to work as a pool cleaner. Since it doesn't require as many hours per day, it can be helpful if you're going to school.
Like the car wash job, you can buy your tools for more credibility. With these summer jobs for 14 year olds you can earn between $10 and $15 per hour and may have fewer requirements than others.
Fast Food Worker
If a teenager thinks of a job, they automatically think of fast food places like McDonald's or Burger King. These are companies that accept underage jobs and usually provide good benefits. The pay will depend on the company, and you will likely have to submit a job application and work permit.
Office Worker
These jobs fit the schedules that a 14-year-old with no experience is required to work. If you live in your city's financial district, you can go to one of the many offices to find out if they are looking for an intern or someone to help them with basic tasks. It is a well-paying job that does not involve physical strength.
Golf Caddy
It is a job that can pay about $14 an hour. No knowledge of the sport is required. All you have to do is accompany the golfer through the 18 holes. It can serve as an apprenticeship if you are interested in golf. If there are places in your city where they practice it, you can get it. Otherwise, on Indeed, you can also find 14-year-old jobs near me.
Teen Restaurant Busser
It is a job where you can start working if it's your first time. If you continue in the position, with time and experience, you can move up in the restaurant. The average wage is $15 per hour (varies by state).
Best companies that offer jobs to teenagers
Now that you know what jobs can i get at 14, there are a lot of companies that may offer jobs for 14-15 years old teens. If you were wondering ome of the jobs for 14 year olds with no experience are:
McDonald's:

Probably the first company that comes to mind when we ask "what jobs can a 14 year old get?" is McDonalds, as they hire crew members. It would help if you had a work permit endorsed by your parent or legal representative.

Six Flags: This is one of the best-known amusement parks in the United States. Here you can find several jobs if you are 14 or 15. Keep in mind that requirements vary by state. Find out what jobs are available near you on Six Flags website.
Dairy Queen: if you love ice cream, you've probably been to this establishment. There are more than 4,000 branches in the country. So, it's an excellent place to get a part-time job f you have 14 years old. You can work as a cashier, cleaner, etc. On Dayry Queen's website, you can find a job available in your location.
Burger King: it is similar to Mc Donalds. It is an ideal job for 14 year old because it does not involve carrying out dangerous tasks. Linkedin profile: https://www.linkedin.com/company/burger-king/

Taco Bell: is a restaurant with a long history in the United States. So it is an excellent place to start your first job. They even have a scholarship program for those who want a position to pay for college. Linkedin profile: https://www.linkedin.com/company/taco-bell/

What jobs can a 14 year old get with no experience?
You can also find 14 year old jobs with no experience in the following places to work at 14:
AMC Theaters:

Hires ushers and concession workers

Baskin-Robbins:

Hires team members

Bruster's:

Hires team members

Chick-fil-A:

Hires team members

Boston Market:

Hires team members

Kroger & affiliates:

Hires baggers or stockers

Wendy's:

Hires cashiers

Winn-Dixie & affiliates:

Hires baggers

Safeway:

Hires cashiers, courtesy clerks, and cart attendants
14-year-old online jobs that you can apply
If you still wondering what jobs can u get at 14, whether it's babysitting, cashiering, or washing cars, the great thing about Generation Z, today's young people, is that they know their way around online.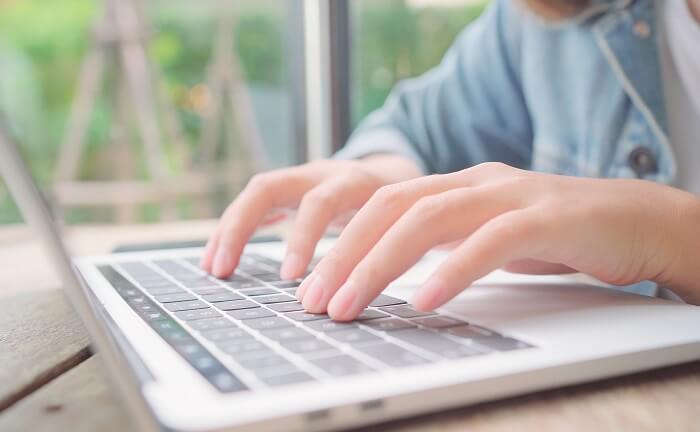 If you have experience in video games, web development, design, or photography, it's also possible for you to get a job in the UX sector. It is an excellent idea to create a blog or become a freelancer for certain companies. In this case, you may require work consent signed by your parents.
Also, if you know your way around social networks like TikTok and have more than 1,000 followers, you can build your brand by making innovative content. This can also lead you to become an influencer, open your YouTube channel, and start monetizing.
You can also look for "jobs for 14 year olds near me", "jobs that hire at 14 near me", "what jobs hire at 14 near me" or "jobs hiring 14 year olds near me" on Google to find jobs at 14. Those jobs to get at 14 are a great idea for teenagers.
Requirements and laws for jobs for 14-year-olds with no experience
As with any other job, you must complete a certain quantity of conditions to apply for the position. In this particular case, there are not only specific guidelines but also laws. Remember that you are underage. Therefore, it is vital to know a couple of things, particularly in a law matter.
For example, one aspect is that a young one of 14-year-olds can work three hours on weekdays. That's the maximum period. So, if you find a company, restaurant, or business requiring you to work more than four hours, that'd be illegal.
Regarding the shift, it can't end at night hours. So, you must finish your duties by 7:00 pm. But, if it's a non-school day, you may be available to work up to eight hours. Keep in mind these requirements:
If you find a part-time job that accepts 14-year-olds, the company must give you a break of at least 15 minutes and have them every 2 hours (minimum).

You can work up to 18 hours during a school week.

Working less than 40 hours per week is legal, especially if you have school.

You can start the job after 7:00 am and after 7:00 pm.
Remember that you may need to present a work permit in some states and some jobs that hire at 14 years old if you are underage (14 or 15 years old). Therefore, this is the main requirement.
If you have doubts about this last matter, ask your student consultant if you can apply for 14-year-old jobs near me. (You can access the State Department of Labor for more information).
Are there jobs that underage can't do?
At the national level, some laws protect children in terms of work. If a 14-year-old adolescent is interested in working, they can do so. However, they should know that there are some jobs that they cannot perform.
In particular, any task that is dangerous or involves any physical force that could cause harm (this also applies to mental health, of course, in other matters) is disqualified from doing it. Therefore, the jobs they cannot perform are related to the following:
Mining.

Construction.

Excavation.

Explosive or radioactive materials.

Any work that requires the use of heavy tools.
In this sense, minors cannot work in manufacturing companies, unload trucks, or do tasks involving elevated cleaning areas such as roofs.
Minimum salary of jobs that accept 14-year-olds
Now that you know if can you get a job at 14 and, therefore, what job can I get at 14, the minimum salary is around $4.25 per hour, which is the federal minimum wage. However, it depends on the workplace, location, and other factors.
REMEMBER: Regardless of the job you choose, obtaining your parents' permission and complying with your country's labor laws is essential.
So, now that you know what you can do at 14, good luck with your job search!
References