If you are a Facebook user, at some point, you may have asked yourself, ""How can I generate money with the platform?" or " It's normal, even more so, seeing how different platforms like YouTube and TikTok, for example, have their payment system based on views.
Below, we'll explain how to monetize Facebook videos, how many views do you need to get paid on Facebook, and all concerning about Facebook Pay and its reward system. Let's find out all about FB Pay and how many views on Facebook to get paid!
Does Facebook pay for videos?
As a content creator wanting to earn money on Facebook, you may wonder if Facebook pays for videos. The answer is yes! Monetization solutions for video content creators are available on Facebook. One of the ways to make money on Facebook is through ads, such as In-Stream Ads, which can be added to your live and on-demand videos. You can also earn money from subscriptions, paid online events, branded content, and Stars.
To be eligible for monetization on Facebook, you must meet specific criteria. The platform has a partner program called "Ad Breaks, " enabling creators to monetize their videos through embedded ads. However, to earn money from the ads in your videos, you must meet the program's requirements set by Facebook.
To participate in the program, you must have at least 10,000 followers on your Facebook page, reach 30,000 video views of at least one minute in the last 60 days, and comply with Facebook's monetization policies. These policies include following community standards, avoiding copyright infringement, and not engaging in prohibited activities.
The exact amount you can earn from Facebook videos varies. Facebook uses a revenue share model, which means that creators receive a percentage of the revenue generated by ads on their videos. Therefore, the amount you earn depends on factors such as the number of views and engagement on your videos.
What is Ad Breaks?
Facebook's Ad Breaks program enables content creators to generate revenue by adding brief commercials to their videos. Once a creator qualifies for Ad Breaks, they can elect to place ad breaks in their videos. Facebook integrates these commercials during the natural pauses in the material.
Users can bypass these ads after a brief period or watch them fully to gain a larger portion of the profits. The income made from these advertisements is shared with the creators, contingent on aspects like ad views and viewer involvement. Ad Breaks serves as a mechanism for creators to monetize their video content and offer valuable material to their viewers.
Facebook's payment system: How much are the charges for views?
With stiff competition from TikTok, Facebook has recently updated its video payment and monetization policy. To allow its users to generate economic remuneration based on their views and the support they receive in their live videos.
In the case of Facebook earnings, the pay-per-view system works depending on certain factors in the video. But in general, the user can start monetizing a video if it has exceeded 1,000 views on Facebook.
FB pay: aspects to keep in mind
On the matter of Facebook pay, especially when monetizing a video, Facebook's payment policy considers factors such as the target, the country, the type of ad, and your audience. Therefore, not everyone will be paid the same amount, even if their views are similar.
How much does Facebook pay per view?
Facebook payments can vary for several reasons. One factor is the type of advertising, as Facebook offers different ad formats such as image ads, video ads, and carousel ads. The cost of each ad format may differ.
Ad prices can vary depending on the specific audience being targeted. Additionally, competition plays a role in payment variation. If there are many advertisers competing for the same target audience, the demand for ad space increases, which can drive up prices. Now, how much is Facebook paying?
How much does Facebook pay for views?
As we have already said, 1k views on Facebook money is the minimum to monetize a video if you meet Facebook's charging criteria, but how much Facebook pay for 1000 views? Likewise, users report that Facebook currently pays between $1 and $1,5 per 1,000 video views.
Monetization considers how much time users spend on your videos. It all depends on the factors above influencing your video and the type of ad your video allows. On the other hand, with the updates of this pay-per-view system, the time factor has also been implemented.
If you were wondering how much Facebook pays for 10,000 views, there is no specific amount, as it depends on the country of origin, the local currency, the subject matter of the video, and even the ads included. However, it is estimated that a content creator can earn between $10 and $15 or more for every 10,000 views.
In case you're looking for more views,
qqtube.com
is a Marketplace for Social Media Marketing offering services like Facebook Views. (
Disclaimer
: Their views do not increase revenue). They are viewed as the expert in this industry due to their wide range of service offerings, excellent customer support, and genuine customer reviews, which helps you decide what's best for you on the matter of how to make money with Facebook.
How much does Facebook Reels pay per view?
Facebook created the monetization program "Facebook Reels Play," with which content creators can earn money by uploading reels to their accounts. Through this program, Facebook pays content creators up to $35,000 per month, although Facebook pay-per-view depends on the abovementioned factors.
How much does Facebook reels pay per 1,000 views 2023?
One of the most frequently asked questions about Reels is how much Facebook pays per 1,000 views in 2023. It is estimated that it could range from $0.01 to $0.03. However, those earnings may vary depending on the creator's geographic location and the interaction of the video.
How much does Facebook reels pay per 1 million views?
If you were wondering The amount of money creators can earn for 1 million views on Facebook Reels is currently unclear. Still, at least, we can reply to "How much does Facebook pay you for 1 million views?" on average, 1 million views on Facebook pay between $1,000 and $1,500. With this figure, we can deduce that the answer to how much Facebook pay per 1,000 views is approximately $1 to $1.5, although nothing is certain now.
How much are 100k views on Facebook money?
If you are wondering how much does Facebook pay for 100k views, the answer will not be concrete, as it depends on several factors (country, currency, etc.). As mentioned above, if we assume that a content creator, who meets the Facebook monetization eligibility, can earn $1 for 1,000 views, the math leads us to think that Facebook could pay $100 for 100,000 views.
How to monetize Facebook videos?
For your Facebook account to be qualified for monetizing Facebook videos, you must meet specific F. Among these, you will have a minimum of 10,000 followers and at least five direct videos monthly.
But the most essential thing about how to monetize Facebook reels and views on Facebook is that you are not required to have a minimum number of monthly views but rather a minimum number of minutes that users must spend on your videos. With a minimum of 600,000 minutes of total views in the last two months between published videos.
In addition to competing with TikTok's policies, these Facebook monetization tools were implemented to facilitate the work of content creators. This was given many complaints in 2020 when many creators complained about the application's lack of an efficient monetization system.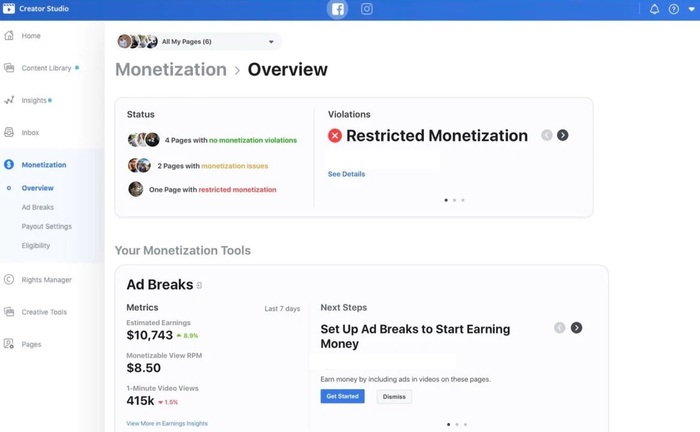 Keys to be considered on how to use FB Pay
One fact to consider is that factors such as information about your account and account content will also be considered for monetization. Details such as age and region, both of the user to whom the content is directed and of the creator, could mean critical points in monetizing the content.
Likewise, the mere fact of complying with these requirements does not automatically make you valid for monetization. In any case, you must meet the other criteria and have a certain level of credibility to make money off Facebook. This is to ensure that troll accounts do not enjoy Facebook monetization.
On the other hand, the content of the video itself can directly affect its monetization since, given the audience to which it is directed, it can allow more or fewer Ads. Let's not forget that the more ads the video has, the greater the possibility of generating money because of the Facebook AD payment, as long as it complies with the Facebook monetization eligibility.
What are the high-paid niches on Facebook?
Today, Facebook functions as a compelling platform for advertising, allowing businesses and content creators to earn more profits. Mark Zuckerberg invested many funds in improving Facebook's services and increasing the money that Facebook pays for Facebook views money. In this way, Facebook has grown significantly, even though new platforms have emerged to generate content.
While exact payouts can vary based on multiple factors, such as geographic location, ad type, and industry competition, specific themes have proven attractive to advertisers and generate higher revenues. Here is a list of the best-paid topics on Facebook.
| | |
| --- | --- |
| Facebook Content | Related topics |
| Finance & cryptocurrencies | Investments, trading, financial advice, cryptocurrencies, and financial technology. |
| Health & wellness | Fitness, nutrition, weight loss, mental wellness, and alternative medicine. |
| Digital marketing | Digital marketing, business strategies, branding, SEO, and social networks. |
| Technology & gadgets | Electronic devices, applications, technological innovations, gadgets, news, and the latest technology trends. |
| Lifestyle & Travel | Lifestyle, fashion, beauty, travel, gastronomy and recreational activities. |
| Entertainment | Content related to movies, music, TV and reality shows, celebrities, and popular events. |
| Comedy | Funny videos, memes, jokes, and entertaining content. |
| Sports | News, results, discussions, and content related to any sports. |
| Entrepreneurship & Business | Tips, strategies, success stories, and business opportunities. |
Although trends in social networks are constantly changing, the most exciting and acclaimed topics by Facebook users are usually the same. If you are thinking of making creative content, you will surely succeed if you focus your profile on one of the topics mentioned in the table.
How to make money on Facebook?
Building a successful income stream on Facebook requires effort, consistency, and providing value to your audience. Remember to comply with Facebook's policies and guidelines for monetization, as they may have specific rules in place for certain methods. If you wonder we can mention the most common one:
Create and Monetize a Facebook Page
Build a Facebook page around a specific niche, such as a hobby, interest, or business. Grow your page's audience by posting engaging content, interacting with your followers, and promoting your page on other platforms. Once your page has a substantial following, you can explore monetization options like sponsored posts, affiliate marketing, selling products or services, or partnering with brands for collaborations.
Join Facebook Groups
Find active Facebook groups related to your area of expertise or interests. Engage with the community by providing valuable information, answering questions, and establishing yourself as an authority. Once you have built trust and credibility, you can leverage this to offer products, services, or consultations to group members.
Utilize Facebook Marketplace
If you have physical products to sell, consider using Facebook Marketplace. It allows you to create listings for items you want to sell locally or even ship to customers. Take clear photos, write compelling descriptions, and set competitive prices to attract potential buyers.
Participate in Facebook Audience Network
If you have a website or a blog, you can join the Facebook Audience Network to display ads on your content. This allows you to earn revenue when visitors view or click on the ads displayed on your website, similar to other ad networks like Google AdSense.
Create and Sell Digital Products
If you have specialized knowledge or skills, consider creating and selling digital products like ebooks, online courses, templates, or graphics. You can promote and sell these products through your Facebook page, groups, or by running targeted ads.
How to monetize Facebook page? Is it possible to monetize without relying on views?
In short, the answer is yes. Facebook offers a series of variants for content creators to see the fruits of their effort and talent. This is in the hope that their community can respond somehow and help the creator economically.
Possibility of adding in-stream ads
In addition to pay-per-view, Facebook offers its users a video ad service. Also called "breaks," are advertising breaks at the beginning, during, or after your video.
In this case, the advertiser's payment is per click, with an average of $0.89 for each interaction with the ad, where the content creator takes approximately 45%. However, this will depend on both the advertiser and the target audience of the video, as this is where the types of advertisers can come from.
Get your fans to subscribe or donate "stars"
Facebook offers Pages a monthly subscription service, where creators can create packages for users to receive certain privileges. This allows users to generate a monthly income based on their content, like sending a gift card on Facebook.
From this system, the creator will receive 100% of the subscription cost if it is made directly from the Facebook page. If it is from the Android or iOS APP, 30% will go to the APP providers.
Likewise, Facebook also has a system of so-called "star" donations. This is a way for the user to show the content creator his appreciation for his material.
What is Facebook Pay?
Facebook Pay is an online payment method created in 2019 to facilitate payment on Facebook, Facebook Messenger, WhatsApp, or Instagram. This is a safe and convenient way to make virtual payments with money on Facebook, either by credit card or debit card, but transactions cannot be made with PayPal.
With Facebook Pay, users can send and receive money from family or friends, make online purchases or transactions with charities, pay for games or other applications, etc. Facebook's creators clearly state that security is essential, especially regarding these digital tools.
This is why users are protected by security measures to avoid exposing their financial information and avoid possible scams, etc. They must create an account with a unique security code or biometric authentication to store and use payment methods safely.
Does Facebook Pay cost money?
No. Facebook Pay is free and will not be charged for any transactions.
How to get paid on Facebook reels?
If you want to start understanding how does Facebook pay you, the first thing you should know is that, in order to get paid on Facebook, which are made through Audience Network. Now, first of all, you will need to link your payment and bank account information to your Facebook page.
To add the Facebook monetization payout, you must meet the Facebook monetization requirements necessary to get paid by Facebook. First, you must enter a tax ID number, either of the company promoted on Facebook or personal, depending on who will get paid by Facebook.
To add Facebook payment information, you must follow a few simple steps:
Log in to the Monetization Manager. https://business.facebook.com/pub
Click "Manage" on the property you want to add or modify the payment information.
Select "Property Settings".
Click on "Payouts".
Then, click on the "Add Payments Account" button.
Next, you must enter the information of a bank account that receives payment in dollars. It is essential to mention that PayPal will not serve as a payment method, as Audience Network does not allow it. How much Facebook Reels pay will depend on the video's number of views.
NOTE: If you cannot update or add this information, it is because only administrators can do so.
How much are stars worth on Facebook?
One of the most frequently asked questions among users is how to make money from Facebook, and we have already talked about how to make money from Facebook reels. In addition to this, there is the option of Facebook stars payout. Thanks to this recent addition, Facebook pays USD 0.01 for each star you receive on your account or page. This way, making money off Facebook is much easier.
How much is 10,000 stars on Facebook?
Considering that one star has a value of USD 0.01, by getting 10,000 stars on Facebook, you will be earning USD 100.
Facebook User Privacy Settlement
A class-action Facebook lawsuit settlement has been resolved through an agreement. The Facebook settlement amount is $725 million. Individuals who have used Facebook in the United States between May 2007 and December 2022 may qualify to receive a portion of the Facebook.
To participate, eligible individuals must file a claim before the August 25, 2023 deadline. The process of submitting a claim is simple and can be done either online or by mail. This provides an opportunity for affected individuals to seek a Facebook settlement payout as a result of the lawsuit.
NOTE: There is no information about the Facebook settlement payout per person