Direct deposit is a secure way to receive payments, and Bank of America offers this service to its customers. You can set up direct deposit by accessing your Bank of America account online and downloading a form. Alternatively, you can check with your company's payroll office to see if you can complete the setup through an online portal. You must know your account and routing number to complete the direct deposit form.
The Bank of America direct deposit timing depend on your company's payroll schedule. Bank of America states that most direct deposits are available on the same business day they are received. However, we will expand on this in the following sections.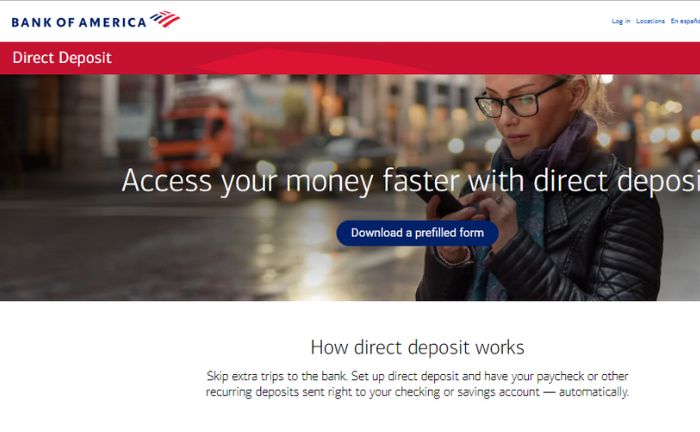 How does Bank of America direct deposit work?
Bank of America has a streamlined and efficient direct deposit process that enables you to receive funds electronically from your employer or the government directly into your Bank of America bank account. This process eliminates the need for traditional paper checks and ensures that you have quicker access to your hard-earned money.
The BoA timeline for when the funds are deposited into your account depends on the schedule defined by the payer. Typically, funds sent via direct deposit to a Bank of America account become available when the paying entity releases them (this will be discussed later).
To initiate the direct deposit process, you would typically need to complete a direct deposit form supplied by your employer or the entity making the payment. This form collects pertinent information for the deposit, like your account number and routing number.
REMEMBER: Ensuring that the information on the direct deposit form is accurate is essential, as any errors could delay the payment processing.
What is SafeBalance Banking?
Additionally, Bank of America offers a feature called "SafeBalance Banking," a type of account that does not allow overdrafts. This means that the account holder cannot spend more than what is available in the account and will not incur any overdraft fees. SafeBalance Banking is an excellent option for those who want to avoid overdraft fees and prefer to have more control over their spending.
When does Bank of America direct deposit hit?
If you were wondering, "When does Bank of America direct deposit hit?" . Transfers between Bank of America accounts or to other Bank of America customers are usually processed immediately.
When you send money from Zelle to a registered recipient, they can expect to receive it within minutes. However, the transfer may take up to 2 business days if the recipient is not registered.
Outbound transfers that take one or three business days are processed by 8:00 p.m. ET, while domestic outbound transfers initiated before 5:00 p.m. ET are processed on the same business day. International outbound wire transfers are settled at 5:00 p.m. ET, and the sender is notified of the availability of funds.
You will be credited the same day if you make a credit or mortgage card payment before the specified Bank of America cut-off time. Transactions initiated before the specific cut-off times will be a same-day date in the transaction history. In contrast, transactions initiated after those cut-offs will show a next-day date. The next business day's date will be indicated if you transact on weekends or holidays.
Bank of America Payer's Schedule
For example, there are some cases when the direct deposit may be processed after hours, which means it could take until 9 a.m. the following day for the funds to be available in your account. Additionally, if there is an error with the transaction, this could also cause a delay in when the funds are posted to your account.
If it is after 9 a.m., the day after the transaction, and you still do not see the funds in your account, it is best to contact your bank's customer service department. They can provide you with more information about the transaction status and help you resolve any issues preventing the funds from being available in your account.
How to Set One Up Bank of America direct deposit
Setting up Bank of America direct deposit is a convenient way to ensure your paychecks are deposited directly into your account without needing paper checks. If you're considering setting up direct deposit with Bank of America, here are the steps you need to follow:
Gather your account and routing numbers. You can find this information on your Bank of America checks or by logging into your account on the Bank of America website. If you don't have any checks, you can request the details by phone, online, or by visiting a Bank of America branch.
Once you have your account and routing numbers, inform your employer's human resources or payroll department that you want to set up direct deposit. They will provide the necessary paperwork or instructions to initiate the process.
After obtaining the paperwork from your employer, you must complete the direct deposit form. Typically, this form requires your personal information, including your Bank of America account and routing numbers.
After you have completed it, return it to your employer for processing. They will submit the request to Bank of America, and your paychecks will be deposited directly into your account.
Check your Bank of America account after a few pay periods to ensure the direct deposit is successful. You can also contact Bank of America customer service for confirmation and assistance if needed.
Bank of America contact information
Bank of America's general customer service number for US consumers is (844) 375-7028. This line is available Monday through Friday, from 9 a.m. to 12 p.m., and Saturday and Sunday, from 9 a.m. to 8 p.m. ET for customer service needs. If you're residing outside the US, contact Bank of America by calling anytime at 1-315-724-4022.
There are more BoA telephone numbers according to the help needed. Remember that if you need to open a new account, meet with a notary, or do any other transaction, you must make an appointment through their website.
FAQs
Does Bank of America show pending direct deposits?
Yes. Bank of America displays outstanding direct deposits, visible to the bank and account holders. These deposits will be labeled as "pending" and are not yet available for withdrawal. They will be posted to the account within one to two business days.
Why isn't my direct deposit showing up?
There could be several reasons if you expected a direct deposit and it hasn't shown up. On one side, the sender might have delayed the payment or made an error. Another option is that Bank of America could be experiencing system issues or maintenance. Another reason could be that there might be holiday delays. Federal holidays may impact ACH transfers, including direct deposits.
Are there any fees for direct deposits at Bank of America?
No. Bank of America generally does not charge fees for receiving direct deposits. However, this may vary by issuing institution.
References