Do you know it only takes six seconds to impress your employer? Your resume is the first impression on your employer. And if it's on the mark, it can lead you to a job interview. Otherwise, you can lose that once in a while chance of getting your dream job.
Presenting your credentials and skills in an organized and polished way is not an easy task. You might have tried doing it but ended up with inadequate results. And that's where resume builders can help you.
A resume builder considers all aspects of what a professional resume should look like and let you prepare your professional resumes. You can find countless resume-building sites online, but some of them are definitely better than others.
These sites allow you to prepare professional resumes and may give the service for free. Many claim to be free for resume building but prompt you to pay at the very end of downloading your resume.
Based on the criterion of best resume templates, easy to work with resume builder software, great user experience, and resume download options, we have listed the best free resume builder sites. 
These sites offer great resume-building features. These sites may have their paid versions, but their free versions are also worth trying, and you won't regret using them for your professional resume building.
Zety —— Simplest to use
Novoresume —— For One Page, Functional Resume
Resume.com —— For Simple Resume Making
Canva —— For creativity
Jobscan —— For Tailoring Resume to Job Description
MyPerfectResume —— For assistance
Indeed —— For basic resume
CakeResume —— Easy to use
ResumeGenius —— Easy and fast resume builder
Zety
This website offers great resume-building features and is the simplest of all resume builders.
Zety allows its users to experiment with more than 20 resume templates, cover letter templates and also provides valuable writing tips and examples. Resume templates come in "creative", "professional", "modern" and "simple" categories.
So, it wouldn't be wrong to say that you just don't add the needed information to generate a resume. You get expert advice to mold your resume into an impressive job-catching document.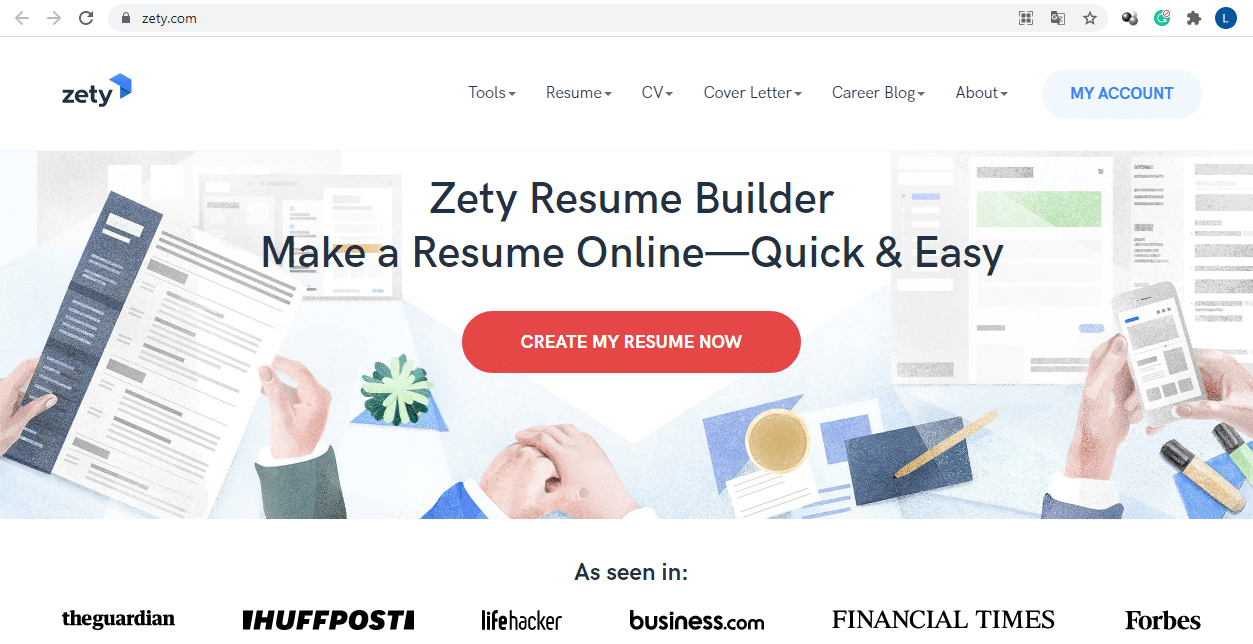 Talking about the ease of using resume builder, you don't need to make an account to get started. Just choose a preferred template and start entering your information to build the resume from scratch. You can customize the font color, size, line spacing, formatting, and a lot more.
Additionally, you can easily add links to your social accounts, such as LinkedIn. You can also generate a resume from an existing document which Zety will reformat into a professional document.
It offers all the necessary resume-building tools, but if you like Zety builder and want to try the advanced tools and create multiple resumes, you'll need to get a premium subscription.
Although you don't need to sign up for building the resume once you complete it, you have to sign up for a 2-week trial to download the resume.
It costs $2.70 for a two-week trial and $5.95 per month with an annual payment.
How can you use it for free?
Since Zety doesn't offer free resume download, you can do so by creating the free link. Once you complete the resume, select "Online Resume" from the header, create the link and open it in your browser. Now, right-click to save it.
Novoresume
NovoResume is our second top pick for free online resume building. It offers several templates and customization options to build a good resume.
You can choose one of the eight templates, each with good customization options, to finally download your resume for free. The site also features pre-written resume samples, cover letter templates, and a cover letter builder.
To make the resume, you need to choose a template, and then you will go through different steps of resume building that also involve signing in.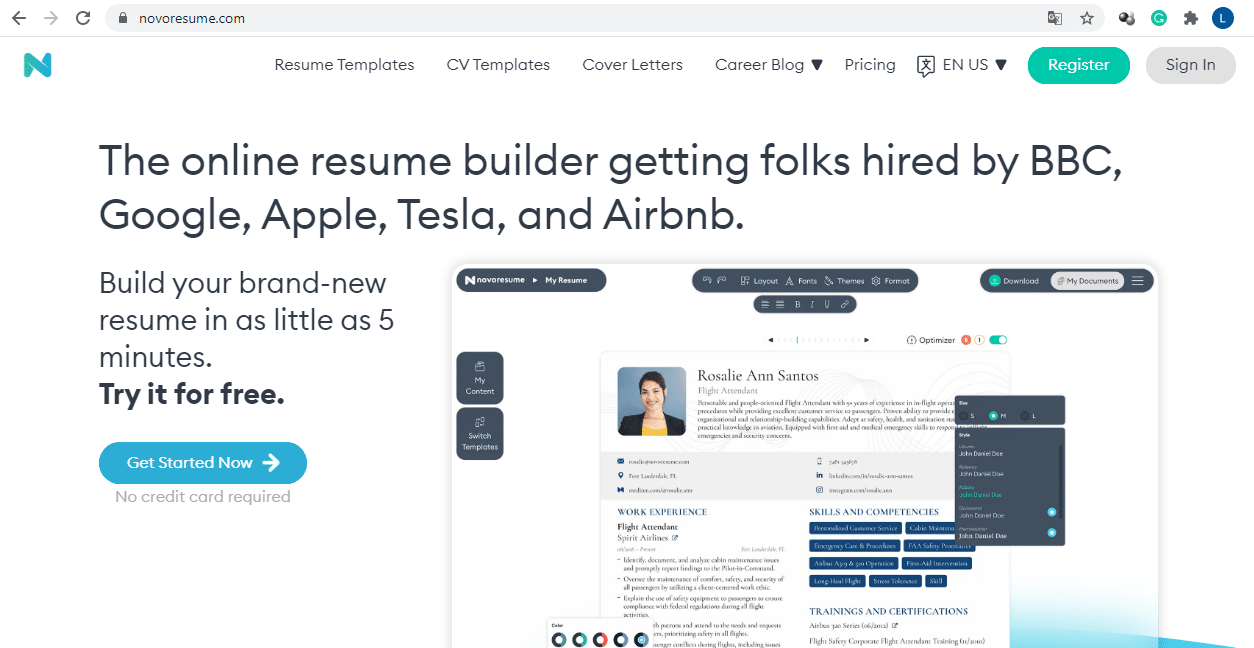 Unlike other resume builders, where you can edit texts only in the given boxes, NovoResume allows you to edit the document itself. You can edit the text and customize it as per your preference. You have no restriction in changing the font, template, design, or layout of the resume at any point in the process.
The optimizer score shows your resume score as you fill up the resume. This score can help you estimate whether you are going right or need further adjustments.
You also get recommendations and tips by clicking the yellow exclamation points present throughout the template.
However, you can only build a one-page resume in the free version. To get more features, you need to upgrade to the premium version to make unlimited resumes, get additional fonts, templates, and customization options.
1-month membership costs $16/month, and 3 months membership costs $9.99/month, whereas 12 months membership costs $6.99/month.
Resume.com
It is a completely free resume-building site. Resume.com also helps with writing an effective cover letter and career advice for job seekers. 
To start, you have to enter the job type for which you want to create the resume. After that, choose a resume template out of the nine different templates and start editing the resume. You can edit each section of the resume and also get expert tips to keep it professional and tailor it to your job title.
Once you are done, you can download it in PDF or text file. To download for free, skip the "create an account "option and click the download button in the top right corner to save your resume.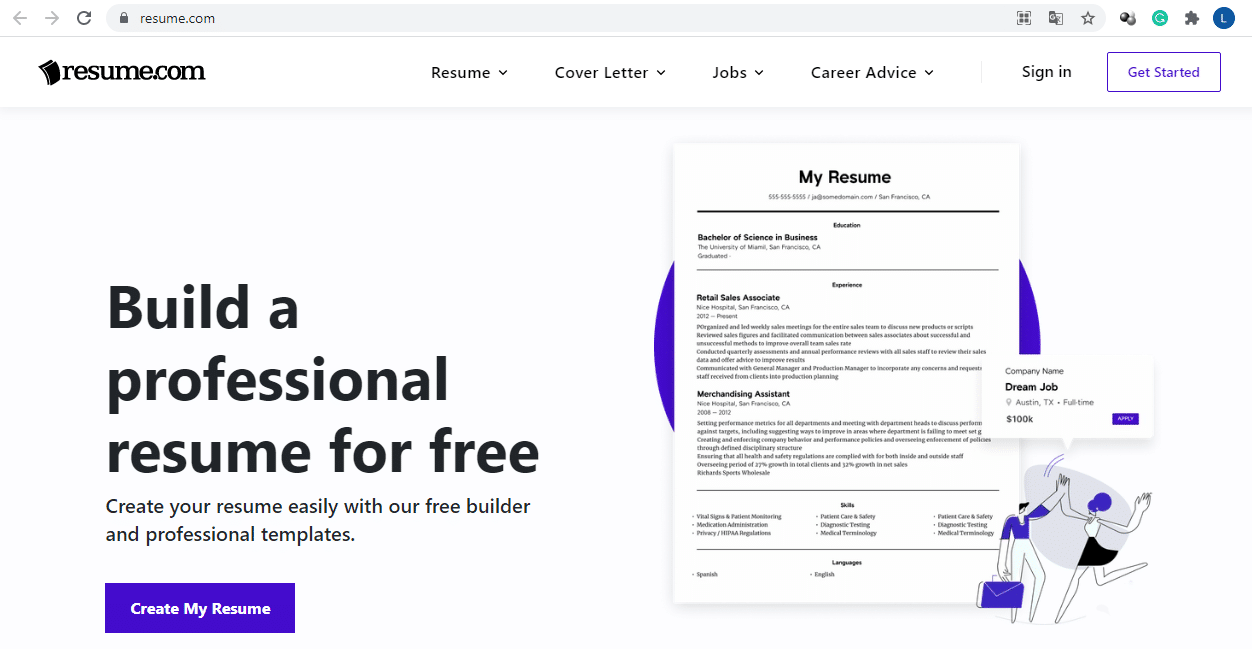 Along with text suggestions, all the sections of the resume are customizable. Apart from building your resume from scratch, Resume.com also has an "Import LinkedIn" feature. By clicking this option, Resume.com will fill the chosen template with information from your LinkedIn profile.
Along with resume building, Resume.com also has a job-seeking feature that you can use to apply for the job.
Canva
It is the best resume builder for applying for a creative role like photography or writing. Canva has hundreds of innovative, incredibly unique designer-made templates and layouts for free. So, if you are really looking for a creative resume that can express you well and get the recruiters' attention, Canva resume builder can help you.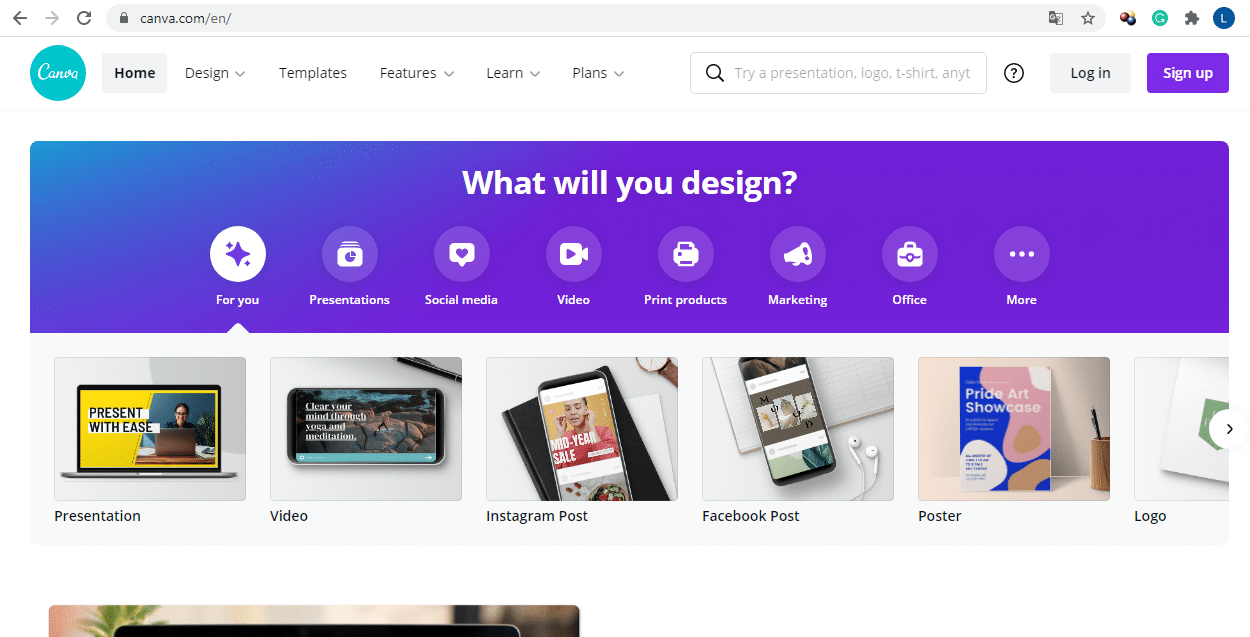 Since there are hundreds of free templates, each one is categorized for the preferred roles such as Graphic design, Creative, Corporate, etc.
Canva is not specifically made for resume building, but you can make a creative resume by just putting information in different sections and finally downloading it.
You can also customize font size, style, line, and paragraph spacing. It offers multiple download format options (pdf, doc, jpeg) to ensure that ATS can easily pick your resume.
It also has a paid version for some unique templates, but you get enough in its free version. 
It costs $12.95 for 1 month and $119.40 for the yearly subscription.
JobScan
JobScan is another popular resume builder site. The company is known mainly for the flagship software that helps the users tailor their resumes up to job descriptions. The recently launched resume builder by JobScan is the best resume-making site right now.
With the updated ATS screening criteria, the resume created by JobScan will surely pass the ATS screening of any company.
JobScan features some great resume-building design options and writing guides. It also has impressive cover letter templates. Additionally, every feature is relatively easy to use, and every step is guided.
You can build your resume from scratch or edit an already existing file to improve it. For creating a new resume, you need to pick one of the three resume templates and simply fill in the information in each section.
For an already existing file, you can upload it, and JobScan will reformat it and fill in the information provided in the file.
A striking feature is that it will give the scan option to check the resume and grade it based on the job you are applying for. The grade tells how far your resume fulfills the job description.
This platform can also help you to keep track of the jobs you have applied to.
Its paid version also has the Power Edit option to edit your resume based on suggestions and keywords.
Its free version cost nothing. The paid version costs $49.95 per month and $89.95 every three months after the trial.
MyPerfectResume 
MyPerfectResume is no less than an expert building your resume. It walks you through all the steps of resume building to make you a perfect resume. From choosing a template to filling in the information, this builder is easy to understand and work with.
It also gives you suggestions to increase the resume appeal and make it more impressive. So, a person who is new to resume making can rely on MyPerfectResume builder.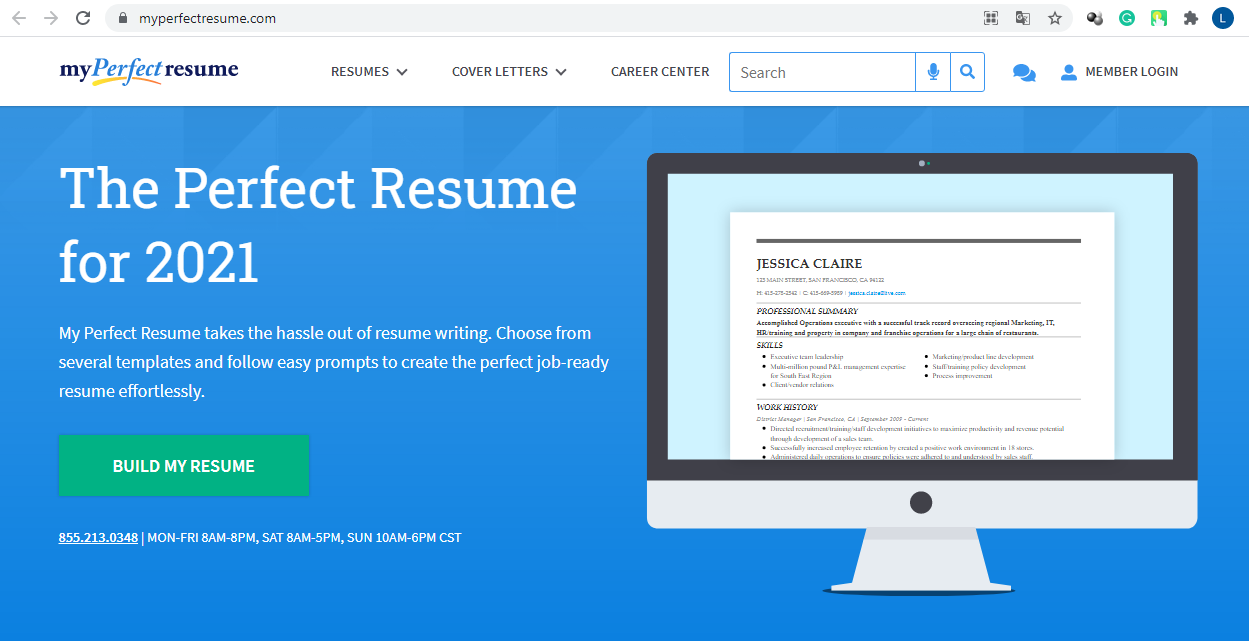 When you start, it asks you a few questions to understand your unique situation and work experiences to develop a suitable layout for your resume. Based on the entered information, it also suggests job-specific or industry-specific phrases that you can add to your resume.
Furthermore, there is no problem editing any part of the resume. You can start editing any part of the resume by clicking on the section. It also has a built-in spell checker and error checker.
The resume customizer tool scans your job posts to help you tailor your resume as per the job description. You can also upload a pre-existing resume to improve it and add optional sections such as certifications, accomplishments, and affiliations.
Apart from resume builder, MyPerfectResume is a job site that can keep you updated about new job posts once you complete your profile.
How can you use it for free?
You cannot download or print the created resume unless you pay for a 2-week subscription. However, if you want to download the resume for free when you have reached the final step of the builder, and you see the entire layout of your resume, instead of clicking "save and next," select download on the left toolbar to save your resume.
The pricing of 14-day full access is $2.95.You must unsubscribe before 14 days end to stop paying the monthly bill. 
The monthly access costs $71.40/year, and the Professional Resume Review costs $19.95.
Indeed
Indeed is generally used as a search tool to be aware of the job opportunities in the local area. However, you might not know that the company also offers a free resume builder service to help job seekers perfect their resumes for job postings. Indeed resume builder is very basic but fulfills all the requirements of a professional resume.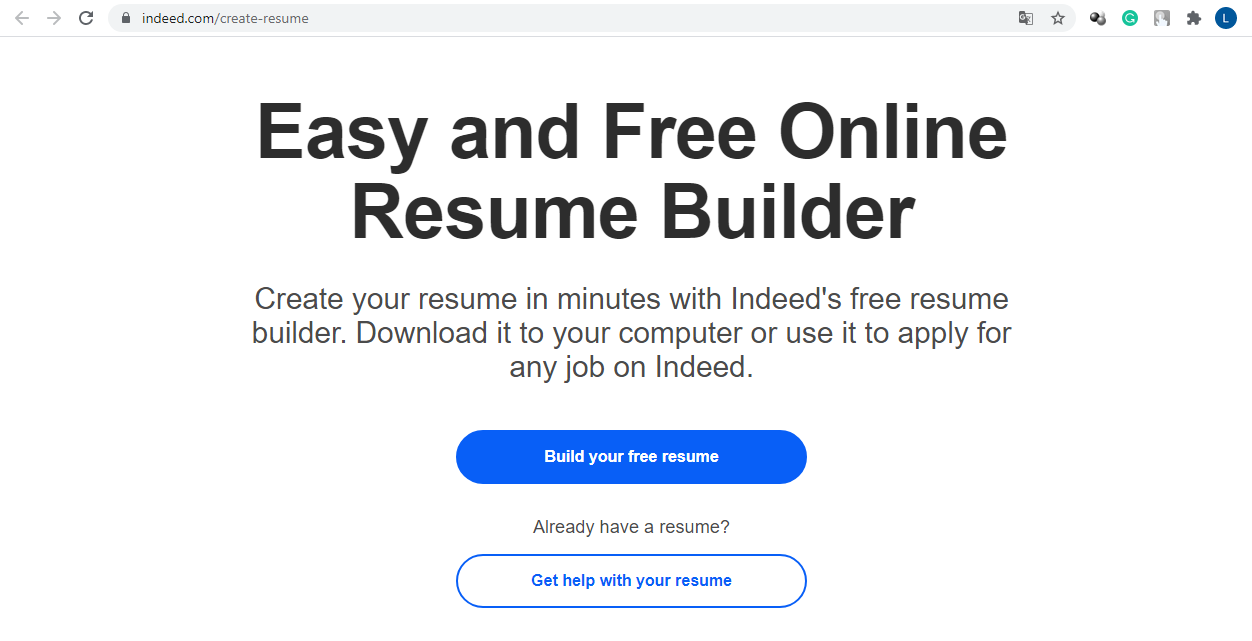 There are eight templates to choose from for resume making. You can edit documents simply by clicking on the text, changing the font and color, and rearranging sections. You can also switch the templates any time during the making, adjust the color schemes to your liking, add more sections or remove the section.
Your created resume can be downloaded for free in PDF format.
Since it's not specifically a resume builder site, it has some downsides too:
It doesn't offer optimization tools, suggestions, or resume examples. Also, you don't get drag and drop options.
While it's not the best choice for resume making, it is a preferable option if you want to create a basic themed resume quickly.
Thanks to the company, you don't need to pay for free resume creation.
CakeResume
As the name implies, CakeResume makes a resume making a piece of cake. It is an easy-to-use and simple resume builder that gives a LinkedIn vibe. You first have to create a profile and then upload an existing resume to work further on it.
Once you create your profile, you will be asked certain questions regarding your education, work experience, skills, and other important details to complete the process.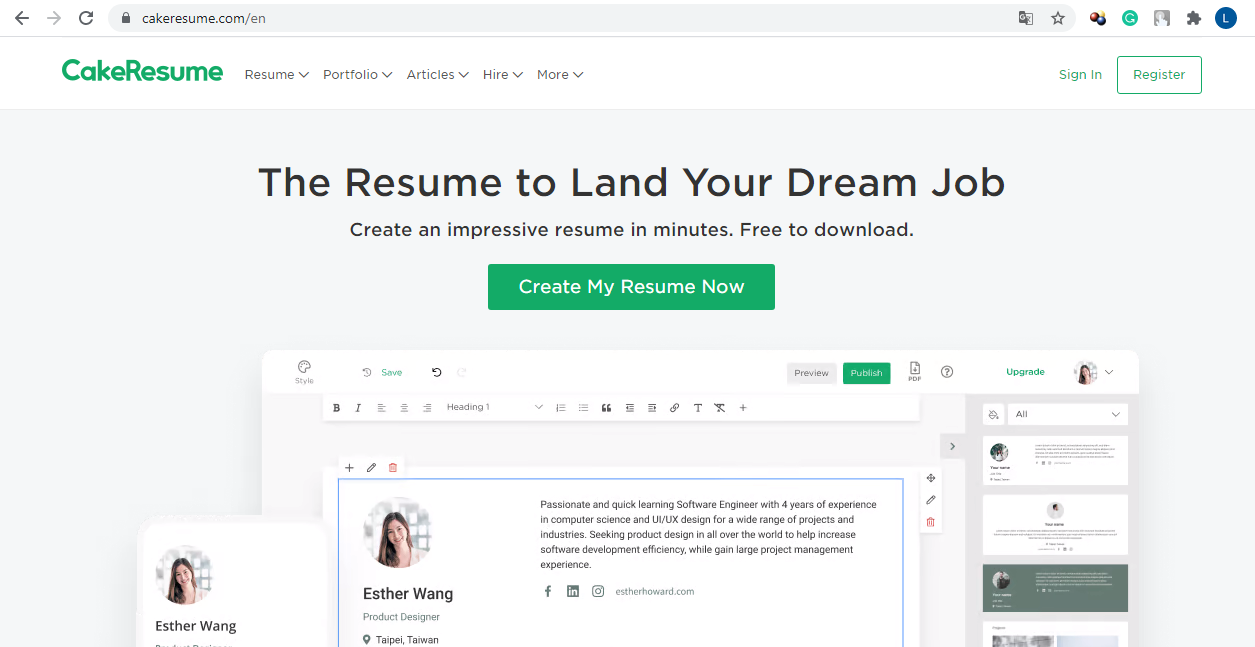 In its free version, it offers a few templates to make a resume. You have the freedom to customize all the details and add various sections by dragging boxes from the left side of the window. Since you have already created your account, you can download the completed resume for free in PDF version.
However, it only allows one resume per account for free. Once you have completed the profile, download it to your computer by clicking the PDF button in the upper left corner of the page. 
Its paid version has more than 20 templates, customization options, and remove branding options. Paid version will also help you in your job search.
The advanced version costs $7.95/ month, and the Pro version plus costs $15.95/ month.
ResumeGenius
ResumeGenius is among the best sources of resume templates, examples, and covers letters designs. The resume builder has a user-friendly interface with which easy and quick fill-up is possible.
It allows you to create one section of a resume at a time. Due to the easy interface, even if you make a resume for the first time, it won't feel intimidating or hard to do.
To start resume creation, you need to sign up. You can use your Google or Facebook log-in details.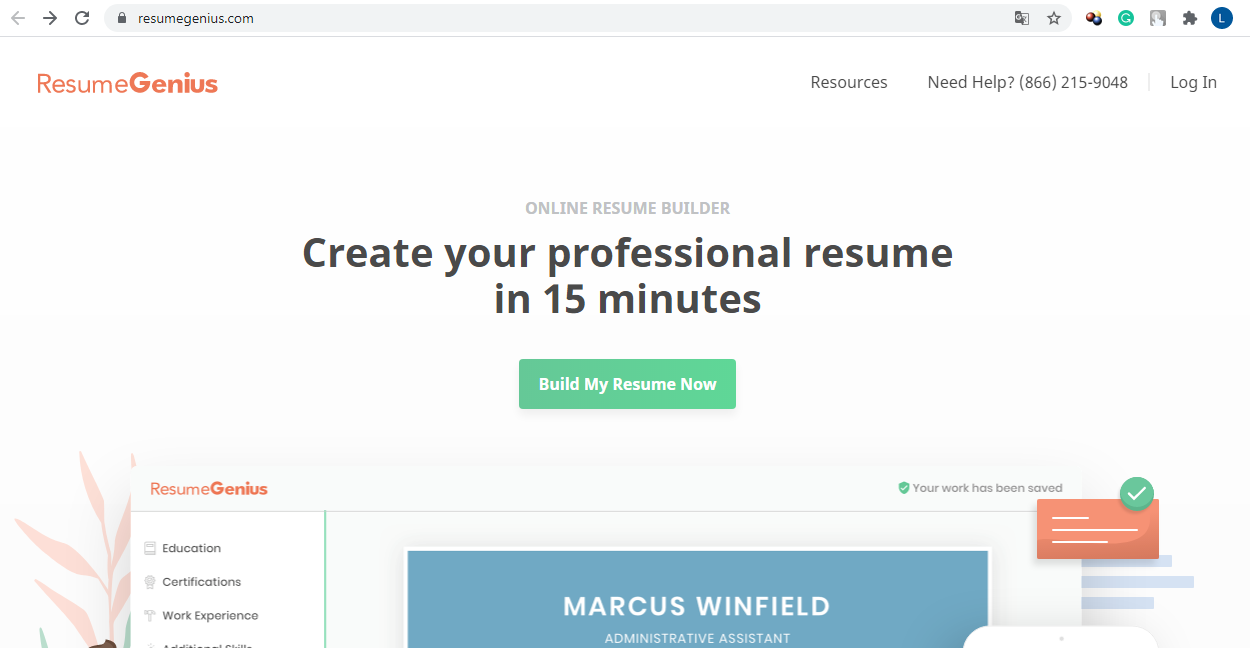 It will ask you plenty of multiple-choice questions regarding your education, experience. Regarding questions with blanks, you need to fill them with only dates, roles, or other simple answers. You can also add the Pre Written Bullet Points to help you cover the job responsibilities.
If you want to download a PDF file of your resume, you have to pay for a 14-days subscription. If you want to download for free, the download will be in .txt file format, which is not a functional resume. However, ResumeGenius builder can be very effective in creating the content of your resume, which you can transfer to a nice template on Microsoft word.
A downside of this site is that there is no upload option to upload and improve an existing resume. So, whenever you want to create a resume, you have to start from scratch.
The 14-day trial costs $1.95, and 1-month full access costs $39.95. A one-year subscription costs $95.40.
Conclusion
A good and free resume builder can help your resume stand out from the rest of the applicants and increase the chances of securing your dream job. Resume builders also increase the odds of passing the Applicant Tracking System (ATS).
So, if you are first time into making your resume, try any of the resume sites mentioned above and start your professional journey.