Google Analytics has been the go-to data analysis tool for businesses and website owners for years. It's a free tool that has helped many understand their online platform's performance. However, several alternatives to Google Analytics offer additional features and more comprehensive insights into user behavior.
These other options go beyond essential traffic and visitor metrics and provide deeper insights into website user interactions and how online marketing strategies can be improved. Some of these tools also offer more focused approaches to privacy and data security, which is especially important as protecting personal information becomes an increasing concern.
What is GA4 and what is it for?
Google Analytics 4 (GA4) is the latest version of Google's web analytics platform. It aims to give businesses a deeper understanding of user behavior across different digital media, including websites, mobile apps, and online channels. GA4 offers advanced features like machine learning, cross-device tracking, and event-based data collection.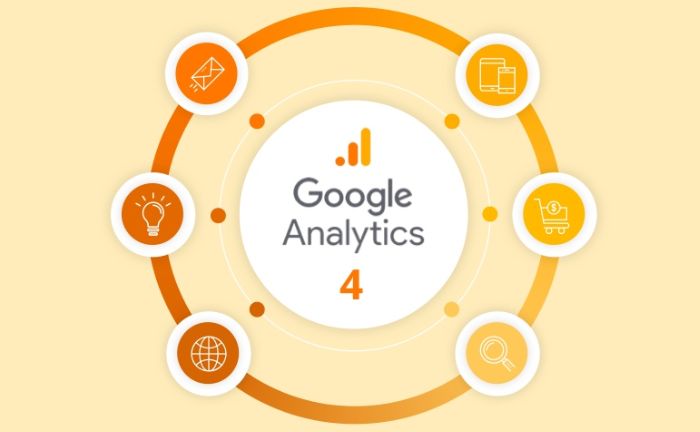 It provides insights into the customer journey, enabling businesses and professionals in marketing to analyze and optimize their marketing strategies more efficiently. Additionally, GA4 introduces a new data model and reporting interface, offering a flexible and customizable approach to data analysis and visualization.
However, despite being one of the best tools, you can choose other options with the same functions that will allow you to improve the positioning of your website without much effort.
3 free alternatives to Google Analytics 4
There are several GA4 alternatives available that can be accessed either for free or through a subscription model. By exploring these options, users can access a range of exclusive tools that can assist in analyzing websites, identifying areas for improvement, increasing website visibility, and performing various other functions.
These alternative tools provide users additional options and capabilities to enhance their website's performance and optimize their online presence.
1. Overtracking
Overtracking, created by the Spanish Mario Armenta, is an exceptional web analytics platform that provides users with a wide range of tools to optimize their websites. With a primary focus on web analytics, Overtracking enables users to collect and analyze data regarding site traffic, visitor behavior, and other crucial aspects.
One standout tool offered by Overtracking is conversion tracking, empowering users to measure actions taken by visitors on their website, such as form submissions, purchases, or newsletter subscriptions. This feature provides valuable insights into marketing strategies' performance and identifies improvement areas.
Additionally, Overtracking offers conversion funnel analysis, allowing users to visualize and analyze website visitors' journeys, from initial interaction to final conversion. By identifying potential abandonment points or problem areas, this feature enables users to make necessary adjustments and improve the conversion rate.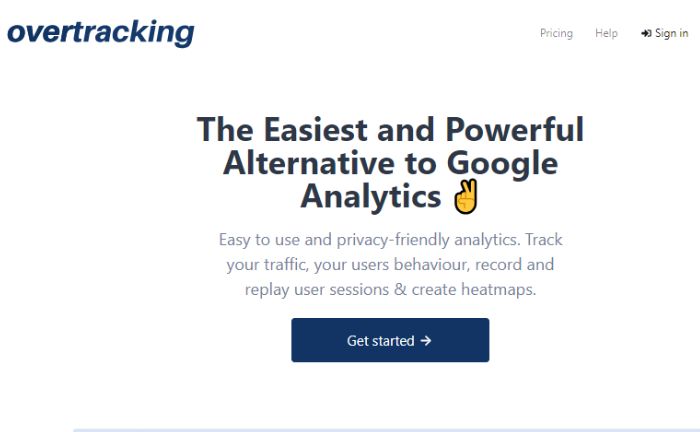 Furthermore, Overtracking provides content analysis tools to evaluate the performance of pages and posts. These tools offer metrics such as read time, content interactions, and performance in terms of traffic and conversions. Leveraging this data, users can better understand their content's effectiveness and make informed decisions to optimize their strategy.
The help pages of Overtracking have been meticulously crafted to provide users with a complete understanding of how the platform works. Whether you are a novice or an experienced user, the goal of this platform is to ensure that you can optimize the performance of your website. If you need help, our customer support team is available 24/7 to guide and assist you.
Overtracking provides a range of plans, including a free option and several paid options with different features and pricing. These plans offer different levels of analytics, session replay, heat maps, website limits, page views, visitor event tracking, session replay, custom domains, and data retention.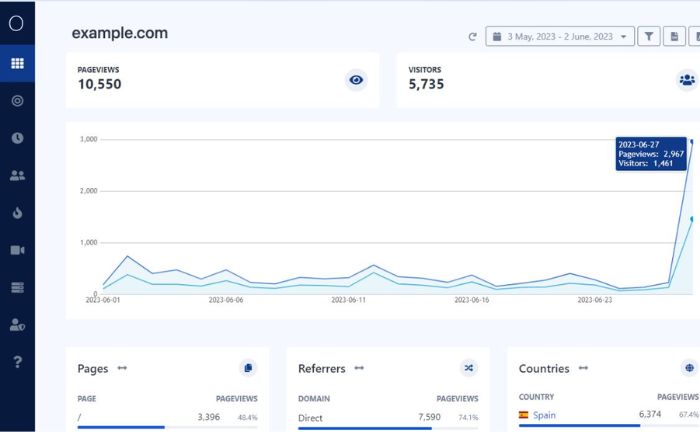 Additionally, all plans include weekly email reports, team access, no ads, API access, and a 25% affiliate rate. For those with specific needs, there is also the option to create a custom plan with unlimited features. Overall, Overtracking is at the top of our list.
2. Adobe Analytics
Adobe Analytics is a highly regarded digital marketing and web analytics platform that offers businesses detailed insights into user behavior across their online channels. Its advanced tracking and analytics features allow organizations to measure and optimize web traffic and related information effectively.
The platform tracks real-time web traffic, gathering data on visits, page views, and traffic sources. This information is presented via interactive dashboards and detailed reports, enabling users to understand website performance comprehensively.
A standout feature of Adobe Analytics is its advanced audience segmentation capabilities. Users can create custom segments to understand different user groups better, enabling them to tailor online marketing strategies to meet the specific needs of each segment.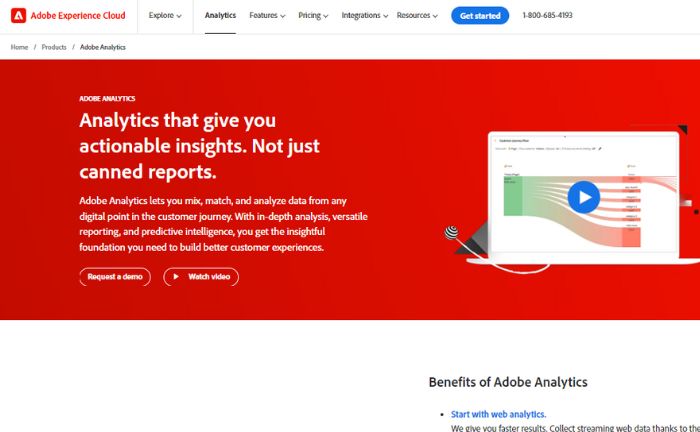 Another notable characteristic is the ability to measure and track conversions. Users can define custom conversions based on business objectives, such as online purchases or form completions. This provides valuable information for evaluating the performance of marketing campaigns and improving return on investment (ROI).
3. Matomo
Matomo is an open-source web analytics platform providing website owners detailed traffic and visitor behavior information. With its focus on privacy and personalization, Matomo has become a popular alternative to Google Analytics.
What sets Matomo apart from traditional web analytics solutions is its unique approach to data control. The core functionality of Matomo revolves around tracking and recording various metrics related to website traffic. This includes visitor count, page views, visit duration, traffic sources, and user interactions on the site.
The platform presents this data through interactive reports and graphs, empowering users to understand their website's performance better. With these insights, users can make informed decisions to enhance the user experience and optimize their marketing strategies.
With Matomo, users can enjoy unique functionalities like media analytics and content interactions, conversion optimization tools, visitor profiles, enhanced SEO capabilities, e-commerce tracking, custom reporting, and campaign tracking.
References