Solitaire, the timeless card game, has been a favorite pastime for generations. But did you know you can now take your solitaire skills to the next level and win real money? With the rise of online tournaments and cash rewards, solitaire enthusiasts can test their skills against players worldwide.
Each solitaire app has its features and rewards. Some offer daily challenges with cash prizes, while others host weekly tournaments with bigger prizes. In addition, many of these platforms provide various game modes, such as Classic Solitaire, Spider Solitaire, Solitaire Cash, and many more, ensuring that there is always a game to suit your preferences. So, if you're ready to challenge yourself, have fun, and earn some extra cash, dive into the world of the best solitaire apps.
Best Solitaire App to Win Money
Are you a fan of the classic card game Solitaire? Imagine taking that beloved pastime to a new level by playing it on your mobile device and having the chance to win real money.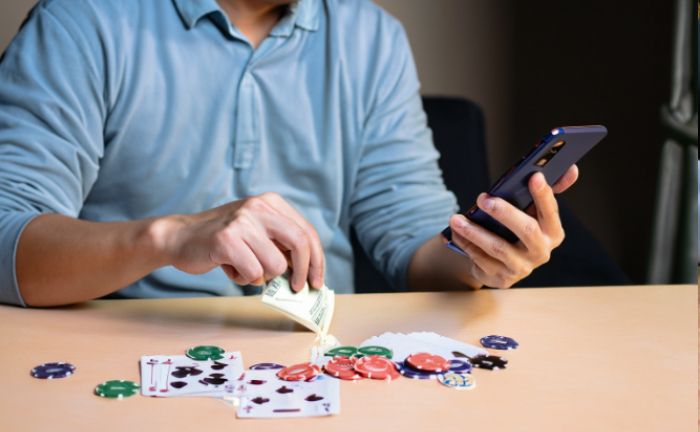 Whether you're a casual player seeking a fun way to pass the time or a seasoned solitaire pro looking for new challenges, these apps cater to all skill levels, ensuring an option for everyone.
Next, we will mention the best solitaire apps you can download from your mobile device to earn money. Each platform has a similar operation, so they are suitable for any age.
InboxDollars
InboxDollars is a website that lets you earn real money online by completing surveys, watching videos, searching the web, and playing games. They also offer solitaire games that you can play to earn points and exchange them for real money or gift cards. Some of the solitaire games they offer are:
Classic Solitaire: The classic Klondike solitaire with 52 cards.
Solitaire Deluxe Spider: A solitaire variant with two decks of cards.
MONOPOLY Solitaire: A Monopoly-themed Solitaire.
Klondike Solitaire: Another version of the standard Klondike solitaire.
Pyramid Solitaire: A solitaire where you build pyramids of cards.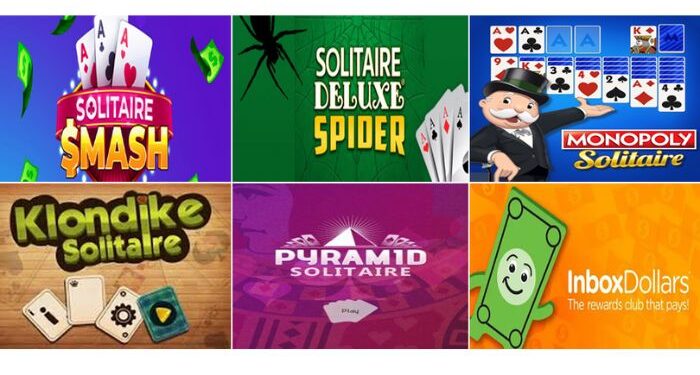 Another Solitaire Apps and games
There are a lot of applications and games that you can use to earn money playing Solitaire. Although we have chosen InboxDollar as the best app to make money with Solitaire, since it has different modes and is complete, you can download other applications and games to earn money playing Solitaire. Below, we name some of them.
Solitaire Cube
Solitaire Cube is a mobile app that offers a unique twist on the classic game of Solitaire. It incorporates cash competitions, allowing players to compete against others for real money. The game follows traditional Solitaire rules, where players arrange cards in numerical order and suit to win. The competitive aspect adds an exciting element to the gameplay, as users can challenge opponents and earn cash prizes based on their performance.
Solitaire Cash
Solitaire Cash is another Solitaire app that combines the popular card game with the opportunity to win real money. Players can engage in solo games of Solitaire Cash, striving to achieve the highest score possible within a given time frame. The app offers cash tournaments where users compete against each other, and the top performers can receive monetary rewards.
Mistplay
Mistplay is a mobile gaming platform that allows users to discover, play and earn rewards while enjoying a wide selection of games on their mobile devices. Through Mistplay, players can earn gift cards, store credits, or cash by completing certain in-game activities, like Solitaire DeluxeⓇ 2, which offers various challenging Solitaire variants like Klondike, Spider, FreeCell, Tri-Peaks, and Pyramid.
You can also find Classic Solitaire, the standard version of the Solitaire game. It is a variant of Klondike Solitaire, one of the most popular and well-known games.
Swagbucks
Swagbucks is an online platform that allows users to earn rewards by participating in various activities, such as taking surveys, shopping online, watching videos, and playing games. Through Swagbucks, players can accumulate points called "Swagbucks," which can then be redeemed for gift cards, cash via PayPal, and other rewards.
Solitaire Cruise: Enjoy a themed solitaire game that takes you on a cruise adventure to new destinations. Play classic Solitaire with challenging levels and unlock new stages as you progress.
Solitaire Grand Harvest: It combines classic Solitaire with farm game elements to create an exciting and rewarding experience. Earn coins and stars to expand your farm and unlock new features as you progress through the game.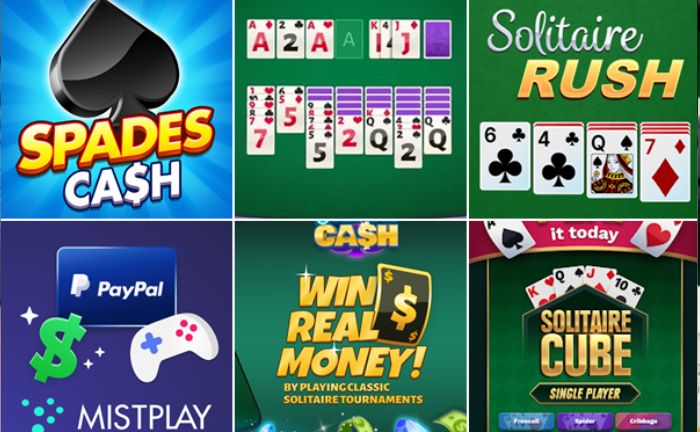 Cashyy
Cashyy is another application that allows you to earn real money by playing games like Solitaire. It works similarly to Swagbucks and InboxDollars. Several Cashyy Solitaire games include the classic Klondike Solitaire, Spider Solitaire, and Pyramid Solitaire.
Spades Cash
Spades Cash is an application that allows you to win real money by playing games such as Solitaire and cards. It works similarly to apps like Swagbucks, InboxDollars, and Cashyy, which we mentioned earlier.
By playing the games within Spades Cash, you earn points that you can then redeem for real money through PayPal. The points you earn depend on how far you progress in each game.
Within Spades Cash, there are several solitaire games to choose from, including Klondike Solitaire, Spider Solitaire, Pyramid Solitaire, FreeCell Solitaire, and TriPeaks Solitaire, a solitaire with three picks where you have to sort the cards.
Cash 'em All
Cash 'em All is an application that allows you to win real money by playing games such as Solitaire and cards. It works similarly to apps like Swagbucks, InboxDollars, and Spades Cash, which we mentioned earlier.
By playing the games within Cash 'em All, you earn points you can change for real money through PayPal. The points you earn depend on how far you progress in each game.
EXTRA FACT: Cash 'em All also offers card games such as Spades, Hearts, and Gin Rummy, where you can earn points.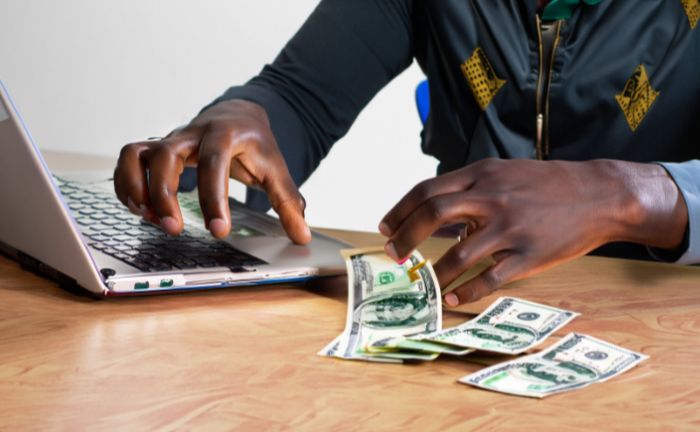 How Can You Make Money Playing Solitaire: Tips to earn extra cash
Although there is no specific strategy to earn money with Solitaire, we can give you some tips people have used to succeed in digital platforms. For example, if you want to stand out and make easy and fast money while playing Solitaire, you can consider some of the following tips.
Choose a reliable Solitaire app: Research and select an online Solitaire app that is reputable and reliable. Read reviews from other users, research the payment policies, and ensure the app has reasonable security measures to protect your data and transactions.
Understand the app's policies: Before you start playing, you must understand the app's rules and policies regarding winnings and payouts. Some apps offer rewards in the form of real money, while others may use point systems or virtual tokens that can be redeemed for prizes or cash.
Participate in tournaments and challenges: Many online Solitaire apps offer daily or weekly games and challenges in which players compete for cash prizes. Make sure you are aware of these events and actively participate for a chance to win money.
Improve your Solitaire skills: Practice and improve your Solitaire skills. The better you are at the game, the better your chances of winning tournaments and competitions. Learn different strategies, study the optimal moves, and work on your speed and accuracy to complete the games as quickly as possible.
Set limits and play responsibly: Remember that the game should be fun. Set clear limits on how much money you will invest in the game, and do not overdo it. Avoid the temptation to spend more than you can afford to lose.
REMEMBER: Do not play too much, as it could cause addiction and harm your health. Just take a break in your free time and enjoy making money with Solitaire!
References