Undoubtedly, buy-now-pay-later shopping is a trend. Now more and more people are seeking options for concert tickets, furniture stores, and even vacations rental with the buy now pay later system. It's a wonder when financing is required.
With online shopping booming, having an app where you can make the purchases you need and pay later is a great alternative before your payment date. Klarna is known for offering this service, where you can shop with security and peace of mind and pay for your items days later.
It is an alternative with which you get discounts and much more, however, online there are other alternatives that can be of great help and offer you the same benefits as Klarna. It is always good to try different options until you find the one that best suits your needs.
Zip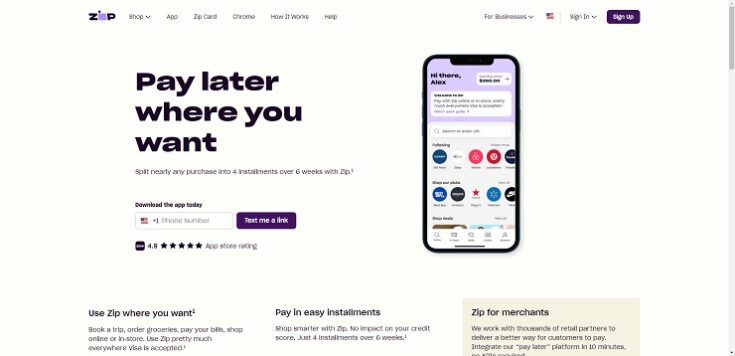 Formerly known as Quadpay, Zip is similar to Klarna with its function of making the purchases you need online and paying for them later. Once you start using it, you can divide your purchases into four small installments that you will meet within a specific six-week period.
In case you are late in paying your bills, you must pay late fees, which depend on the city where you live, but they range from $5 to $10. Comparing it with Klarna, the fees for outstanding payments are higher, considering that in Klarna the fee is $7 if you do not pay the debt on the due date. However, with Zip, you have different benefits such as:
It allows you to make bill payments, online purchases, or in-store purchases
You can use Zip at any location that receives Visa payments
It has an easy-to-use application that is compatible with both Android and iOS operating systems
The app stays active even when you are offline
Splitit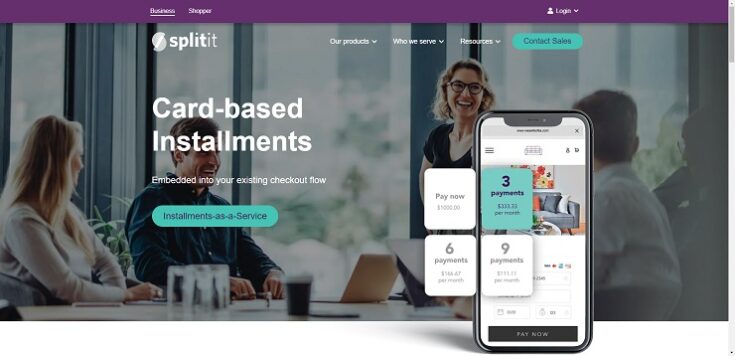 Splitit is an app that you can connect to your credit card and pay for your purchases as you see fit. It has no fees, no interest, no credit check, and no need to complete any application to use it. You should know that when you make a purchase through the app there will be a hold on your credit card.
Unlike the previous option, this application allows you to pay as you go by dividing the payments into the number of installments you choose. It is an option designed to make more expensive purchases than usual, within its multiple benefits you also find:
You can opt for this app to shop at popular stores like James Allen, Vestiaire Collective, Nectar, and Canyon
It allows you to choose the number of installments in which you want to divide the payment
Payments are made at your pace with no worries about additional fees
Afterpay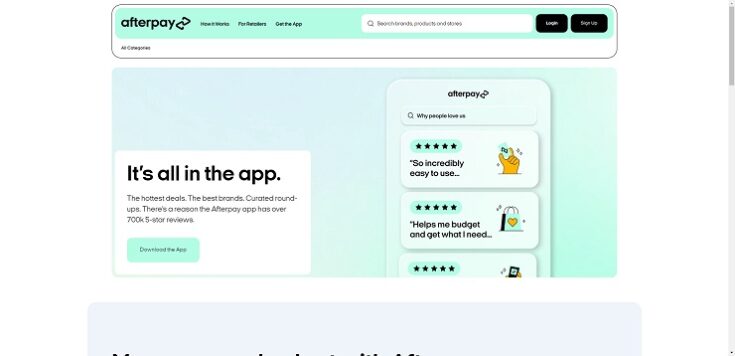 When you are seeking an alternative similar to Klarna, Afterpay is what you need, you can make purchases at the time you want and pay later. Once you complete your purchases you can split it into 4 small payments that you will make over six weeks. Plus, you don't have to worry about interest because it's not included.
However, like most applications of this type, if you do not meet the payment dates you will have to pay a fee of 25% of the total value of the order you are paying for. Despite this, you have some benefits that you can take advantage of while using the app:
It includes a digital card in the app that you can use in your in-store purchases
The registration process is easy to complete so you can start shopping as soon as possible
The app shows you all the necessary information about the expenses you have made and the outstanding installments so you can keep track of them
Affirm
With Affirm, you have the benefit of being able to pay at your pace for the purchases you have loaded in the application; don't worry, because it does not include any hidden fees once you start using it. The shopping process is easy and you can access well-known stores to purchase the products you need.
To sign up is simple and you only need to follow the steps in the application, it does not require too much financial information, being a great benefit if you do not have the best credit score. You also find other advantages that will help you to improve your shopping, such as:
You can shop at Target, Walmart, Expedia Hotels and Amazon
When you apply for your Affirm Debit+ card, you can make purchases directly at stores
You can choose to make four interest-free payments or split the amount into monthly installments with interest
Zebit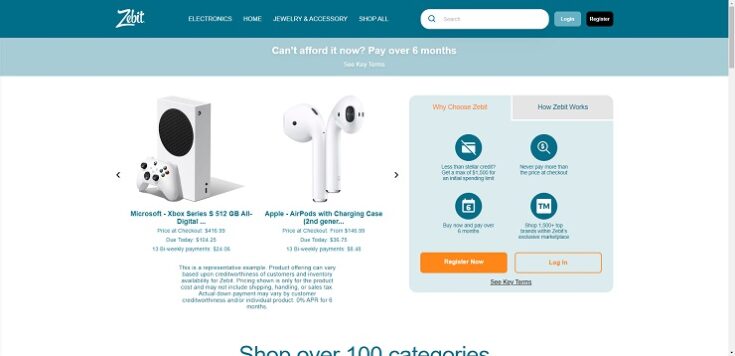 We can say that it is one of the best alternatives to Klarna; not only allowing you to make purchases but also find a wide variety of brands and products that you can purchase directly through the application. The credit with Zebit is up to $2500 to purchase any product within the app's marketplace.
After choosing everything you need you can see the total amount in the "Check-out" which will be the one you will divide into installments to make your weekly payments. To access the application there is no price to do a credit check nor are there any hidden fees, the process to get started is simple through an application from the application. In addition, you find benefits such as:
You can make payments over a 6-month term that you can divide into up to 12 installments. Although it is necessary that you comply with an initial payment of 20% or 30% of the total purchase
Through the application, you can keep track of all expenses, installments paid, and outstanding amounts
You don't have to worry about hidden fees or additional commissions for purchases, none of this is included in the service
The application is easy to use and shows you all the information you need when you want it. It keeps track of all purchases made, which can be beneficial for keeping track of your finances
Why consider alternatives to Klarna?
The main reason to consider using an application apart from Klarna is the benefits. In the options presented, you will find initial fees of a really low percentage, some do not charge additional commissions, and even with others, you can buy as many times as you need as long as you are responsible when it comes to the payments.
Besides, it is always good to try new payment platforms to finally choose the one that best suits your requirements.
References
"Affirm | Buy Now, Pay Later with No Late Fees or Surprises." Affirm | Buy Now, Pay Later with No Late Fees or Surprises, https://www.affirm.com/

"Splitit: Installment Buy Now Pay Later Services for Business." Splitit, https://www.splitit.com/

"Zebit – Marketplace with Buy Now & Pay Over Time Option – Zebit Preview." Zebit Preview, https://preview.zebit.com/

"Buy Now Pay Later with Zip – Shop Online or in-Store Today." Zip, Previously Quadpay, https://zip.co/us

"Buy Now Pay Later with Afterpay." Buy Now Pay Later with Afterpay, https://www.afterpay.com/en-US