Truist Financial has gained a lot of popularity ever since it announced that it will offer new checking accounts that won't include overdraft fees. In doing so, it joins a large network of banks that offer this service to provide the best results for its customers in terms of the transactions they need to make.
Truist's overdraft protection policies have been notified several months ago to its customers so that they can feel relieved and know that they will not have to cover additional fees for their overdrafts. Before you become a customer, you must understand their policies and overdraft protection.
And yes, many banks are offering overdrafts. In fact, there has been a lot of research on whether Cash App leaves you overdrawn, which banks allow instant overdraft and even Bank Of America's overdraft limits. However, Truist is taking the lead.
Truist's overdraft policy
If you are part of Truist customers you will know that it is a company created after the merger of BB&T and SunTrust Banks in 2019. Although it was not until 2022 that they announced changes in overdraft policies that resulted in the elimination of overdraft-related fees.
Through the Truist One Checking account you have multiple benefits, one of which is that it does not have overdraft fees. However, to access this option it is necessary to make a monthly payment of $12, which corresponds to the maintenance of the service. However, for customers who meet the average balance and direct deposit criteria, this fee is waived.
On the other hand, with an account at least 35 days old, you qualify for a negative balance reserve of up to $100. To access overdrafts over $100, you can choose overdraft protection and coverage. However, it is common to exclude the account, which means the bank will not accept your debit card or ATM transactions when your balance is too low.
Truist's Best Account with No Overdraft Fees
As we mentioned before, the Truist One Checking account is one of the best choices you can make if you want to be part of this financial company. It is a simple choice that offers you multiple benefits, some of the most striking ones are:
No overdraft fees
The maintenance fee is only $12 per month, but with some benefits that can help you waive it
Negative balance buffer of up to $100 for eligible customers
Ability to access 10% or 50% rewards such as cashback or miles on your credit card
You enjoy a great digital platform through which you can make all the transactions you need in a short time
It's a checking account that allows you to take advantage of all the financial benefits possible. As your total balances improve and your needs increase, the account will adapt and offer new benefits to improve your financial life. The mission is to give you the best possible return on your money.
How to access this account?
From the Truist home page, go to the "Checking & Savings" option in the top menu.
When you click on it, another menu will appear, select "Truist One Checking" and all the information related to the account you want will appear. Here you can evaluate all the details, the levels available, and the benefits it has.
Once you are sure, select the "Open Truist One Checking" option and you will be redirected to a new page.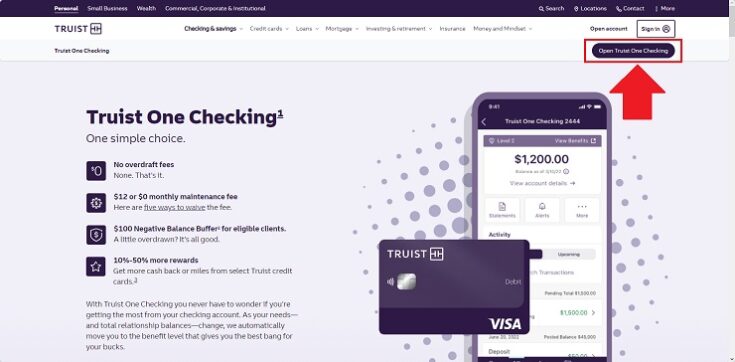 Here you will be taken to the initial application page where you will be prompted to provide all the information you must provide to enroll. Among the requirements are the need to provide personal information, contact information, and social security number, two years of address history, and various income and employment information.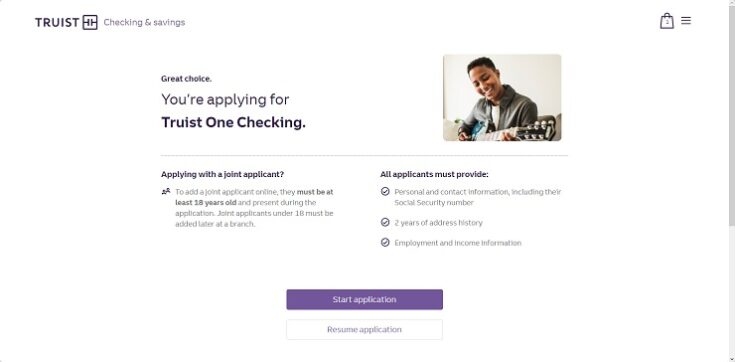 To continue, click on "Start application".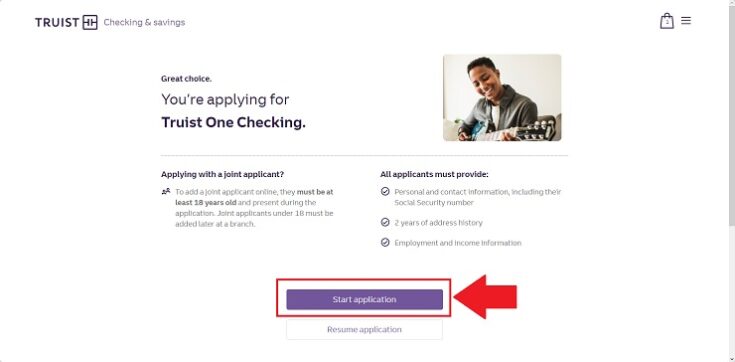 Once you have clicked, you will see the following: "Let's get started." You must click "Yes".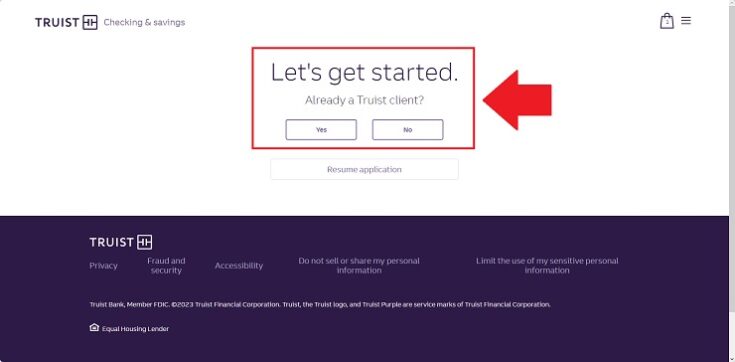 Now you will see another box where you must enter your User ID, Password, and promo code, although this last one is optional. This will be in case you are a customer.
In case you are not a client, you must click on "I'm not a client".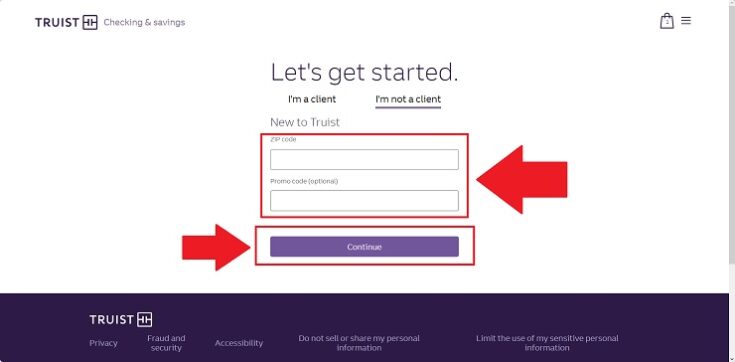 After that, you must enter your ZIP code and promo code. The last thing to do is to click on "Continue".
How else can Truist charge fees?
Just because there are no overdraft fees doesn't mean there aren't other ways the lender can charge some additional interest or fees. As inflation continues to rise and interest rates have increased significantly, this indicates that you may encounter hidden fees on some transactions.
With Truist Bank savings accounts, the APY is 0.01%, lower than many banks. This means that if you have a total of $2500 in your savings account, you only earn $0.25 in a year; you may not be losing money, but with a savings account with a higher interest rate you could have as much as $87.49 produced by your savings in a year.
So, would Truist be the right choice for me?
When you're a user who tends to overdraw your accounts, Truist's alternatives may be the best for you. It is a company that is dedicated to constantly improving its services so that you can always have the best results, which is why you find different account options available on its platform.
In addition, it is an excellent alternative when you are one of those users who prefer convenience above all and are familiar with digital platforms, transactions through online banking, and the convenience of paying for everything from your mobile or computer. This bank's options are designed for users with tight budgets.
On the other hand, interest-bearing savings accounts are ideal if you're looking for your money to generate profits while it's in the bank. Although it is an option with many benefits, you must make a detailed evaluation of all the pros and cons you have to be certain that it is what you need.
Certainly, the zero-interest overdraft policy is great and can give you many benefits, but this is not the only thing you should evaluate about a bank account. You must be clear about what you are looking for and what you need to get the best financial results and make the most of your money.
References