The Iddeal credit card is a financial tool that offers convenient instalment payments to its customers. The main loan is for the purchase of jewellery in physical and online stores. The card has no annual fees, and the application and usage process is relatively easy.
Iddeal is a convenient card for people who are interested in investing in jewellery. Especially for those who want to buy engagement rings or high-quality accessories in instalments. In the following lines, we tell you which are the places where you can use the Iddeal credit card.
Can I use my credit card Iddeal everywhere?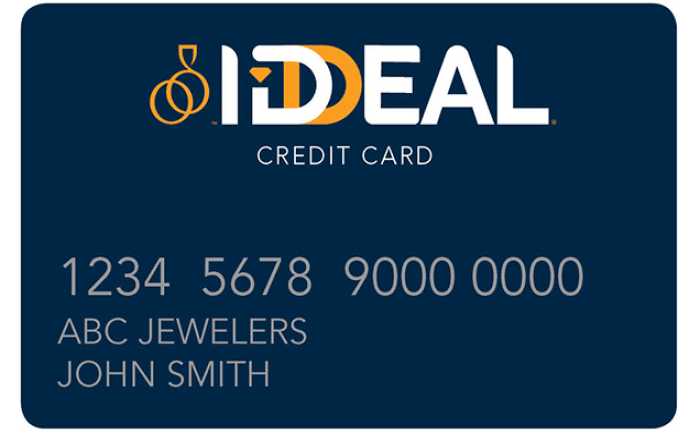 Iddeal credit cards can be used at any jewellery store in the United States that accepts them. They offer customers market-competitive interest rates and convenient instalment payments. They basically work like a department store credit card.
This is a card issued by Comenity Capital Bank that facilitates payments for customers who want to invest in pre-designed, custom or high-end jewellery.
The Iddeal credit card can be used in different jewelry stores throughout the country, some of them are Kuhn's Diamond Jewelery Store or Brian Michael´s Jewelers. However, it is accepted in almost all stores where credit payment is allowed.
How to apply for an Iddeal credit card?
Applying for the Iddeal credit card is very simple. It is an online process that only takes a few minutes. Once the entity has approved your information and you have access to your account, you can start enjoying all the benefits of financing.
It is necessary to take into account that the credit program has these benefits:
A wide range of plans and financing programs to acquire jewellery whose validity involves a single payment. When it comes to multiple shipment transactions, each shipment must have a separate credit plan with a separate interest charge and minimum purchase amount
Monthly online payments
No annual fees
In any case, to apply for the card, you need to follow these steps:
Step one: Access the website
To apply for the Iddeal credit card, you must access the Iddeal website. In the central menu of the portal, you will see the option "Apply", as shown in the following image. To have direct access to the website, you can click here.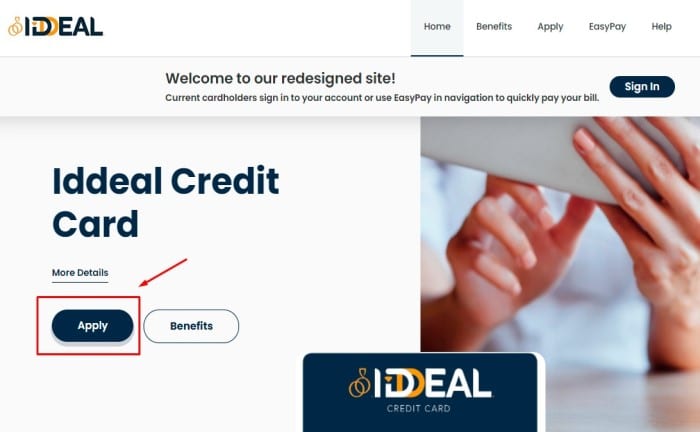 Step two: Fill in the application form
When you click on the button, a new window will open, and you will be asked to fill out a small form with basic personal information. The boxes you must fill in are your cell phone number, the last four digits of your social security number and your zip code.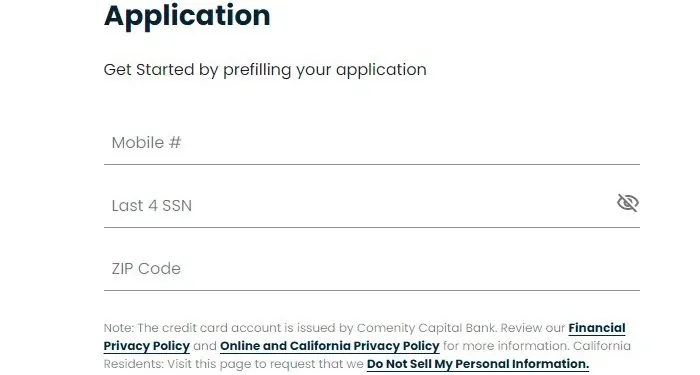 You will immediately see a small box with all the terms and conditions for using the card. We recommend that you read it and then indicate to the platform that you agree. Then click on the "Continue" button.
Complete all the information and data requested by the platform. It will ask for other information such as home addresses or monthly income.
Step three: verify and submit the information
After filling in the boxes, verify that the information is correct and submit the application. The company will take a few days to review the information, and if your credit points, monthly income and other data are positive, they will approve your Iddeal credit card.
How to pay with Iddeal credit card online?
Thanks to the web platform, you can login to the Iddeal credit card and make all your payments online. These are the steps you must follow to use the official portal and pay on time.
Online payment is one of the most used by Iddeal credit card customers. To do so, just go to the company's website and go to the "Easy Pay" option. This is located on the upper right side of the screen, as shown in the following image. To go directly to Iddeal's Home, click here.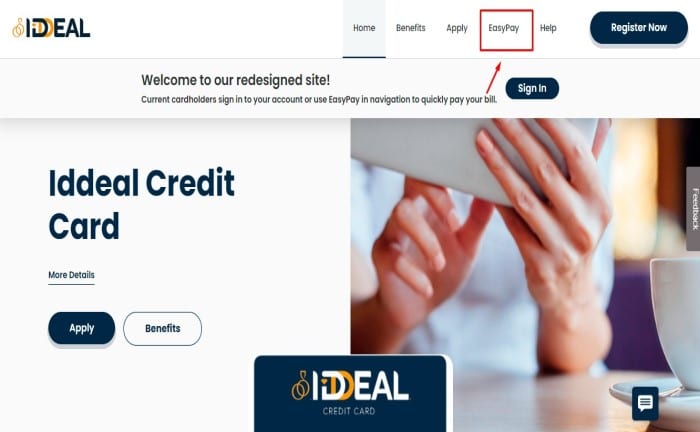 Log in to your account by entering the data requested by the platform: credit card account number, postal code, identification type and the NSS last four digits.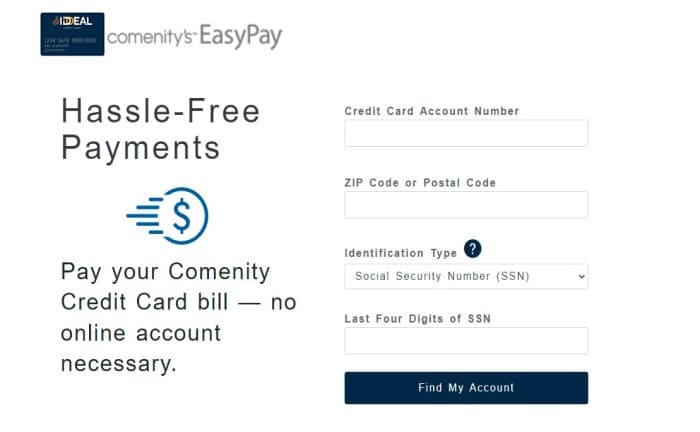 Enter the portal and follow the steps to make the online payment, and that's it, in a matter of minutes, you will have paid your monthly fee.
Other ways to pay with your Iddeal credit card
The Iddeal credit card can also be paid through traditional mail or from a phone call. To make a payment by mail, just follow these steps:
Send a check with a money order with your name and statement address. Do not send cash this way.
Add your pay slip with your payment.
If you do not have your pay slip, send your account number or money order to confirm your payment credited to your account.
This information will be sent to the following address:
Comenity Bank
P.O. Box 659705
San Antonio, TX 78265.
If you wish to make your credit card payment over the phone, just call 1 800 376 0581. Follow the steps indicated by the operator and pay in just minutes.