One of the biggest problems business owners have is finding a bank or financial platform that allows them to create payroll accounts. They must look for a tool that securely holds employee financial information and is easy to use and manage to generate payments.
If you don't know where to turn, both parties have an interactive, effective, and efficient alternative. With Gusto's account for employers and business owners, it won't be complicated for you to create a payroll account. It offers many advantages. We will show you here the registration process, how the app works, and why you should use it.
Benefits of using the Gusto Payroll Account for business owners
One of the most exciting aspects of Gusto as a business owner is that you can earn up to $400 once you make your first payroll payment from the platform. But they also highlight several advantages, such as:
It is easy and secure to use.
Gusto acts as HR and manages the entire process for you.
From the app, employers can collect their employee information and health insurance, compensation, bonuses, etc.
It has integrated services such as Quickbooks, ideal for saving you the hassle of handling manual payroll ledgers.
It automatically file your taxes. It helps you comply with tax laws by identifying tax credits to help you save money.
Unlimited payroll at no extra cost.
International payments to contractors in over 120 countries.
Direct deposits, and many more.
Gusto also has an automatic tax calculator available for tax registration in all 50 U.S. states. Whether your business is small, medium, or large, it works as an excellent HR platform that gives you everything you need to pay, manage your team, and even bring in new hires.
Plan Types
You have a choice of 3 alternatives. "Simple" is the first on the list. As its name indicates, it is the most basic. It has a set of functions to make payroll automatic and simplified.
The cost is $40 per month, plus $6 per person. It has a full payroll service for a single state (including W-2 and 1099 forms), employee profiles, basic recruiting tools, health insurance administration, employee financial benefits, payroll and time off reporting, and basic support, among others.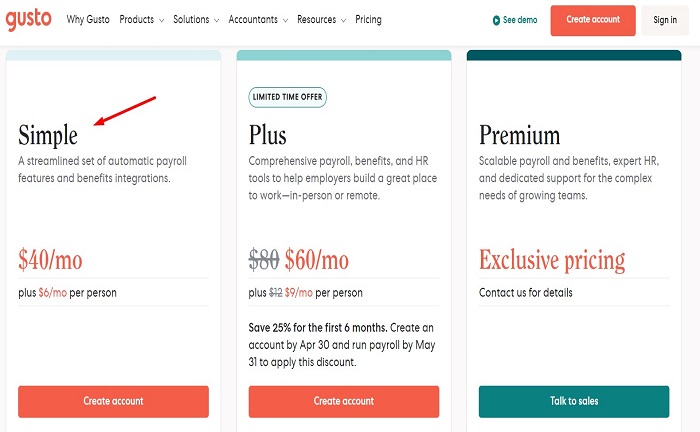 "Plus" is Gusto's intermediate plan. It is more complete than the first one, allowing one to manage the workforce remotely or in person. It costs $80 per month and $12 per person (monthly fee). Its advantages are:
Next-day direct deposit.
Advanced hiring and onboarding tools.
Time and project tracking.
Full support.
Team management tools, etc.
Finally, the "Premium" plan has built-in HR expertise and support for any situation. It is ideal if your company is medium or large. Some of its highlights are:
Compliance alerts.
Access to certified HR experts.
Integration with health insurance brokers.
Performance reviews.
Specialized assistance.
Employee surveys and information.
Important: to find out the cost, contact the Gusto Account sales team.
How to Create a Gusto Payroll Account
The first thing you need to do is sign up for Gusto Payroll. To do this, you have to create a profile for your company. This is done for free on the Gusto website. When you do this, the system will ask you for information about your company, such as the number of employees.
Here is the rest of the procedure for creating a payroll account in Gusto: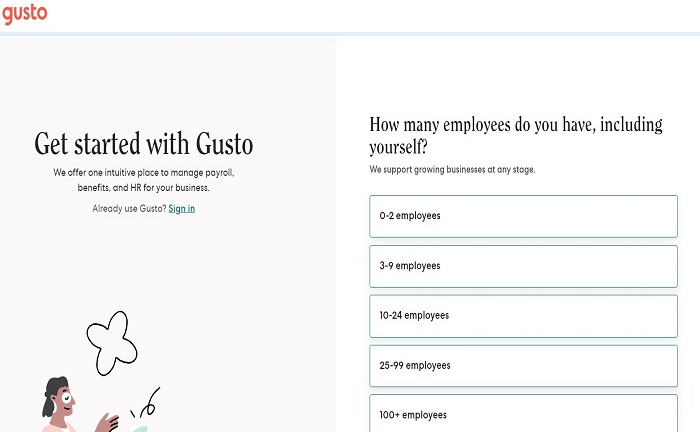 Add your company information (phone number, address, etc.). You must select "Add Your Accountant" and the rest of their information if you have an accountant. This is necessary for Gusto to give them access to your account.
Next, you must link your business to your bank account with Gusto. This way, Gusto will pay your employees' salaries. For this, you need the account number and routing. In this step, you will need to verify the account. You can do this with Plaid.
Add your tax information. For this, you need to fill in your payroll taxes. The platform will ask you for your Employer Identification Number (EIN), among other information.
Then, add the benefits that your employees will have. You can permit Gusto to operate as a Broker of Record, although you can also do it manually.
Finally, you will be asked for the type of plan, and the next step is to set up Guso as your Payroll account. To do this, you must add the employee's respective and personal information, pay schedule, tax details, and other information.
Additional features of the Gusto Payroll Account
Once the employee creates their account, the employer is responsible for finalizing the last details of the Gusto Payroll Account. In this part, the manager must enter any deductions or contributions you wish to make for each employee, such as health insurance or 401(K).
It would be best if you decided whether to offer them benefits, such as vacation, sick days off. Both of these can be managed through Gusto's administration tools.
Once everything is set up, you can start using your Gusto Payroll Account. All you have to do is enter the hours worked for each employee. The platform will take care of the rest. It automatically calculates taxes and deductions, so you don't have to worry about keeping a manual financial notebook. Plus, you can check who has already been paid. It's a very simple way to keep everything in order. You even save money on hiring an accountant.
Tip: If at any time you have a problem with the application you can communicate directly with a Gusto customer support assistant via chat or by phone at (800) 936-0383.
How to use Gusto Payroll for Paying Contractors or Clients
Gusto has a separate section for making payments to contractors. If you don't know how to do this, here's how to do it:
Log in to the app and go to "Payroll."
Click on "Pay contractors."
Select the payment method: fixed or hourly.
Click on the "Enter Payment" button.
Fill in the necessary information.
If you need to reimburse expenses, you will find the option to do so in this section.
How secure is Gusto?
The app uses a firewall, encryption, and other security tools to protect your employees and your company's financial information. So as a business owner, you can ensure your business and employees' information to be managed by Gusto.
References