We live in a world that continuously seeks to advance in the technological field. Apple does not lag behind and is introducing Apple Pay into our lives, a mobile payment service that is here to make our lives easier.
In other words, Apple Pay is a payment system that replaces using cash, credit, and debit cards when paying for your purchases. You can use it through your iPhone or iWatch.
Is Target one of the stores that accept Apple Pay as a payment method?
Apple Pay stores use the Apple symbol in emails, websites, and apps. Sometimes they will have stickers on the company's premises.
Some stores that accept this payment method include Aeropostale, Adidas, Disney Store, Forever 21, Levi's, Old Navy, Nike, T-Mobile, Big Lots, and Target.
I'm interested in learning more about using Apple Pay at Target; how does it work?
Target offers different ways to shop. You can purchase the products you want from the store, the official website, or the app.
As for the Apple Pay payment, you can use it in any shopping method you choose. In addition, Target has point-of-sale systems for radio-frequency identification (or RFID) to use contactless payment through your iPhone or iWatch.
Contactless payment works at all Target locations, so you can streamline your shopping no matter which store you visit.
How do I use Apple Pay at Target stores?
Before using the Apple Pay app in any store, you must add your card to the Wallet. First, you must log in to the application, and in the upper-right corner, you will find the "+" symbol you must then select.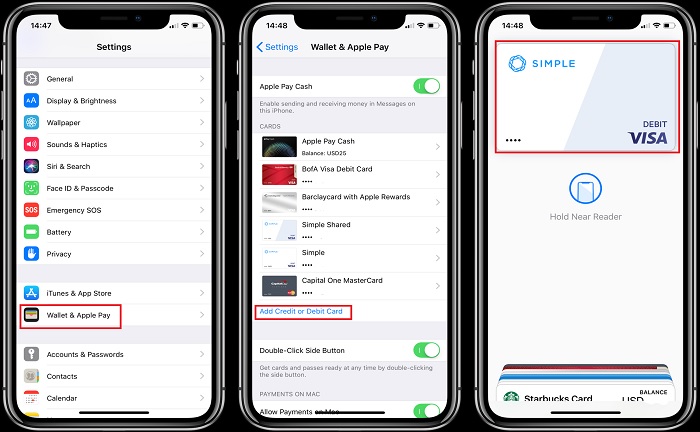 Then you will need to take a picture of your card, whether credit or debit, and enter your card information. You have now finished linking your card to Apple Pay Wallet! You can now use it at Target as you wish.
Now that you have added your card, you can make your payments. First, you must log in to the app, either manually or by double tapping the button on the right side of your iPhone.
When you log in, you will see an image of the credit or debit card added to your Wallet. You must use your iPhone with the application already open in the card reader or payment terminal to pay. When successful, it will be processed automatically, and you can see the transaction on your bank statement.
How does contactless payment through my iPhone or iWatch work at Target?
Using Target's self-pay lane, you must first look for the Apple Pay icon on the checkout screen. Then, it would help to bring your iPhone or iWatch closer to the contactless reader.
While your device is near the reader, you must tap and hold the Touch ID prompt, or you can double-press the button on the right side. When your payment is confirmed, you will feel a vibration and hear a sound. You will then see a tab saying that your transaction was successful.
How can I use Apple Pay in the Target app?
If you have already added your card to your Wallet, you can initiate the process by opening the Target app. Once inside, select the "Payment" option at the bottom of the screen.
Select the "Add payment method" option; in this case, we will choose "Apple Pay". You will now be able to pay for your purchases in the target app through Apple Pay. When paying for your purchases, select Apple Pay as your payment method. You must confirm them with Touch ID, passcode, or Face ID.
References