Kohl's is a company that owns thousands of stores in the United States, except in Hawaii. It is becoming more and more famous and capturing people's interest.
As a company grows, it has to provide more payment methods to ensure customer satisfaction. We want to know whether Kohl's accepts Apple Pay as one of today's fastest-growing in-demand payment methods.

Does Kohl's accept Apple Pay?
The answer is: Yes! Kohl's has Apple Pay among its payment methods. This amazing app lets you pay in their retail stores and in-app.
Along with Panera, Kohl's was one of the first stores to accept contactless payment and add Apple Pay to their valid payment methods. In addition, Kohl's card can also be added to the Apple app.
How does Apple Pay work?
First, you must add the credit or debit card to your Wallet through your Apple device.
To complete this, log in to Wallet and press the "+" in the upper-right corner of your screen. You will need to take a picture of your card or enter the data manually.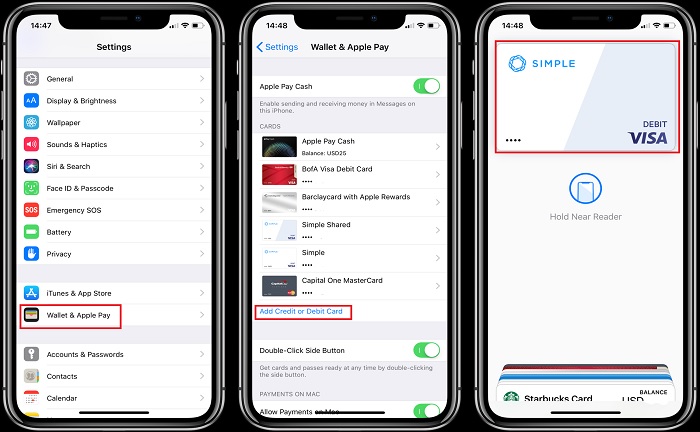 Verify that the data is correct and proceed to accept Apple's terms and conditions. You have now added your card and will have a device account number, and can make payments through your iPhone.
Note that this number is encrypted and is different from your card number, so your data will remain secure. In addition, you will no longer need to carry your cards everywhere.
You can also use Apple Pay through your iWatch; you only have to link it with the Wallet. To add it, enter the Watch application from your phone, select Wallet, and then Apple Pay.
Choose the card you want to pay with from your watch, and that's it! You will now be able to shop with your iWatch.
How can I pay with Apple Pay at Kohl's?
As in any other store, using Apple Pay is quick and easy. Just head to the checkout with your phone or watch, log into the Wallet app and select the card of your choice. You will be asked to verify your identity by Face ID, Touch ID, or passcode, depending on the security method you use on your phone or watch.
Once your identity is verified, hold your phone or watch near the payment reader and wait a few seconds until the payment is confirmed. Once the transaction is approved, you can see your purchase on your bank statement.
On the other hand, the Kohl's app only accepts Apple Pay through the iPhone. You need to download the app, log in, select the products you want to buy, and choose Apple Pay as your payment method.
Kohl's Cards and Gift Card with Apple Pay
Kohl's has its payment system through a proprietary card called Kohl's Credit Card; this card is only for paying Kohl's store bills online and offline.
Customers who use the Kohl's card earn points, discounts, and coupons in the Kohl's system. In addition, gift cards are available for use at any store. Both payment methods can be linked to Apple Pay.
Kohl's Credit Card
The store card is a retail charge card, meaning it can be used in all establishments that the brand that activates it, in this case, Kohl's, allows it for online and physical payments.
The card comes with a credit limit that is a bit lower than regular credit cards. The credit will depend on the credit and creditworthiness of the card purchaser but can range from $300 to $3000; however, most commonly, a credit limit of less than $1000.
The balance must be paid monthly; you do not have the option to pay annually. However, you do have the option to pay off the credit late.
Kohl's Gift cards
Another form of payment is through Kohl's gift cards. They can be used to shop online and in 1,162 stores.
These gift cards range from $5 to $300. They can be purchased directly at the store or online. On the internet, there are countless options where you can buy them, for example, at their official website, staples, gift, Kroger, etc.
The gift cards have no expiration date, and different types of cards are already pre-selected on the website. You can get plain, Christmas, birthday, corporate, charity, etc.
Apple Pay in Kohl's gift cards and credits cards
Kohl's has enabled the option to pay through Apple Pay with the brand's specialized credit cards. There are both options, shopping in online stores and physical stores around the country.
How? Being registered as a credit card, the way to pay with Kohl's card funds in the Apple Pay app is to go to the linked cards option and note the Kohl's credit card. Once the data is registered, the app will save the card as another bank account, and you can also start it in the app.
It is important to know that, despite being saved in the Apple Pay wallet as another card, you can only use the funds if you buy any item at Kohl's. Therefore, when using Apple Pay at any other location, the card will not be enabled to use funds, nor can the money be sent to the general Wallet.
In the case of gift cards, it is very similar to specialty store credit cards. They can be loaded into the Wallet for easier use and not load the card physically. However, it is the same as above; the funds on the gift card are non-transferable to the general Wallet or to pay at a non-Kohl location.
The use of both cards will not be harmed by transferring them to the Apple Pay app, i.e., even if you are paying through the app, you will still earn points; since the money fund comes from a card, the system verifies it. The same happens with coupons and discounts; they will not be affected by paying through Apple Pay.
It is important to know that when paying, you must pay from the linked card and not from the Wallet fund; if you pay from the wallet money, the system will not register the use of Kohl's cards and will not consider points, coupons or discounts.
Was this Content Helpful?