Having scholarship systems such as the NSHSS or Ole Miss scholarships is critical to global academic growth. Talking about the Ole Miss Academic Merit Scholarships is essential because they are only applicable to students who are pursuing or have a bachelor's degree.
It is an annual scholarship, and the number of places depends on the university. At the University of Mississippi, there are many scholarships thanks to donations from alumni and friends of the university.
One thing to keep in mind is that to be eligible for an Ole Miss scholarship you must be a resident of Mississippi. Likewise, you must be a U.S. citizen or permanent U.S. resident to be eligible for a scholarship.
Ole Miss Merit scholarship application process
To apply for an Ole Miss merit scholarship, it is necessary to know the processes required to receive approval. It is essential to meet all the requirements outlined in the admissions section to have a better chance of being selected.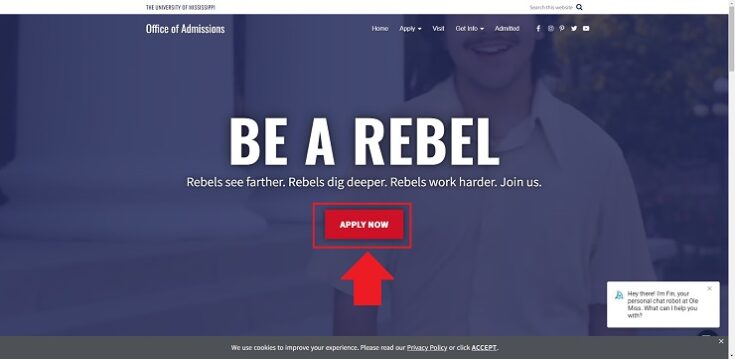 Once you click, you will enter the section with all the options and information. Select the one you are interested in, for example: "Undergraduate Application Admission."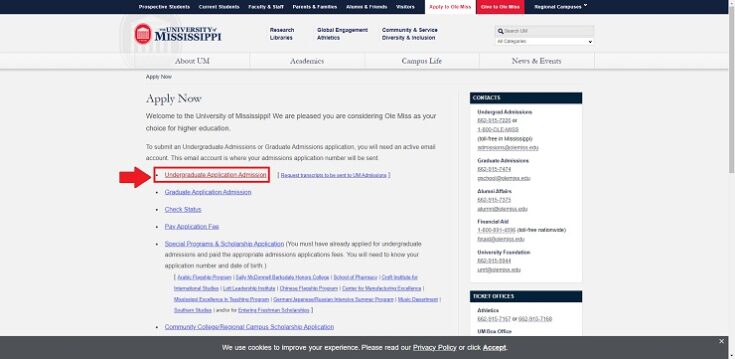 After that, you will be asked to log in with your username and password, which is the main thing you need to do to be able to apply for any Ole Miss scholarship.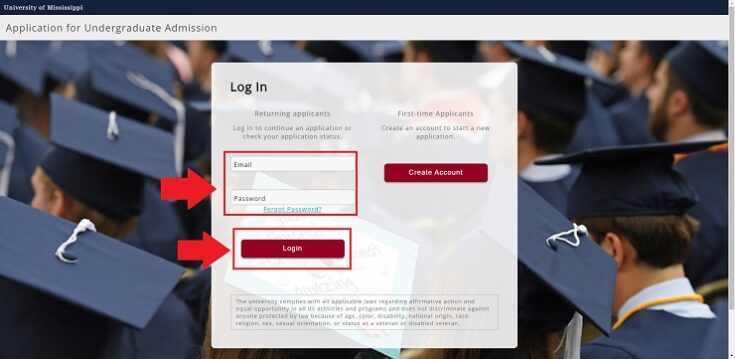 Some of the documents that are usually requested are a letter of recommendation, transcripts with applications, and grades that demonstrate academic merit. Once you apply, you must wait for the scholarship committee to review the applications, check the documents, and notify you of their decision. This may take a few days, their reviews are thorough and careful when awarding scholarships.
Academic merit scholarships are awarded to incoming freshmen who have demonstrated academic achievements such as ACT/SAT scores and GPA. By accessing this scholarship, you can be covered up to $3,000.
Recommendations for applying for an Ole Miss Academic Merit Scholarship
As you can imagine, there are thousands of students wishing to obtain an academic merit scholarship at the University of Mississippi, annually the institution has many applications, therefore, its admissions process is more rigorous.
Read each of the eligibility criteria carefully
Once you register your application through the website, you will find a list of criteria that you must meet and documents that you need to upload to the platform. Before submitting the application, check that you have all the required documents in the requested formats.
Make sure you have solid documentation
In this case, it is essential that each of the uploaded documents is from a reliable source and that the university can verify. Furthermore, do not add more information than necessary, as the evaluators do not really consider it. When requesting your letters of recommendation, ask the person in charge to be careful in the wording and information added.
Apply early
All Ole Miss scholarships have long application deadlines, the general recommendation is to start your application from the date they are opened. Don't rely on long deadlines, this can also be beneficial in getting your approval information in less time.
are foreign students eligible for a scholarship at Ole Miss?
The International Academic Excellence Scholarship is an alternative for foreign students who wish to study at the University of Mississippi. To be eligible, they must apply as an undergraduate student.
Eligibility for this program depends on high school grades between 3.25 and 4, country designation, availability of educational funding, and English proficiency.
Once you obtain a scholarship for international academic excellence you can count on between $23,454 and $3,900, this represents 15% or 95% of the tuition, it all depends on the economic possibilities that the student has.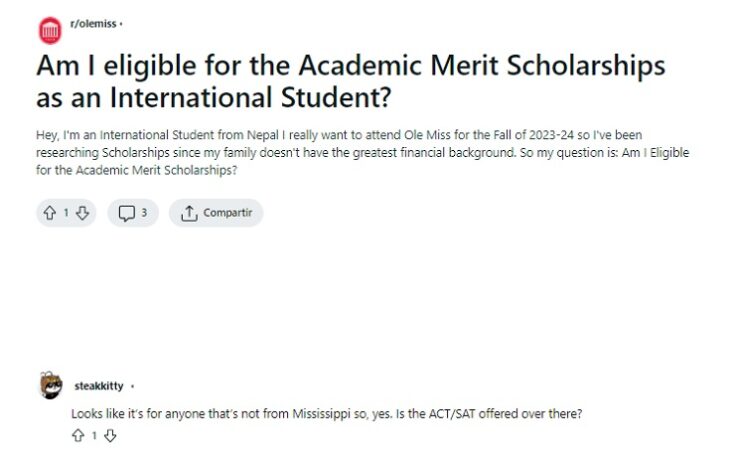 Likewise, these scholarships are not transferable from one student to another and if you get it you must enroll in the fall school term. If all the necessary documentation is in order, you will receive the scholarship for 4 years, the time necessary to complete an undergraduate degree.
How do I know if I am eligible for an academic merit scholarship?
To begin with, if you have exceptional qualifications, you may already be an ideal candidate for an academic merit scholarship. However, you need to excel in related areas of study in the degree program you wish to pursue. Scores throughout the entire student cycle are considered.
Remember that not only the last two years of high school are considered, if your previous grade record is not good, you will not be eligible for an academic merit scholarship. At Ole Miss, you must also be a U.S. resident and live in Mississippi.
Although there are some exceptions to the above rule, you should contact the financial aid office by calling 800 – 891 – 4596 or emailing finaid@olemiss.edu and asking for all the information you need.
References