Concern about energy consumption on a global level is worrying. For this reason, solar energy has become one of man's best friends in caring for the environment since it allows considerable savings in thermal energy in homes and, especially, in more prominent places such as factories or shopping centers.
Young people today are increasingly concerned about the severe rates of light pollution (among other forms of contamination). Thus, many companies have instilled solar energy in their projects, but for this to work, you need professionals with experience in the field. Many companies offer solar energy internships for newcomers starting in this engineering field.
What is Solar Energy and how does it work?
Assuming you are interested in solar energy internships, it is safe to think you have a prior understanding of solar energy. Nonetheless, it is always beneficial to provide a brief introduction to what could potentially be your future profession.
Solar energy is essentially a renewable and sustainable energy source derived from the sun's radiation. This energy can be effectively harnessed and converted into various usable forms, such as electricity or heat. Solar energy is an extremely attractive energy source, especially in today's world, where climate change is a pressing concern.
Types of solar systems
Solar panels or solar thermal systems are used to capture solar energy and have applications in residential, commercial, and industrial settings. There are two main types of solar systems: solar thermal and photovoltaic.
Solar Photovoltaic (P.V.) Systems
This method converts sunlight into electricity using semiconductor materials, typically silicon, in photovoltaic cells. When sunlight hits these cells, it dislodges electrons in the semiconductor material, generating electricity.
This direct current (D.C.) electricity is then converted to alternating current (A.C.) electricity through an inverter, enabling it to power electrical devices and buildings.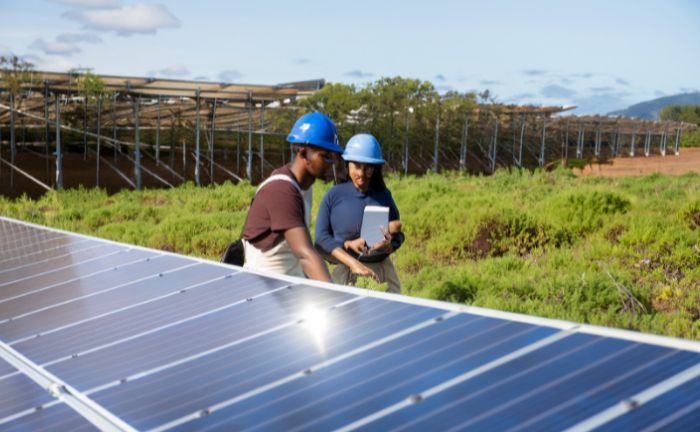 Solar thermal systems
This method harnesses the sun's heat to generate hot water or steam, which can be used for heating or electricity generation. These systems typically comprise solar collectors that absorb solar heat and a heat transfer system that transfers the captured heat to a fluid, like water or oil.
The heated fluid is then employed directly or indirectly to supply hot water or produce steam, which can power turbines connected to generators for electricity production.
Companies hiring solar energy internships 2023
Here are some companies in the industry that are currently offering solar energy internships. This includes both technology giants and specialized solar installation and development companies. Learn about these companies' unique learning opportunities, exciting projects, and promising career prospects for aspiring solar energy professionals, and you can also learn about "Green Jobs".
U.S. Solar (Minneapolis)
U.S. Solar is a company that specializes in developing, owning, operating, and financing solar projects. It focuses on emerging state markets and community solar programs across the country. The Geographic Information Systems (GIS) Intern is a part-time job, and the intern will work in a dynamic environment, communicating with colleagues and external parties.
Responsibilities include using Google Earth to manage geospatial data, analyzing tabular data using software like M.S. Excel and M.S. Access, conducting research for special studies and reports, assisting with permitting applications, and other assigned duties.
The intern should have a Bachelor's degree and interest/experience in Geography, GIS, utilities, renewable, and solar energy. They should be familiar with Esri ArcGIS, data analysis tools like Excel, Python, SPSS, R, and SQL, and relational databases such as Microsoft SQL Server, PostgreSQL, and MySQL.
ENGIE North America Inc. (Chicago)
ENGIE seeks talented individuals dedicated to creating a lower-carbon energy economy and preserving natural resources. This internship opportunity is within the Renewables Engineering group, which focuses on the technical development, design, and construction of significant wind, solar, and energy storage projects.
The internship aims to provide valuable engineering experience in the renewable energy industry. Responsibilities include participating in environmental engineering design reviews, attending multi-discipline team meetings, and supporting the development of Environmental engineering specifications.
The intern must also learn about different stages of project life cycles, understand various technical aspects of projects, and participate in site visits.
New England Clean Energy (Hudson, MA)
If you're a student at a vocational high school and interested in solar power and battery systems, consider joining New England Clean Energy Inc. as a Solar Internship for Vocational High School Students. Massachusetts's top-rated solar installation company is known for its high customer satisfaction and employee ratings.
Responsibilities include working with the installation team on solar pedestals and racking systems, assisting Electricians and Apprentices with non-electrical duties, light construction and job site maintenance, troubleshooting and problem-solving for solar systems, and occasionally assisting with system design tasks.
Desired qualifications include an interest in learning all aspects of solar and battery system installation, excellent organizational skills, ability to work well in a team, ability to work on ladders and roofs of various heights and pitches, ability to lift 50 lbs., and possession of essential hand tools.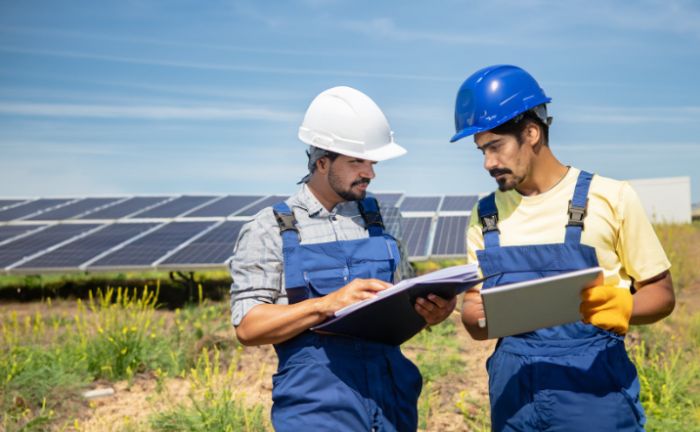 Linea Energy (San Francisco)
Linea Energy is a new company that wants to revolutionize how clean energy is created and funded. By using top-notch development skills and managing risks effectively, they aim to achieve excellent outcomes for our partners and communities consistently.
As a Renewable Energy Undergraduate Summer Intern, you will have the chance to work on different teams and help with finance, development, and operations tasks. You will work closely with our experienced team in San Francisco and contribute to various projects, like working on a big project in Texas, starting new solar, wind, and storage projects across the U.S., and creating revenue models.
To qualify, you should be a junior at Stanford University, interested in renewable energy, have prior internship experience, and be proficient in Excel and PowerPoint. It's also essential that you can work in our San Francisco office most of the week.
Kroger (Cincinnati)
Kroger General Office is offering a solar energy internship opportunity. The intern will work on various lighting, incentives, solar, motors, energy star, and maintenance tasks within Facility Engineering.
They will assist energy engineers and management, attend department meetings, complete assigned tasks, and present a cumulative project summarizing their accomplishments. Minimum qualifications include proficiency in Microsoft Office, basic environmental engineering knowledge, and critical thinking skills.
Also, the intern must be able to work independently and collaboratively, meet deadlines, and maintain a minimum GPA of 3.0. The pay range for this solar energy internship is between $19.00 and $21.00 per hour.
Where to find Solar Energy Internships? Best sites
When searching for solar energy internships, several reputable websites and platforms can help you find valuable opportunities. This is one of the most exciting careers in environmental care and works, along with Environment, Agriculture & Conservation careers. Here are some of the best sites to explore:
NREL
The National Renewable Energy Laboratory (NREL) is constantly posting job openings for those who wish to become solar interns. To find out if there are any openings, follow these simple steps:
Go to the NREL website.
Click on "Careers" and then "Internships".
Next, select between graduate or undergraduate, as appropriate.
You will then be presented with a list of all the solar energy internships and programs you can join.
InternshipUSA
To find solar energy careers on this website, enter the InternshipUSA search engine and type "Solar Energy Internship." The available results will appear in a matter of seconds.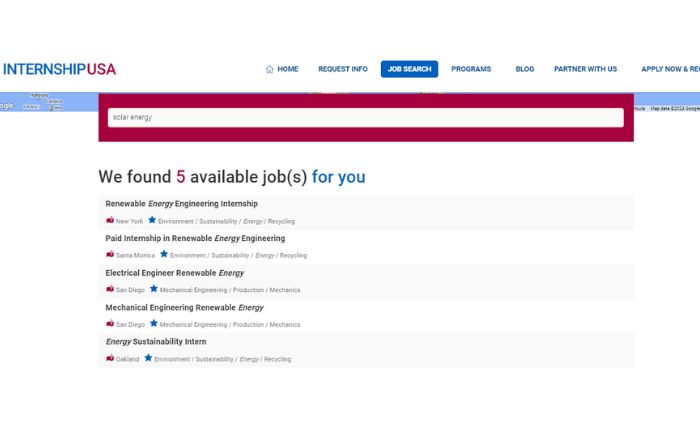 NRG Energy
NRG is a Fortune 500 company that aims to create a more innovative, cleaner, and digitally-enhanced energy ecosystem. This implies an interest in using technology and innovation to improve the efficiency and sustainability of energy consumption in homes.
NRG was recognized as one of America's most responsible companies by Newsweek in 2023. To learn about NRG's job openings, follow these steps:
Go to NRG's job search engine.
Type "Solar Energy Internship" in the search box. You can add your location to speed up the search if you wish.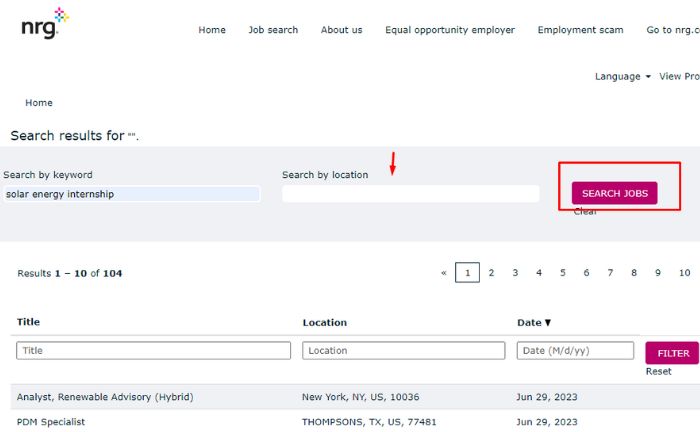 Click on "Search," and you will find all the positions for this type of internship.
Other well-known websites where job offers are published are the famous LinkedIn, Indeed, SimplyHired, and GlassDoor. You only have to enter "Solar Energy internship" in the search engine. All the results of internships available near your location or where you previously indicated will appear.
References