A thank you letter to employees encourages them to continue doing their job as they have been doing. In addition, by receiving this letter, workers will feel flattered by the manager, who not only congratulates the employee but also shows his appreciation and agreement for the work.
One of the most used methods to send thank-you letters is email. However, it can often be done personally if the manager has time to give this type of congratulations, which is more complex. Still, writing by following different examples with a coherent structure is more manageable.
What is an employee recognition letter?
The employee recognition letter is a way of showing gratitude and acknowledging employees' work for a certain period or for personal achievements that have contributed to the company's performance.
The manager usually writes this letter, although Human Resources can do it. The objective is that the company is grateful and satisfied with the employees' work performance, who will be motivated to receive a congratulation for their work and to continue with the same level of commitment.
Where to send a recognition letter?
There are many ways to send a letter of appreciation to an employee. It can be through an email, a handwritten or typed and printed letter. A handwritten note has always been much more "personal" and "emotional" than an email. Still, one thing doesn't take away the other, and an email is also an excellent way to congratulate an employee.
Beyond the letter's format, the intention is for the employee to be praised by his or her superior.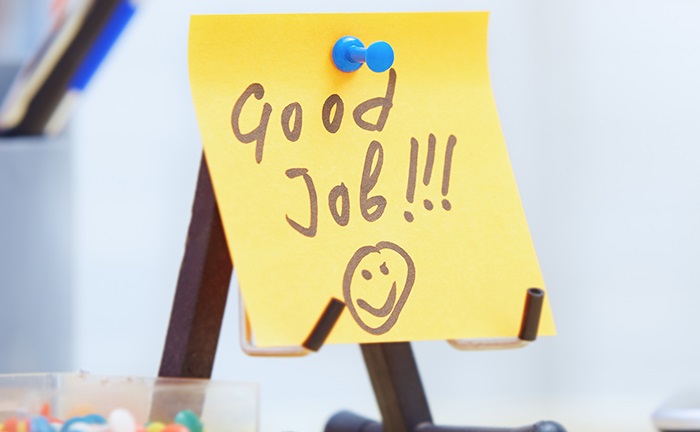 What are the types of employee recognition letters?
There is an excellent variety of acknowledgment letters. They can be divided according to the formality and intention with which they are written.
According to formality
Employee acknowledgment letters can be of three types according to their communication form: formal, semi-formal, or informal.
Informal letters are those given to the employee by a colleague, and in a more "relaxed" environment, so the content is more flexible.
These letters are delivered to employees by the managers or leaders of the team or of a company department (usually Human Resources).
There is no greater satisfaction than the boss's direct congratulations and formal letters of recognition. These letters, written by the manager, are written in a formal style and terms.
Depending on the purpose
Many letters of appreciation are given to employees for different reasons, but the most commonly used are the following:
Letter of appreciation to employees to notify them that their job performance is essential
Acknowledgment letter to thank an employee for covering their absent co-worker.
Acknowledgment letter to an employee for their hard, excellent, and impeccable job performance.
Letter of appreciation for contributions made to the company over the years.
Appreciation for collaboration when needed.
Letter to congratulate for attendance.
Letter of recognition to a new employee.
Tips for writing a letter of appreciation to a worker
There are several points to consider when writing a letter of appreciation, such as formality, content, and expressions, among other elements that should be included. We can mention the following aspects:
Detail your congratulations: When talking about the qualities and benefits the worker has contributed to the company, it is essential to specify in what he/she stands out so that he/she continues along the same path.
Highlight the skills: Mention all the strengths you notice daily in the employee to highlight their work in a letter of recognition.
Mention the future: Show your enthusiasm that you want the employee to continue being part of the company in the future, and if he/she continues with his/her predisposition, you can mention a possible promotion.
Maintain professionalism: You must write formally and continue with your position as an employer, in addition to congratulating the employee.
Be honest: When writing the letter, you should thank the employee for his work and effort, but always do it with sincerity and genuineness since praising someone and then forgetting about it would be useless.
Why is an appreciation letter so important?
Letters of appreciation can help an employee maintain his/her performance at work and encourage him to bet for more and continue doing his job as he has been doing it. Receiving praise from a superior will always be a way to promote the employee, so it is an excellent idea to reward his or her contribution to the company through a letter of appreciation.
On the other hand, a letter of appreciation to the employee can allow a rapprochement between both parties so that the work environment will be more relaxed, less stressful, and with fluid communication. It will help to establish a relationship based on trust and transparency, letting the employee know that you have confidence in his or her work.
Employees often leave a company because they do not feel understood or valued by their superiors, as if all their effort is insufficient. That leads several workers to resign, so a thank you letter will always be well received.
How to write an employee appreciation letter
There are several steps and points to keep in mind when writing an employee appreciation letter. You can download templates to guide you and write your letter in the link below.
Choose the format of the letter
The first thing to recognize is the format you want to use for the letter, i.e., whether it will be formal or informal, and the tone in which it is written. On the other hand, you must choose the medium by which the greeting will be sent (email, handwritten or typed letter, personally, etc.).
Insert the contact information
Write the first and last name of the employee before starting to write. Also, add their address, state, city, county, zip code, phone number, and email address. Then add the date and the writer's contact information and company below.
Salutation
The salutation is essential in a letter of this type, and you can use "Dear" followed by the employee's name.
Reason for the letter
After opening the letter with the salutation, explain why you are writing the letter briefly, then detail the thank you and the effort, for example.
Details
In the body of the letter, and after explaining the reason briefly, show your gratitude and agreement with the employee's work and give examples of events that have caused you to write a thank you letter. Remember to use the right words to compliment the employee, as they will take it personally, and it will help to encourage them to continue their behavior and willingness.
Conclusion
You can end the letter by reiterating and remarking your gratitude for the job and, in case you want to let him/her know about any award, such as a promotion, you should write it in this space.
Sign
Next, write your signature with your first and last name, position in the company, and contact information. Ideally, add an electronic signature if you are sending it by email. After concluding the letter, say goodbye with a cordial greeting, such as "Sincerely".
Review
Finally, always proofread the entire document to avoid possible errors and misunderstandings. Please read carefully and ensure that everything is as you want it to be, without spelling or grammatical errors, as this will take away from the seriousness of the letter. You can read the letter aloud to help you find any mistakes, and once you have finished the note, you can send it to the recipient.
References
Was this Content Helpful?