Learning Spanish has become a necessity for advancement in a variety of sectors. You can find many online courses that help you learn Spanish through audio and text exercises.
However, finding the best online Spanish learning programs can be challenging. Not because there aren't enough options but because it's difficult to choose the best from hundreds of options. 
People prefer online learning programs for time and location flexibility. You get the freedom to learn Spanish from your home with your preferred time slot. Since most of the courses are available on desktop and mobile, one can access the courses either from desktop or mobile as per his convenience.
Most of the courses also offer free and paid online versions, while some are completely free or paid programs. So, you can try a free trial before moving on to paid subscription.
If you are also want to learn Spanish but find it hard to choose the best program, we can help you. 
Three online language learning courses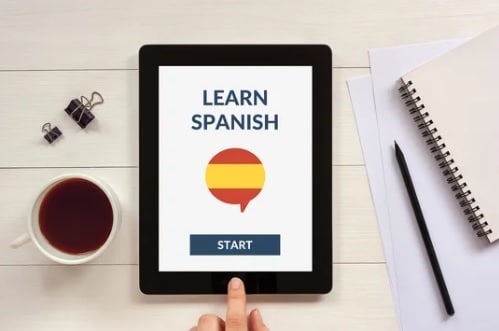 Rosetta Stone Language Learning
Rosetta Stone is among the most popular and best premium software for establishing a solid base in a foreign language. It offers the most uncomplicated learning style for beginners and has tons of additional content to help learners at an advanced level.
The mobile and desktop options track your progress and sync with each other, so you can leave a lesson on the desktop and start it from your mobile. The program offers a 3-day free trial before moving to the paid version (Starts at $6.49/ month) and is available for Windows PC, Mac, iOS, Android.
The learning content is divided into chunks, and one can customize the content to focus on specific topics. No English subtitles are added in the lessons that force the student to learn the Spanish vocabulary and understand it better.
Pros:
Great user experience

Good mobile and desktop interface

Paid online tutoring option available

Great content

Can download the lessons for offline use
Cons:
Difficulty in voice recognition

Repetitive content 

No placement tests
➡LEARN MORE: What can I do with a modern languages degree?
Duolingo
Duolingo is a completely free app to learn Spanish for younger and older people. The app is easy to use with the best teaching tools and tracking features. Its innovative gaming format encourages the learners to learn grammar and vocabulary.
The app sends regular notifications to keep the learner motivated and complete the course. The learner also gets suggestions to improve his struggling areas that make this app unique and power pack boss.
Pros:
Completely free

Easy user experience

Available for mobile and desktop

Focuses grammar and vocabulary

Innovative, fun, gaming style learning

Offer many languages
Cons:
Sometimes notifications are annoying

Not comprehensive enough for advanced learners
Pimsleur Spanish 
Pimsleur is the best app for good listeners who want to learn Spanish. The program is completely audio-based, so a visual learner might find it difficult.
The app's lessons primarily focus on a 30-minute daily conversation where a tutor guides the learner about every phrase and word used in the sentence. Every conversation lesson includes vocabulary and phrases that are commonly used in various scenarios.
Listening to regular conversation lessons helps the learners get familiar with daily conversations and prepare them to anticipate and respond appropriately while on travel for a short period of time.
The app supports Windows PC, Mac, iOS, Android, it offers a free trial lesson, and then it moves to the paid version (Starts at $14.95/month or $119.95/level).
Pros:
Teaches through conversation lessons

Audio-based

Lots of repeating phrases, expressions for easy memorization

Can download the lessons for offline use
Cons:
High price

Takes a long time to learn

No visual content
Was this Content Helpful?