If you are looking to teach English as a foreign language, almost all job postings will require you to have a TEFL certification. TEFL (short for Teaching English as a Foreign Language) qualifications can easily be obtained from the comfort of your own home.
During an online course, you'll learn all the basic skills you need to know to teach English. You can then transfer these skills to a classroom setting or opt to teach English online.
Today we've compiled a list of the best TEFL certifications online. These courses allow you to study in your own time and at your own pace. You'll enjoy furthering your education and learning skills that can be applied to your future teaching career.
TEFL Pros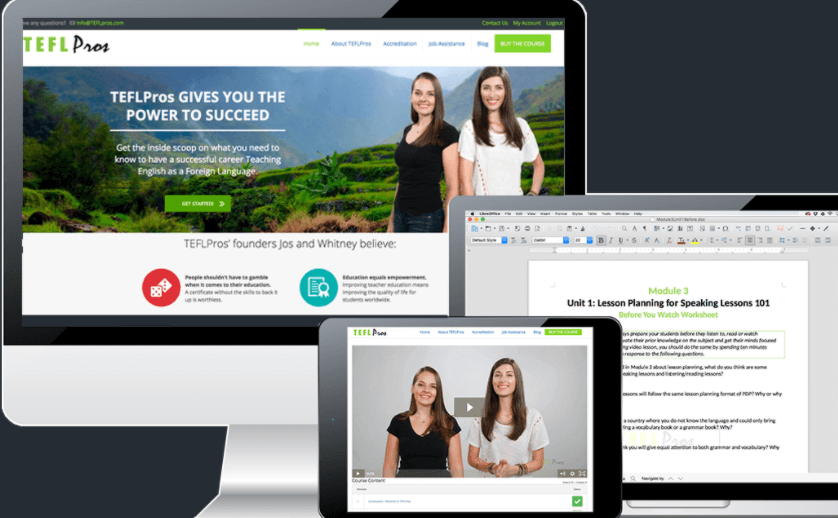 TEFL Pros offers a 120-hour online course that contains fully accredited content. Each of the ten modules focuses on a different area of study to get you ready to start your English teaching career.
This course's step-by-step structure ensures that students feel comfortable in what they've learned before moving ahead. You'll also appreciate the lesson planning video examples, which will be a key resource for you in the future.
International TEFL Academy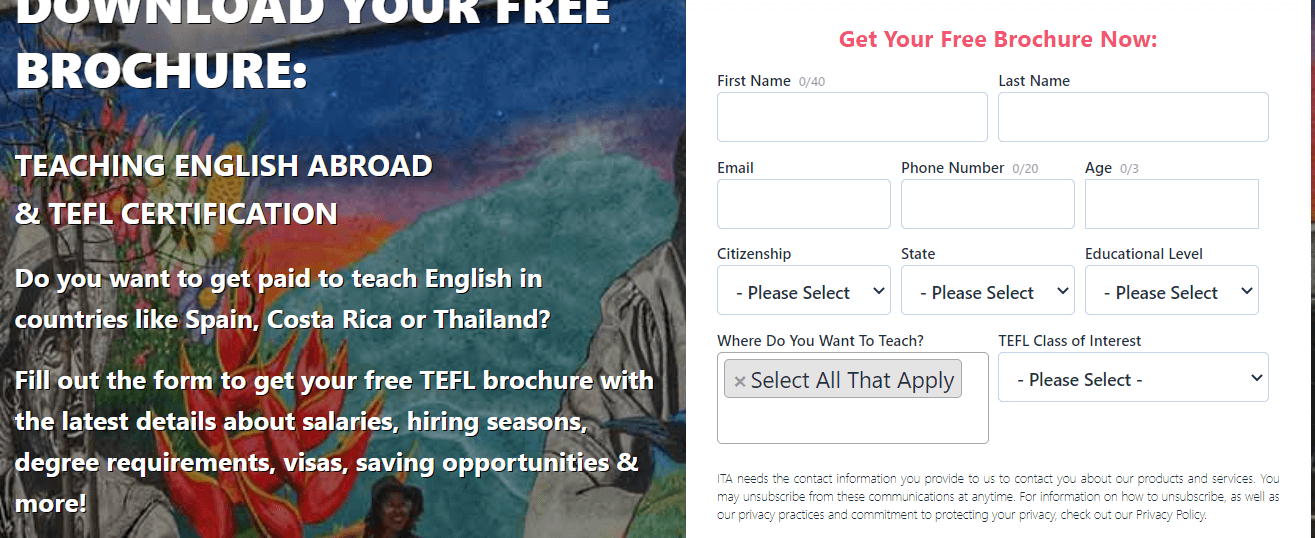 The International TEFL Academy has trained thousands of students who now work in over 80 countries. Each class has only a few people, and this part-time course is easy to fit around your other college or work commitments.
The hands-on practice within this course ensures you feel comfortable and fully equipped to teach English as a foreign language upon your course completion. The course is structured in a way that will build your confidence and leave you feeling excited to embark on an adventure teaching English abroad.
myTEFL
Regardless of whether you are a complete beginner or just looking to further your teaching skills, myTEFL has alternatives for you. They offer a wide variety of online courses to suit all levels, and each of their courses offers 24/7 tutor support.
The Professional TEFL Instructor and Master TEFL Instructor courses are ideal for anyone looking to make a career from teaching English as a foreign language. They'll help you with designing lesson plans and managing large classes of students.
You'll leave these courses feeling confident and ready to start teaching anywhere in the world. Each course has access to a library of materials, and you'll receive tutor support and feedback to help you improve and prepare yourself for your career.
International TEFL and TESOL Training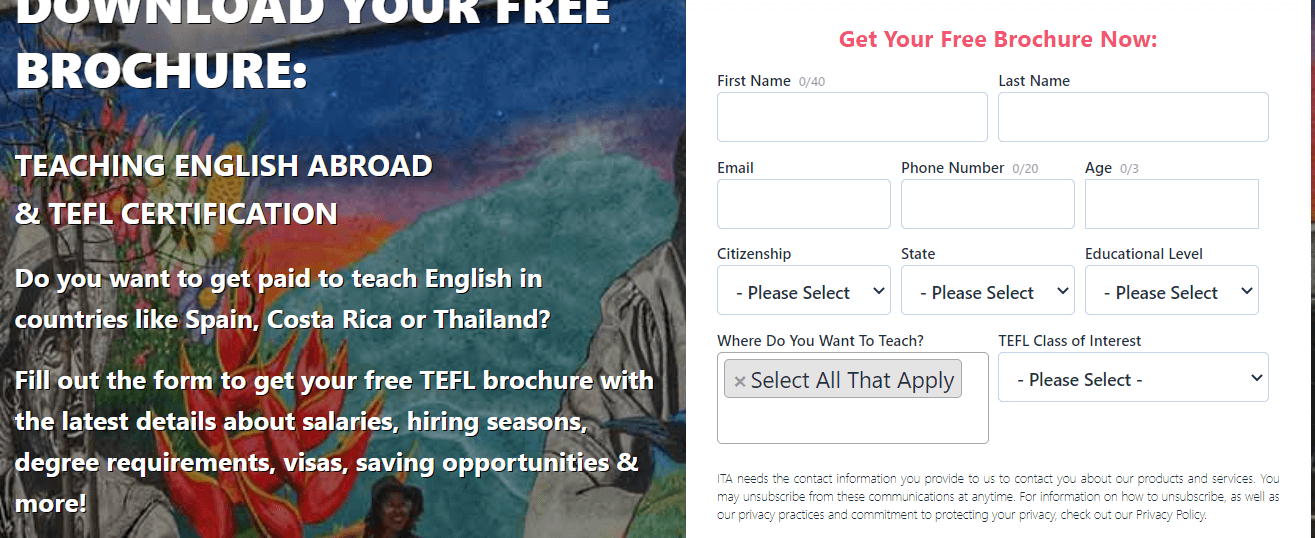 This company offers students a variety of courses, including 60-hour and 120-hour TEFL certificates. If you are particularly interested in teaching English online, they also have a course specifically for this.
You can opt to include tutor support with your course package, or you can simply fit the course around your current schedule without support. For anyone who is very serious about their future teaching career, the 550-hour Expert Package would be a great choice for you.
Maximo Nivel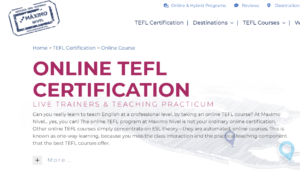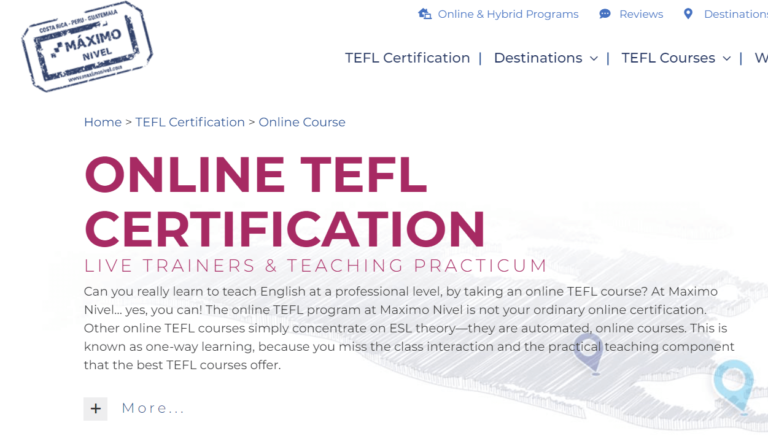 While some courses are designed to be completed in your own time, Maximo Nivel offers a more personalized service. You'll enjoy interactive classes with an online teacher, which will help build your practical teaching skills.
Their courses can be completed in four to twelve weeks, and you'll enjoy ten hours of live classes during this time. You'll find this course is ideal if you are looking to teach online, as you'll get used to learning and teaching through popular online platforms.
If you are looking for a TEFL qualification to complete while studying at college, you'll be reassured to know that you have six months to finish this course. This can even be extended for a fee if you become too overwhelmed with your workload.
Premier TEFL
Get yourself fully prepared to teach online or abroad with a TEFL certification from Premier TEFL. Their certificates are recognized internationally, and they offer great value for money. If you want to take it one step further, you can also join one of their internship programs.
After completing your course, you'll be exposed to a network that offers hundreds of job postings. The company helps you form connections that will offer you a lifetime of support during your career.
This is also a great company for anyone who is unsure about taking the course, as they will refund you with no questions asked. You'll be able to test out the TEFL course and decide whether a career in teaching English as a foreign language is really for you.
➔ READ MORE: What can you do with an English degree?
Start your TEFL Certification Online Today
By equipping yourself with a TEFL certification, you'll be ready to apply for English teaching jobs both online and abroad. Teaching English as a foreign language is a great way to see the world and feel like you are making a difference to young people's lives.
Any of these best TEFL certifications online listed here can be completed in the comfort of your own home. They can fit around your current study and work schedule, so you'll be able to complete your TEFL certification at your own pace.