When it comes to vacation planning, the first thing we usually think of is vacation payment plans, USAA deals, and even Buy Now, Pay Later plans that already exist for travel, but these are not the only important things! Lodging is also key.
Airbnb is used by thousands of people to find the best accommodation for their vacations, it is a service where you can find extravagant accommodations or alternatives that are more in line with the budget you have available. They can guide you to the best alternatives according to what you want on your vacation.
Certainly, it is an excellent option to find the ideal accommodation, however, it is not the only alternative available. There are many applications available that help you find the best places to spend your vacation and many show you options with better prices so you can save a little on lodging.
Vrb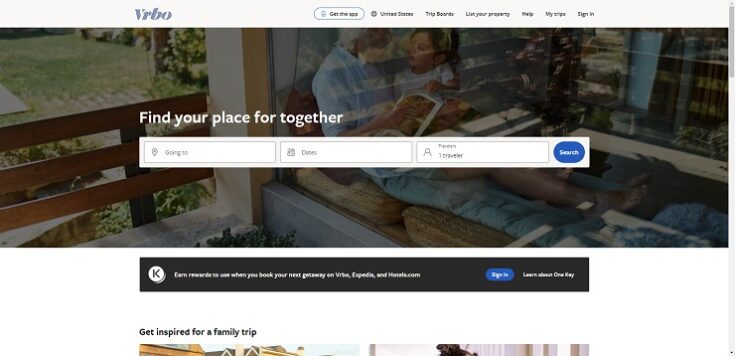 Currently, it is one of the most used sites to find the best vacation rentals. Its listings include, mostly, entire houses for rent, you can find from beautiful tree houses to seaside cottages or a luxurious villa with great views of the landscape.
In Vrb you will not find shared spaces, so if that was your intention it is better to opt for another application. To find what you are looking for you need to add the location where you will go, the date of arrival and return, and the number of people staying indicating how many adults, children, and pets will be staying. It also offers advantages such as:
The selection of rentals is incredibly extensive
It will show you options where you can enjoy your vacation with your partner, children, and even pets
It has excellent filters to help you find what you need faster
The booking process is totally safe and fast
Ecobnb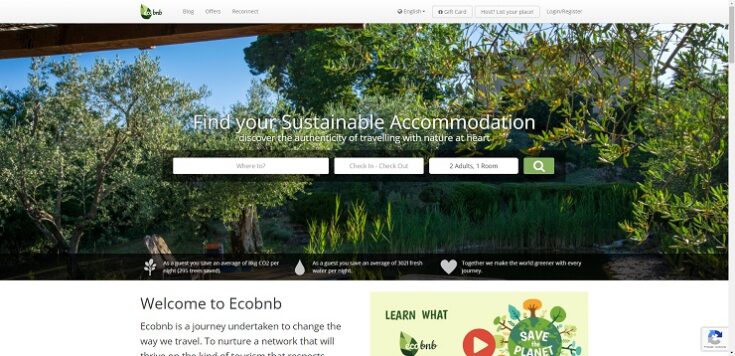 If you are looking for eco-friendly accommodation, this is the option you need. You will be able to get in touch with all the ecological hotels, houses, and organic farms in the area you are visiting. From the moment you enter Ecobnb, you will find useful information to be an environmentally friendly tourist.
They have an interesting tourism strategy to make the visits socially, environmentally, and economically sustainable. To find accommodation through this platform, you need to meet some requirements related to sustainability. This indicates that it possesses many benefits, such as:
It will indicate the areas where you can do waste recycling in the area you will be visiting
They provide a map with the places where you find food and that work with organic products
The available options are accessible without the need to drive
Plum Guide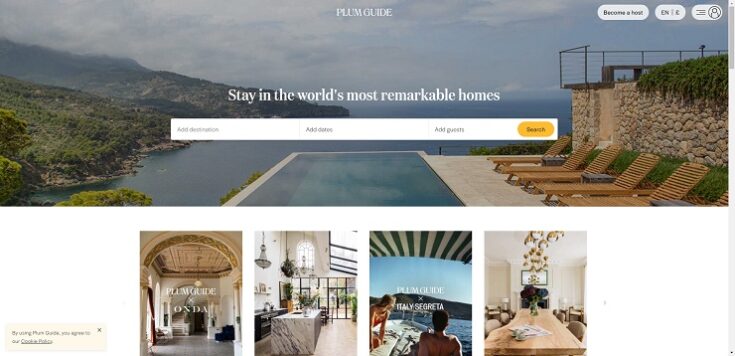 It is a platform available since 2016 and since then many users have used it to make their reservations. In their listings you find a small variety of alternatives, this is because they are careful with the recommendations they make. Before placing an accommodation option, an evaluation is made by experts to ensure that it is a quality site.
Through Plum Guide, you can find rentals in the United States, the United Kingdom, and the European Union. To find the alternatives you only need to enter the destination you wish to travel to, the date of arrival and the date you will be leaving, as well as the number of people traveling. In spite of its reduced listings, you will find advantages such as:
All the lodging alternatives they publish are of high quality
The process to complete the reservation is easy and fast
You can be sure that the rental you chose looks the same as the photo on the platform
Booking.com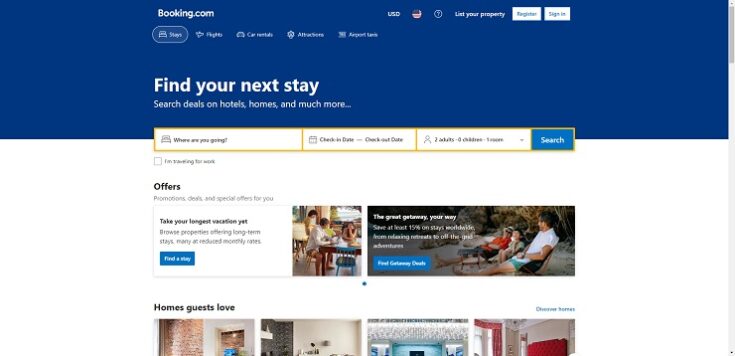 With Booking.com you will be able to link with the owners of the rental properties, it is one of the most used alternatives to Airbnb and has gained more reputation among travelers. It has varied listings that can show you low-budget rentals or beautiful five-star complexes.
When you enter the listings you can see the prices of the different rentals, the number of rooms in the selected houses or apartments, and vital data such as the places you will have nearby while you are staying. By using this platform, you also enjoy other advantages such as:
It adjusts to the budget of all types of tourists
You can access discounts and offers for your reservations
It allows you to add all the filters you want to find the place that best suits your needs
There are millions of options in each location you choose
Homestay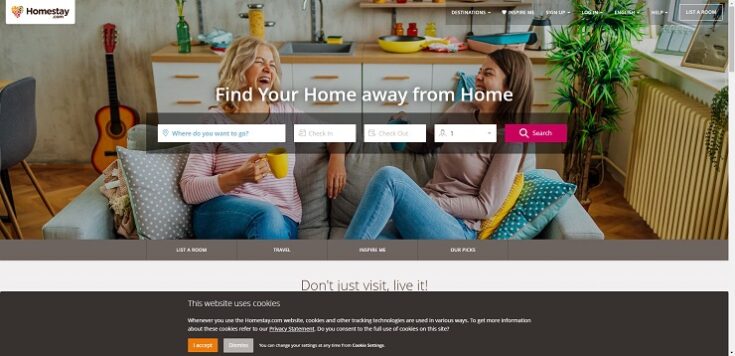 As its name indicates, it is a platform where you can find homestays or private rentals to spend your vacations. When you make your searches you can rent a room in one of the homestays that are shown, you can stay for as long as you want, of course, you must indicate it at the time of booking.
With Homestay you find high-quality rentals at an affordable price that fits your financial possibilities. It is a perfect option for solo travelers or students who wish to live a different experience while getting to know new places. You can find at least 63,000 rooms in 176 locations in different parts of the world.
It is an option that offers you a unique experience to learn what life is like, the residents, their food, traditions, and cultures. It is the perfect opportunity to live as they constantly do in your tourist site. During the search, you can add different filters such as the interests you have, and the food you like, among others. In addition, you find benefits such as:
The process to book is easy, you just have to add the date you will arrive and when you will leave
If you are an Android user, you can download the mobile app
It is a cheaper alternative that assures you an adventure entirely different from your common trips
It is usually recommended when you plan to visit the place for a long period of time
Why consider platforms like Airbnb before a hotel?
There are many doubts about this, and that's fine. The answer is simple: platforms where they offer houses or apartments for vacation rentals usually have much better prices for the length of stay, compared to a luxurious hotel.
So if you want to save a little money on your vacation, we recommend you take a look at all the recommended apps. In all of them, you will find excellent benefits so you can find the perfect place for your days off.
References