When we talk about Venmo and Apple Pay we are talking about two of the most used payment methods today. It has become a key part of the day-to-day life of the user who is looking to make quick financial transactions without hassle.
Venmo users are always looking to add money to Venmo in some way, which is why they want to link multiple accounts together.
That is why it is totally normal that as a user of both payment applications you seek to link them together to unite their wallets.
Thus having the chance to send and receive money with Venmo with amounts that are reflected in the Apple Pay balance. Undoubtedly an incredible alternative for users shared by both platforms, but is this possible?
Can I add Apple Pay to Venmo?
First, it is worth clarifying that there is currently no direct way to send money from Apple Pay to Venmo. Undoubtedly a setback for users of both platforms seeking to make things easier. Although this is not a total negative, given that this can be done with some involvement of third parties.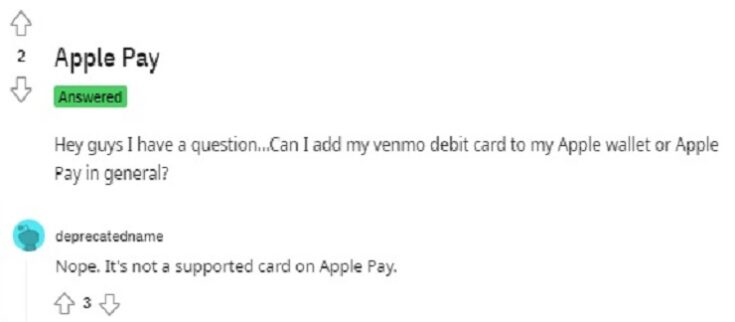 In fact, such is the degree of rejection between platforms that it will not be possible to link the Apple Pay debit card to Venmo. Thus giving a true picture of the lack of partnership between the apps and the companies that run them. This perhaps considering that both apps compete at a certain point.
This could be the cause of the fact that users are not allowed to share funds from one of the applications to transfer with the other. This is contrary to what happened with Venmo and Google Pay, for example, where you are allowed to link them together, either to transfer from Venmo or to pay with Tap Pay.
Apple Pay does not have a wallet as such
Similarly, another reason why Apple Pay cannot be linked to Venmo's payment methods is because the payment system for Apple users does not have a wallet. That is, it does not have a clearly centralized economic balance within the platform.
Rather, it bases its transactions on money that comes from cards linked to the account. Therefore, by linking this payment to Venmo you would be doing nothing more than linking traditional cards. This is something that Venmo's system allows you to do in a matter of minutes and that you can do together with the organization of the payment methods.
Likewise, the combination of both payment methods could generate a true balance of updated payments, having Venmo as a possibility for money transfer and Apple Pay as a digital card with which you will be able to pay any type of transaction that is received in a matter of seconds.
Is there a way to link them?
As we have mentioned, there is no direct way to link Apple Pay to Venmo, but there are certain ways to link the accounts. Specifically, there are 2 ways to handle these "connected" accounts which are:
Using a shared bank account between the two, where the digital card is Apple Pay and the transfers are given through Venmo. This can be done through transfers from the account directly to Venmo for the amounts allowed.
Linking a debit card to both Venmo and Apple Pay. Thus using the card as a connector between the two payment platforms
This way you can get the most out of two platforms that, although they have similar features, offer two different worlds of possibilities. With clearly established differences that will have to be considered when using one or the other according to what is convenient.
Can I transfer money from Venmo to Apple Pay?
Seeing what was explained in the previous point it is clear that, although it is not possible to directly connect both platforms, it is possible to transfer money from Venmo to Apple Pay. This is thanks to the possibility of connecting both accounts to the same personal debit card.
This way, you can transfer money as if it were any other Venmo transaction to make use of this money directly from the Apple Pay payment application, with which you can pay in one touch.
This instant transaction system allows users to make any type of economic movement between one platform and the other with transactions that will take 1 business day, giving you the possibility to make the most of the two worlds.
Can you transfer money from Apple Pay to PayPal?
Following on from the above, the same case is seen with transferring money from Apple Pay to PayPal. Since you will not be able to transfer money directly from Apple Pay to PayPal unless you make use of a tertiary method.
That is, for this process you will have to transfer your money first to the bank account connected to Apple Pay before passing it to PayPal. Thus coming across the same inconvenience that happens when we talk about Venmo, which is not strange considering that both PayPal and Venmo are owned by the same company.
Direct competition: The reason for so many blockages
The big reason why platforms often don't allow payment connections between them is that they both cover the same competitive market. So they are fighting for consumers of their platforms and don't want them to think of leaving one for the other.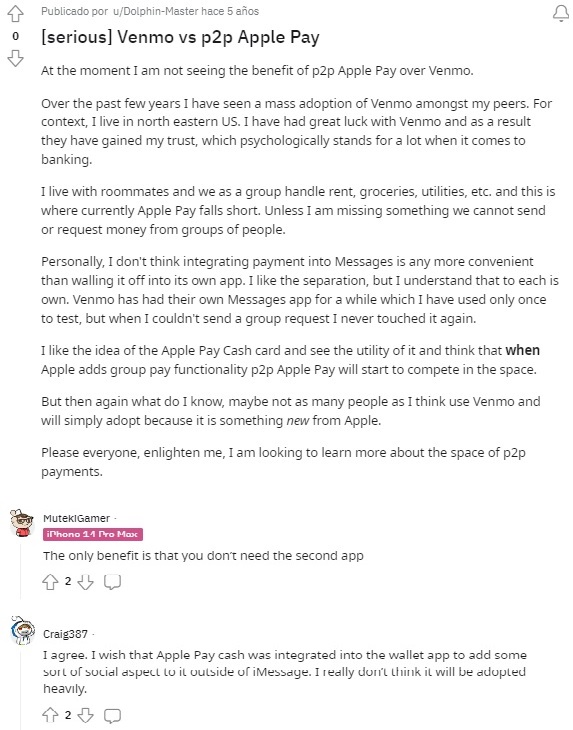 While this does not consider the preference of those users who do want to share Venmo with Apple Pay, it is seen from a more external perspective, that of seeing each other as direct competition that is not worth associating with when linking accounts.
Although, it sounds really strange to say that Google Pay is accepted on both Venmo and PayPal. So it appears that the problem comes from Apple Pay rather than from these payment platforms as such.
Overall, Venmo users can continue to use the platform,
pay with Venmo balance
, and link their accounts with other platforms and the platform will continue to function properly. Even if it is not related to Apple Pay, other systems will give the same benefits.
References