Depositing virtual checks is one of the latest options available to USAA Bank. It is very convenient for customers, as there are several methods to make a check deposit and get it as soon as possible. That is, the availability of funds from USAA bank will depend on the type and amount sent.
The time it takes for USAA bank to clear the wired money for its customers varies depending on several factors. However, the transaction usually takes a couple of days to be successfully completed. Customers will see this deposit reflected in approximately 1 to 2 business days.
What is USAA Bank and how does it operate?
USAA Bank was founded in 1922 by military personnel who needed to insure their vehicles. Since then, the bank has grown significantly and has become more than just an insurer – it is one of the nation's largest banks offering financial services to retired or active members of the U.S. military and their families.
USAA Bank has more than 13 million customers nationwide. Customers can access different transactions online, through its official website and also through the application for mobile devices. It is rated A++ by AM Best, indicating the professionalism, reliability, financial stability, and solvency that USAA Bank provides to its members.
How does a check deposit work with USAA bank?
Most financial institutions offer the possibility of depositing checks into their bank accounts, and USAA Bank is no exception. In fact, it is one of the best banks in providing this service. It can be done through several methods that USAA makes available to its customers, facilitating access to the check money.
USAA Bank allows you to deposit checks from the internet or its mobile app, a faster way to make this transaction without going to a bank branch. Customers must upload a photo of the front and back of the check and then send it through the app. This is one of the indispensable requirements for this online deposit to be successful.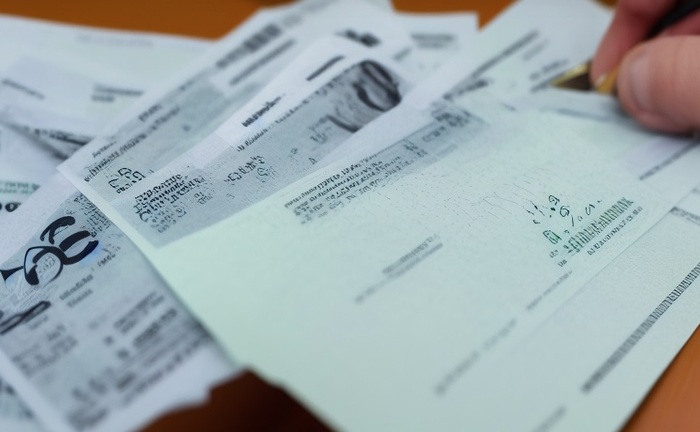 After sending the photos, USAA's virtual banking will process the information. If everything is legible and legal, the deposit will be made in the recipient's account, who will see the amounts reflected in their account in a few hours or days.
How long does it take for USAA check to arrive?
USAA check deposit funds availability depends on the type of transaction used to make the deposit and the type of check deposited, which can be government, personal, or business checks. Generally, regardless of the deposit method, the money will be available immediately or within one or two business days.
Government checks: For example, checks issued by the IRS (Internal Revenue Service), Social Security, or the U.S. Treasury Department. USAA Bank provides immediate availability of these funds.
Personal and Business Checks: When check deposits are made between customers (personal) and business customers, the availability of USAA Bank check funds is partially immediate. This means that customers will be able to access a portion of their money immediately after the check is deposited. In contrast, the other funds will be available within 1-2 business days.
Does USAA do instant transfers?
USAA does instant check transfers for government checks. Zelle can also be used for instant deposits or transfers between banks. In addition, through Wire Transfer, and depending on the type of transaction, the transfer will be immediate.
USAA Bank may hold some funds from the check for an undetermined amount of time until the funds are sufficient, so check transfers from one bank to another may take longer due to this hold.
How to make a check deposit from the USAA app?
To deposit from the USAA Bank app, first download the app on your mobile device and follow the steps below:
Click on "Deposit" from the menu button.
Select "Deposit into Bank Account.
Use your smartphone camera to take a picture of the front and back of the check. Make sure all the details on the paper are visible.
Choose the account to make the deposit.
Enter the final amount you wish to deposit.
Click on the "deposit" button.
Then select "Submit Deposit".
You are done! You have successfully deposited your check.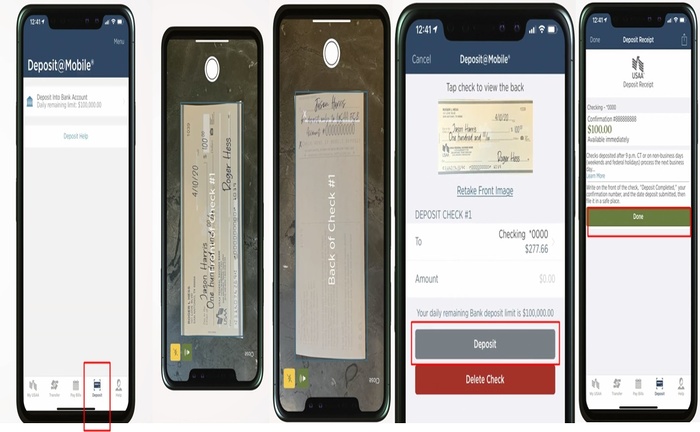 If you have any problems, it may be because you have not activated your USAA debit card. Check with your bank's customer service if you cannot resolve the issue.
What are the different ways to deposit a check with USAA Bank?
USAA Bank offers several options for depositing checks and funds into your accounts. Customers can make these transfers from the bank's mobile app or by mail (they do not accept bills or coins in the latter method). In addition, check deposits can be made nationwide at USAA ATMs and shared deposit locations.
Direct Deposit
The direct deposit is automatically sent to the savings or checking account and will be available immediately.
Deposit@Mobile®
Suppose you use USAA Bank's mobile app with the Deposit@Mobile® feature. In that case, you can deposit up to five checks simultaneously, and the app accepts different checks. The money from your USAA Federal Savings Bank deposit will be available the next business day after the bank receives the deposit.
Deposit at ATM
ATMs do not require proof of deposit or placing the check in an envelope to be deposited, but it must be made at a USAA ATM. Check funds will be available the next business day after the deposit.
Deposit by Mail
Postage-paid envelopes and deposit slips are free if requested from Harland Clarke®. Deposits by mail must contain the deposit slip. Otherwise, the check deposit may be rejected and returned. Bills and coins are not accepted when mailing checks.
Foreign check collections may take up to 14 business days to deposit. If it is a domestic deposit, the money will be debited the next business day after the transaction (although it may take longer).
IMPORTANT: USAA Bank may hold all or part of the funds from the deposited check.
FAQs
How long does USAA funds transfer take?
The time it takes for a check transfer to clear depends on the issuing bank from which you are sending the check and how much money you have available in your bank account. Generally, virtual transfers could take up to 24 hours after the deposit is made.
Is USAA mobile deposit available immediately?
No. Unlike wire transfers, deposits made by a mobile device with an internet connection from the App (Deposit@Mobile® option) may take up to one business day after the transaction.
References