USAA Bank is a financial institution with a long history of service to military service members and their families in the United States. It offers several options for purchasing automobiles, such as loans for new or used vehicles.
It also offers refinancing options for these loans, which vary depending on the customer's credit profile, payment term, and loan amount.
Car interest rate
USAA Bank car loans, whether new or used, do not charge an additional application fee. After the application is approved, the interested party has up to 45 days to find their ideal car. USAA Bank offers flexible financing terms ranging from 12 to 84 months, allowing borrowers to tailor the loan term to their needs and ability to pay.
In addition to loans, USAA Bank also offers refinancing options for these new and used car loans, which can be helpful for drivers who want to change the terms of their current loan or obtain a lower interest rate.
New Vehicles
For new car loans, borrowers with a good credit history are often eligible for lower interest rates. In comparison, borrowers with a less favorable credit history may face higher interest rates.
USAA car interest rates for new vehicles: 5.29% APR (Annual Percentage Rates).
Used vehicles
For used car loans, USAA Bank also offers competitive interest rates. However, USAA car interest rates for used car loans are slightly higher than those for new ones.
This is because used vehicles tend to have a higher risk of depreciation and wear and tear than new vehicles.
USAA car interest rates for used vehicles: 5.54% APR (Annual Percentage Rates).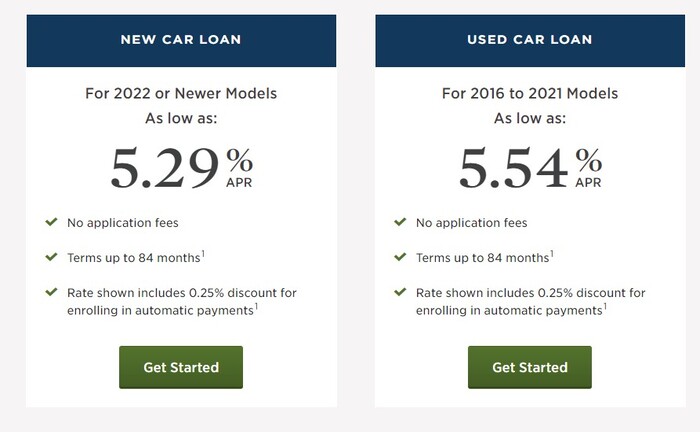 How to apply for a car loan with USAA Bank?
To apply for a loan with USAA Bank, you must do so from the financial institution's website. Before applying for a loan, ensure you have all the required documentation. Also, you can get car insurance with USAA Bank.
Go to USAA Bank's website and log in; if you do not have an account, register to apply for the loan.
Complete the online application with the requested data, which is personal, financial, and employment information, and the details of the loan you are interested in.
Provide the required documentation. Among these certificates, you will be asked for proof of income, bank statements, or other additional documentation to support your loan application and corroborate that you will be able to pay the total amount of the loan in the future. You must upload digital files to the web before applying for the loan.
After you complete the application and provide documentation, the bank will review your request. If you are eligible, you will receive loan terms and conditions in the mail, including information about the interest rate, loan term, fees, and other essential details. If you agree, sign the loan terms and send them to the bank.
Once you have signed the loan terms, the bank will review your loan and let you know if you have been approved. If approved, USAA Bank will provide details about the loan money's disbursement, such as the date the funds will be available in your bank account.
IMPORTANT: Payments will be made monthly to USAA Bank.
USAA check deposit limit
USAA has daily and monthly check deposit limits for different accounts, and the USAA check deposit limit may be subject to change without notice.
Check deposits can be made through direct deposit and sent directly to your checking or savings account for immediate availability. Checks can also be deposited through the USAA Bank mobile app.
USAA Deposit@Mobile
From the USAA Bank Deposit@Mobile app, you can simultaneously make up to five deposits of various types of checks (personal, cashier's, corporate, convenience, etc.). The check deposit limit varies depending on the applicant, who must have a checking or savings account with USAA Federal Savings Bank (USAA FSB).
After making the deposit, you can know the deposit limit. Money will be available within 24 hours, except on non-business days and holidays. To find out the deposit limit from the Deposit@Mobile app, go to the "Deposit" option.
Depositing at an ATM
Not all ATMs accept deposits, so you must find one that takes your USAA debit card. Putting it in an envelope or deposit slip to deposit a check by ATM is unnecessary.
IMPORTANT: If you want to deposit foreign checks, you must do it by mail.
USAA check endorsement
On the check endorsement, you must include your signature, accompanied by your account number added in the phrase "For mobile deposit at USAA FSB account number [XXXXXXXXXX]".
The addresses to which you should send your endorsed check and deposit slips vary depending on the type of mail used.
Regular Mail
If you wish to send checks by U.S. Postal Service, you must place the check in a printed USAA bank or self-addressed envelope. Then, send the envelope with the following USAA check endorsement information.
USAA Federal Savings Bank.
ATTN: Bank Priority Mail 9861.
10750 McDermott Freeway.
San Antonio, TX 78284-9908.
Express Mail
You do not need to print a bank envelope to send checks by UPS, FedEx, or any other overnight mail service. Place the check in a self-addressed envelope and mail it with the following information:
USAA Federal Savings Bank.
10750 McDermott Freeway.
San Antonio, TX 78240.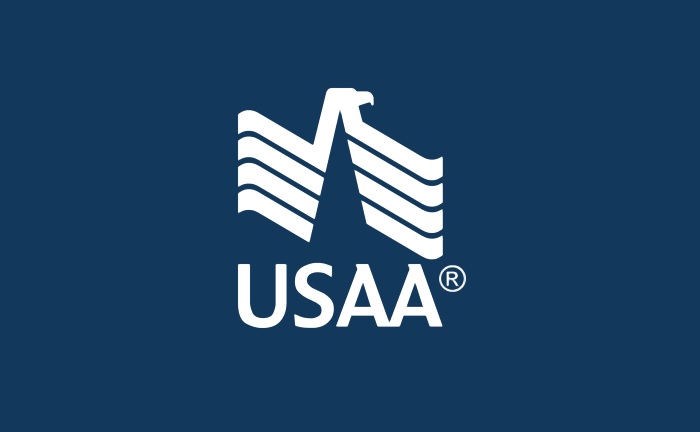 USAA savings account withdrawal limit
USAA bank does not charge maintenance or minimum balance fees, making it one of the best-positioned banks in terms of monthly and additional costs. If you want to invest or save, much of this money will go into the interest charged by the bank for having an account at your bank, so investment gains could even turn into losses due to these fees, which in many cases are very high.
USAA Bank customers do not have to pay additional fees for creating or closing an account or for depositing and mobile access. However, USAA Bank does charge a fee for large withdrawals from the account.
USAA Bank savings accounts are subject to Federal Regulation D, which limits the number of transactions to a maximum of six per month. There is no additional charge if this limit is exceeded for the first time. However, the second and third time the USAA withdrawal limit is exceeded, a $5 fee will be charged for each new transaction that exceeds the limit of 6 transactions per month.
FAQ(s)
What checks can't I deposit at USAA Bank?
Checks that USAA Bank does not accept are foreign bank checks, not payable (USD) checks, checks with any alteration on the check, or U.S. savings bonds.
Does USAA charge a fee for ATM withdrawals?
The first ten withdrawals from an ATM are free. Still, from the 11th withdrawal onwards, USAA charges a $2 surcharge per withdrawal at ATMs other than those of the same bank.
References