Calculating the monthly car loan or insurance payment is one of the most important parts of the car-buying process. This is because in these installments we will be paying monthly payments that meet the total cost of the car.
This is why USAA offers virtual calculators in which you can calculate the possible monthly payments. These calculators are easy to use and allow users to adapt their loans to their payment possibilities. If one thing's certain, it is that when taking a loan we should take an amount that we can afford in our budget.
USAA car loan calculator
The USAA calculates car payments in a system that is based on graphs to show users how their post-credit payment installments would be divided. In this case, for the purchase of vehicles after the initial payment.
It does so by specifying each of the factors that affect the increase or decrease in the user's installments at all times. This is so that everyone can set up their payment schedule according to their economic possibilities. In this way, users will be able to address their doubts about how much they would end up paying for a specific procedure.
This test calculator is fully interactive, giving you the opportunity to adjust all the data to your needs. This allows you to simulate the transaction in real time and adjust to the loan possibilities you have. It is undoubtedly a great tool, especially for those looking for a first-time loan.
Concepts to consider
On this platform, you will find different concepts related to vehicle loans. Each one of these has an impact on the change of installments and the variations in them. So it is worth going over them and understanding them when making adjustments. These are:
Calculate For
Monthly Payment
Total Purchase Price (Before Tax)
Term In Months
Interest Rate
Rebates And Cash Down
Trade Allowance
Amount Owed On Trade
Non-Taxable Fees (Optional)
Taxable Fees (Optional)
Sales Tax Rate
These are the items you will have to fill in during the monthly calculation, which will have a direct impact on your monthly payments. It is totally worthwhile to give the platform a try and measure considering the expenses devised and your monthly budget.
USAA used car calculator
The USAA financing calculator also can measure old car costs. Although it should be clarified that the vehicle has to have a lifetime of no more than 10 years on the market. This as such is not specified, but internet users claim that it is more likely to be approved this way.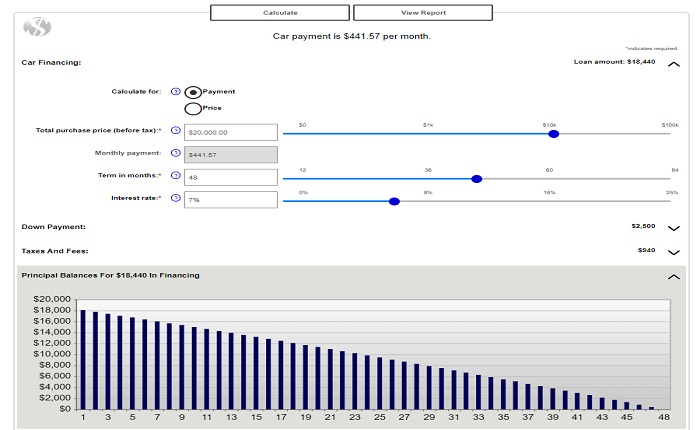 The number of installments will also depend on the time of purchase of the vehicle. This is given that normally for used cars the 72 key installments were specified. This limit has changed and has been extended to 84 installments or more depending on the car. This is due to the growing need for vehicles.
The calculator does not make you credit-worthy
Something to clarify is that this calculator is nothing more than an informative tool. Open for any user to have the possibility to measure the monthly payments. Either in new cars, employees, or under the refinance car calculator function.
The idea is that anyone can adapt their budget to the possible monthly payments that will be found. So the amounts may not be exact.
USAA Insurance Calculator
Something to keep in mind is that USAA not only offers these plans for the purchase of a vehicle but also for the insurance premiums. Offering the possibility of making calculations of the installments that will be covered by the insurance and their monthly payments.
Thus offering a calculation based on the condition and the final cost of the vehicle. However, this will always depend on both the car itself and the driver's history. So, although there is the possibility of making a personal calculation, everything will depend on the final evaluation of the USAA team.
There are many points that can directly affect the USAA car insurance calculator, from your economic possibilities to how much you drive. So if you are thinking of taking this step, we recommend that you consider the payment forecasts above all, as this can directly affect your monthly budget.
How much does one pay for USAA car insurance?
Usaa is presented in 2023 as one of the most affordable car insurance offers for users. This is thanks to a general average of around $1,000 per year. Although in any case, these fees will depend on the calculation for you and your vehicle and how much the policy will cover.
For both insurance and loan calculations, USAA uses a system that measures the number of cars sold in your geographic area. Comparing your vehicle directly with similar models sold nearby and analyzing this data. Leaving you with an answer to the all-too-common, "How does USAA calculate car value?"
What credit score do you need to finance a car through USAA?
One thing that the USAA car calculator does not consider, but does look at when the time comes to actually apply for the loan is credit history. To apply for a USAA car loan, it is recommended to verify your credit history beforehand so that you don't get an unpleasant surprise.
However, the minimum credit history required will depend on the state and its laws. It is recommended by the USAA that the credit history be between a minimum of 560 points with a maximum of 850 points. This is to obtain the highest approval percentage possible.
It should be noted that this is a process that can directly affect your credit history. So it is worth using the calculators to measure a real and affordable budget to what you can afford. Many people suffer damage to their credit history for not considering their real economic possibilities.
References
Was this Content Helpful?