Among the many services offered by USAA for military retirees, you can find the possibility of obtaining used car loans. With simple online applications that will vary depending on the plan you choose. USAA used car rates are an ample opportunity to acquire a used car without the need to pay for it in a single installment.
It should be clarified that these possibilities are not only available for military retirees, but also for active members and their close families. This opens up an opportunity for anyone enrolled in USAA to purchase the vehicle of their interest.

Buying a used car with USAA
Buying a used car is something we have all considered at one time or another. Even more so if we have the opportunity to refinance or pay for it in installments, as is the case with USAA. Buying a used car has never been easier than for those enrolled in USAA.
With the ability to calculate costs in minutes, you can purchase a vehicle in the price range of your choice and pay for it in easy installments. USAA used car competitive rates are the main reason for this, as the company goes toe-to-toe with any lender when it comes to rates.
For those who qualify for a USAA account it is certainly an option to check if, at any point in time, you intend to buy a car. Whether used or new, the purchase rates are tailored to you. This along with the very reliable security that USAA offers, given that they are one of the largest in the nation.
USAA used car rates calculator
In the same way, on the USAA website, you will have the option to calculate the payment rates of the car you are thinking of buying. Just as you can do with a new car, by crossing out the option to purchase from a third party, you can measure the APR and the payments to be made.

A fantastic option for those who need to make calculations to measure their budget. Adjusting the loan package for the vehicle in the installments you need and that best fit your lifestyle. With a calendar included for you to measure even up to when you would be paying off the loan.
This is a simple process, which in a few minutes will put in your hands the possibility of applying for the loan. Not before you have verified that each of the required aspects comply with what you are looking for. These aspects that we refer to and that will have a direct impact on what you will pay are: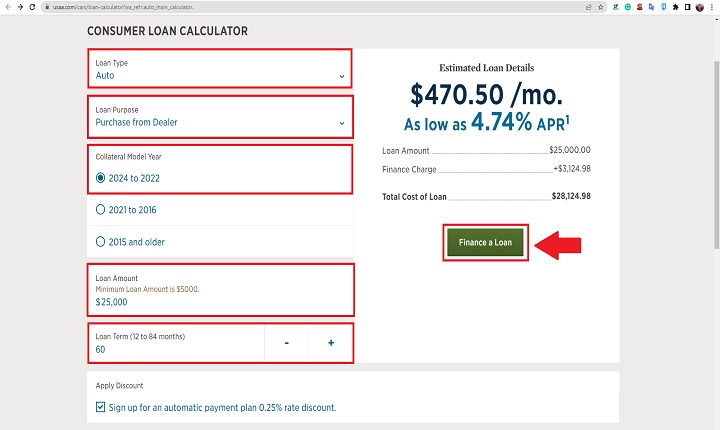 Type of loan
Purpose of the loan
The year the vehicle was purchased
Loan Amount (Minimum $5000)
Duration of loan term
Automated system
Once you have specified this information, the system will automatically present you with the monthly payments you will have to make. This along with the total amounts to be paid and the APR to which you apply. Although it should be noted that this is a process that may vary depending on your USAA enrollment.
This is a good way to test how much you will need to borrow for the vehicle. Allowing you to take a step in the final decision about whether to purchase a used car based on USAA used car rates.
Likewise, if your decision about the loan is positive, you will have the opportunity to apply for the loan in minutes. By simply logging into your USAA account, you will only need to fill out the forms and apply for the loan. It should be noted that for this type of loan, you will need to know the following:
Your income before taxes
The amount you want to borrow
Your housing information
Your current employment information
Does USAA offer a good rate for used cars?
If you are asking yourself: "What's the best interest rate for a used car? ", let us tell you that this is a decision that will depend on your needs because, in many other loan agencies, your credit history will be considered to define your APR.
This also happens in USAA, although here they offer the option to make a previous calculation on the estimated amounts to be paid. You will be able to measure what your APR will be, which in the case of a used car has a floor of 4.99%. The differential figure of the APR is usually given on average in other types of lending companies, where the minimum is around 5.47%.
Although everything will depend on the application process for your loan with USAA. Many users have complained about the difficulty when applying for one of these loans. Above all, there is a time limit on the life of the vehicle to be purchased, a limit that ranges from 7 to 10 years.
USAA used car rates review
While USAA has the pros that differentiate it from other lenders, it also has its cons. Like the mere fact that it is a platform only for members of the military and their close family members. Although what is garbage to some is gold to others, this disadvantage also gives rewards to those who are members.
Such as the USAA used car rate discount of 0.25% points when you sign up for automatic payments or the possibility of taking your vehicle with you to another country for business trips. Undoubtedly, like everything in life, USAA has its pros and cons when it comes to car loans.
So we can say that this is a situation that falls in your hands. This is not a bad thing; considering the great possibilities that exist in the market, having the option to choose is more than a virtue. It is never a bad thing to apply for one of these loans if your pocket allows it and you have the opportunity to do so.
USAA used cars loan terms
One thing you have to take into consideration before venturing into these loans is the terms and timing. In the case of USAA used car loans, you have the possibility of extending the payments between 12 and 84 months. This is with no extra extension fees and without depending on the amount of money you lend.
References
Was this Content Helpful?