Vigo is a subsidiary of Western Union, a recognized global money transfer company that operates in more than 200 countries and territories worldwide and provides services for sending and receiving money and making domestic and international transfers quickly and securely.
Western Union offers a vast network of agents and service points in different strategic locations, facilitating cash transfers. Through Vigo, users can send money to family, friends, or business associates in other countries. Recipients can receive the money in cash or deposit it in a bank account, depending on the options available in each country. In addition, they can track the Vigo transfer status within minutes.
What is Vigo money transfer?
Vigo Money Transfer is a reliable service provided by Western Union that enables individuals to send and receive money both locally and globally. It offers a safe and user-friendly way of transferring funds to family, friends, and business associates in different countries worldwide.
To use Vigo, users can visit a Western Union Agent, complete a transaction form, and provide the necessary identification and funds for the transfer. The recipient can then access the money at another Western Union Agent by providing the transaction details and their ID.
Vigo is committed to providing efficient and trustworthy money transfer services, ensuring people can send and receive funds quickly and securely across borders.
Can I send money through Vigo without using Western Union?
Unfortunately, that isn't an option if you're looking for a way to send money through Vigo without using Western Union. Vigo has partnered with Western Union to provide its customers with an efficient and reliable money transfer service.
This collaboration grants Vigo access to Western Union's extensive network and money transfers, allowing them to offer flexible sending and delivery options and a vast agent network across the globe. Vigo's partnership with Western Union ensures that sending money through their platform is fast, secure, and hassle-free, providing peace of mind to their customers.
How to transfer money with Vigo
If you're looking to transfer money with Vigo, the first step is to locate a Vigo Agent. The agents are trained to help you with the process and will provide you with all the necessary information about the fees and exchange rates involved.
Once you've found a Vigo/Western Union Agent, you can set your desired destination from the more than 200 countries and territories available for Vigo money transfers. Afterwards, you can choose the method you want for the recipient to receive the money.
You can send a cash pickup or send the money directly to a bank account. Finally, you'll need to provide the agent with your recipient's data, including the entire recipient's account information.
Which countries use Vigo money transfer?
Vigo Money Transfer is available at any Western Union office or agent, as it is a service provided by Western Union. You can quickly initiate a transfer using Vigo by checking the Vigo available offices.
Let the representative know you would like to use Vigo Money Transfer to send funds. They will assist you with the process, aid in completing the required paperwork, and handle the transfer on your behalf.
What can I do at Vigo?
With Vigo, you can perform various financial transactions and services. At the same time, the specific features and offerings may vary depending on your location. The everyday activities you can typically do with Vigo are through Western Union.
Money transfers
Vigo enables you to send money domestically and internationally to friends, family, or businesses. Depending on your country's available services, you can choose from different options, such as cash pickup, bank deposit, or home delivery through Western Union.
Bill payments
Vigo offers bill payment services, allowing you to conveniently pay utility, credit card, or other bills through their platform.
Money orders
Inform the agent that you would like to purchase a money order, and you must fill out the money order form with the required information. This typically includes your name as the purchaser, the recipient's name, the payment amount, and any recipient's additional details.
Then, pay the agent the total amount of the money order, which typically includes the face value of the money order plus a fee for the service. After completing the form and payment, the agent will provide the money order receipt or stub. Keep this receipt for your records.
What is an MTCN?
When sending money through Western Union, you and the recipient must use the Money Transfer Control Number (MTCN). This number (different from the routing number) is essential for tracking the transfer status and for the recipient to pick up the funds. Additionally, if you need to contact Customer Service for any reason, you must provide the MTCN.
Whenever you initiate a money transfer through Western Union®, the MTCN number will be automatically generated. These numbers are the key to tracking your transfer's progress, whether sending transfers international bank account through the web or sending a shipment domestically through an Agent location to a friend or family member.
As a precaution, you must safeguard your MTCN tracking number and avoid sharing it with anyone except the recipient. This will help ensure the safety and security of your financial transactions but don't worry because Western Union takes the security and safety of your money transfers seriously, so you can trust that your funds are in good hands.
How does the receiver use the MTCN?
After successfully transferring money through Western Union, you must provide your recipient with the unique tracking number known as the Money Transfer Control Number (MTCN) and the receipt you received as proof of the transaction.
The recipient must present the MTCN and an official form of identification (ID) to the agent at any Western Union location to receive the funds. This process ensures the safety and security of your transfer and guarantees that your recipient is the only one who can pick up the money.
How to track a money transfer from Vigo?
To track your Vigo MTCN, you must access the Western Union website, and there you will be able to know where your money is.
Access the Western Union website.
Click on "Track a transfer".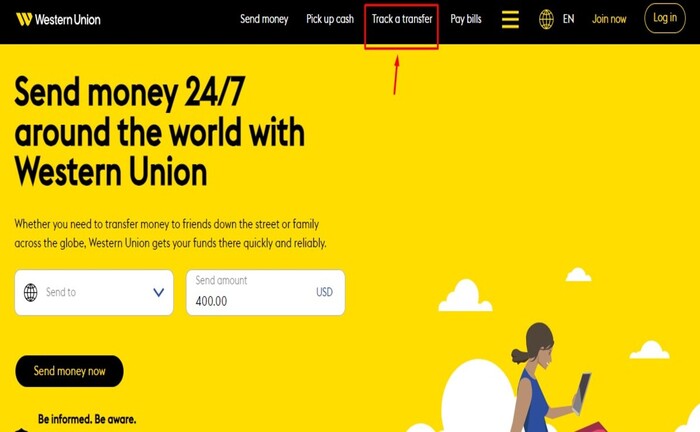 A new window will open, and you will have to select if you are the sender or the receiver.
Next, enter the MTCN of the shipment.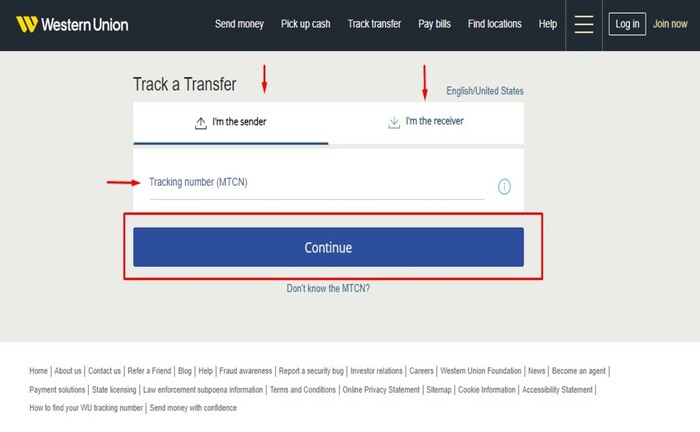 Click on "Continue" and you will be able to know the status of your transfer.
Where to find a Vigo money transfer near me?
To find a Vigo agency location near you, you can use the agent locator tool on the Vigo website or mobile app. Enter your address, zip code, or country, and the Vigo near you will appear.
How long do Western Union international wire transfers take?
If you need to send money to someone in another country, Western Union offers several options to make the transfer as smooth and quick as possible. The time it takes for the funds to arrive depends on the country where your recipient lives and the method you choose to transfer the money.
Transfers by bank account
The funds can arrive in as little as one business day. However, this will also depend on the country where your recipient lives. It is worth bearing in mind that some countries have longer processing times, so the funds may take longer to arrive.
Instant transfer
If you want to send money quickly, you may want to consider using Western Union's online service, mobile app or visiting a branch in person. When you pay with your credit or debit card, the recipient can pick up the money at Western Union offices worldwide within minutes.
References