Home Depot is a home improvement retailer. Many are lovers of this store, so much so that most want to know how to apply for a Home Depot credit card, know what Home Depot's payment methods are all about, or even how to use Home Depot's buy now, pay later.
Now, if you are a student and want to know if they have discount programs, the answer is no. The store offers special offers and discounts. However, the store does offer special deals and discounts on selected products online and in physical stores.
You can subscribe to Home Depot's email newsletter to receive exclusive offers and discount coupons. In addition, the store has a loyalty program for construction professionals called "Pro Xtra," which may be useful for students studying architecture, engineering, or related fields.
Home Depot "Pro Xtra" Program for Architectural and Engineering Professionals
Home Depot's "Pro Xtra" program is a loyalty program that offers discounts and benefits to construction professionals and contractors. Although the program is not specifically designed for architecture and engineering students, students in these fields can benefit from it if they plan to work in the construction industry after graduation.
To register for the program, students can visit any Home Depot store or register online. "Pro Xtra" account holders can enjoy benefits such as reduced prices on select products, discounts on large orders, access to a dedicated sales representative, and the ability to track business expenses.
In addition to these general benefits, architecture, and engineering students can also take advantage of the tools and resources provided by Home Depot's "Pro Xtra" program. For example, the program offers an expense-tracking tool to help students track their project expenses and budgets.
Program Benefits
This program includes a host of benefits which you are eligible for if you are part of the aforementioned careers. Among the benefits are:
Exclusive discounts: the participants get special pricing on a wide variety of products and services.
Online account management: Customers can manage their accounts online, allowing them to make purchases, view invoices, and track orders.
Enhanced Profitability: the members can receive cash back on their purchases, allowing them to maximize their profitability and save money.
Personalized attention: the customers receive personalized attention from a sales representative who provides advice and solutions for their specific needs.
Tips on how to take advantage of Home Depot's student discounts and specials
Actually, the fact that Home Depot offers discounts and special offers occasionally for students is a great advantage. However, you should follow some tips to know how to make the most of them.
Sign up for the newsletter: Sign up for Home Depot's email newsletter to stay on top of the latest offers and promotions.
Check the weekly ads: Home Depot runs weekly online and in-store ads that showcase current sales and promotions. Check the ads to see what products are on sale.
Shop during the vacations: Home Depot offers deep discounts during holidays, such as Labor Day, Thanksgiving, and Black Friday. Take advantage of these days to make major purchases.
Use discount coupons: Look for discount coupons online or in the Home Depot newsletter for additional discounts on your purchases.
Consider the Home Depot Credit Card: The Home Depot Credit Card offers exclusive discounts and promotions to cardholders, including a 10% discount on your first purchase.
How to get a discount at Home Depot if you are a graduate student?
If you are a graduate student and are looking to save money on your purchases at Home Depot, there are several ways to get a discount. The first option is to apply for the educator discount program.
This program provides a 10% discount on in-store purchases for teachers, administrators, and undergraduate and graduate faculty. To register, you need to present an employee photo ID or a job offer letter along with a valid photo ID.
Another option is to subscribe to the Home Depot newsletter to receive exclusive offers and discounts. In addition, you can also download the Home Depot mobile app to access special offers and in-store discounts. You can also follow Home Depot on social media and check out their posts for special discounts and promotions.
In general, it is important to ask about discounts and promotions every time you visit a Home Depot store. Many times, stores offer special discounts to graduate students or members of the armed forces. If you plan to make a large purchase or project in your home, you can talk to a Home Depot representative to get a volume discount. You can also talk to your teacher or tutor to see if they can provide you with a discount code.
Ways to save money at Home Depot as a student?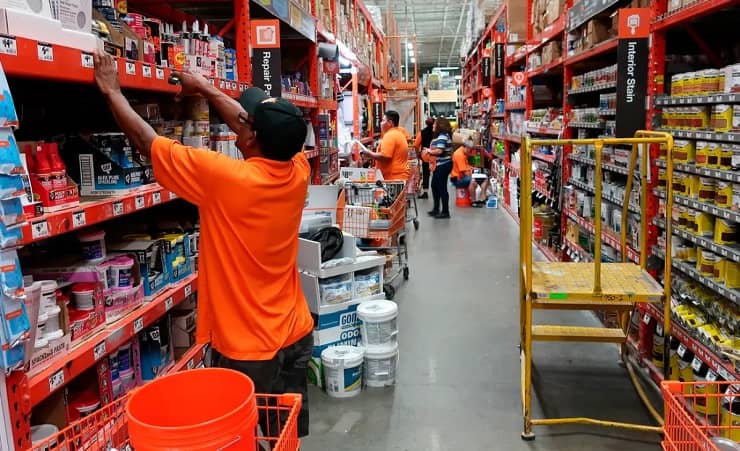 First, you can apply for the student discount card at the Home Depot store nearest you. With this card, you can get a 10% discount on all purchases. To get the card, you only need to present an active student ID. In addition, it's significant to keep an eye out for special offers that Home Depot periodically offers on select products.
The rewards program can also help you save money. With this program, you earn points for every purchase you make at the store. Points can be redeemed for discounts or rewards on future purchases. Home Depot's big sales are also a good opportunity to save money. During vacations and festivities, the store often offers deep discounts on select products.
Coupons are another way to save money at Home Depot. These coupons are available on the company's website and in other publications. Be sure to print the relevant coupons and present them at the time of your purchase. If you sign up for the e-newsletter, you will also receive information about special offers and exclusive discounts.
References