Google is like that cool friend we all have. It is there to entertain us and also to support us, and now, with this new facet, it is there to save us. Well, not literally, but if you are the kind to leave your wallet at home or in the car often, Google Pay is your solution.
You may not think it's necessary to use this big guy's payment method, but don't you think paying with your phone with one of the most important tech companies in the world is practical? Maybe you need to know a little more about this option so that you end up 100% convinced.
What stores accept Google Pay?
Not only restaurants and fast food companies like KFC and Jersey Mike's accept this payment method. You will also be able to make use of it in many other stores.
So if you want to go to Macy's or Nike, do it without problems. Now, if you're rushing and you have all your money in your Google Pay, with this short list you'll know which supermarkets accept this payment method:
Meijer
Jewel Osco
Food Maxx
Brookshire's
Save Mart Supermarkets
Shaws
United Supermarket
And that's not all! It is impressive how, since the arrival of this payment system, more and more renowned brands and companies are joining forces with a large platform to offer their users quality services in every sense of the word.
Can I pay in a pharmacy with this method?
Of course, you can! Still don't believe it's like a cool friend? At both CVS Pharmacy and Walgreens you can use this payment method.
Unfortunately, if you are a loyal customer of Walmart Pharmacy and any other store of this big department store, you will not be able to use this option, but with Target you can, because Google seeks to cover as many stores as possible to satisfy its users.
Which gas stations accept Google Pay?
Companies related to fuel supply, such as Shell and ExxonMobil accept this method. So, if you need to fill up with gas and refuel, with Gpay you can do it. You can even use this convenient option to buy Chevron lubricant for your vehicle.
Although, if you're more of a Texaco person, you don't have to use any method other than GPay. And as if that weren't enough, Phillips 66 and Conoco are other well-known companies in this area where you can make purchases with this Google financial service, as well as Arco.
It is important for you to know that in Pep Boys you can buy those accessories that your car needs, as well as make the oil change and repair that breakdown that does not allow you to get the most out of your vehicle. And you know what is the best of all? You can pay with this platform.
What other items can I pay for with GPay?
Google Play is accepted by large companies that distribute certified quality coffee such as The Coffee Bean & Tea Leaf and Peets Coffe.
So if you are a lover of the exquisite aroma and flavor of a quality coffee, you can use this payment method for these name brands. Oh! And also Philz Coffe.
If what you need is food for your pets, Petco is the perfect ally for you to go and pamper your animals with their favorite food and croquettes. Or if what you really need is to modernize your office, Office Depot Office Max it's the right place for you.
Notice that, in a couple of paragraphs, I only named three different sectors, not counting the two previous ones. With that, you can see that Google Pay is expanding rapidly with only two years in the market (well, maybe a little more than that, as it was just Google Wallet before).
Besides Macy's and Nike, can I buy clothes at other stores with GPay?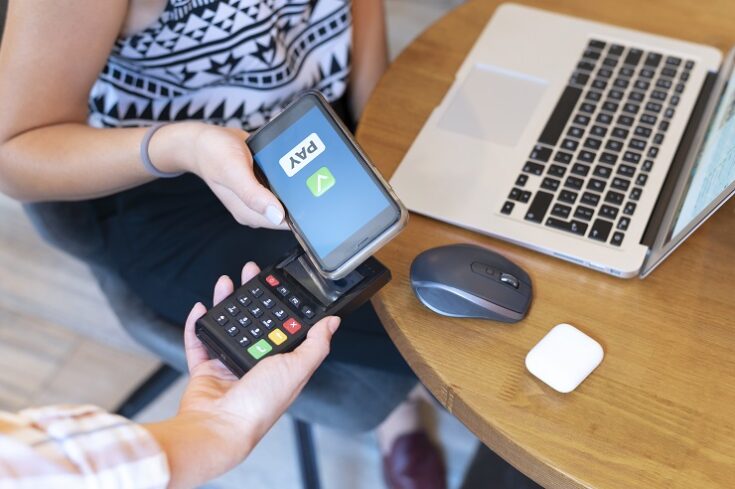 Again, of course, you can! It doesn't matter if it's a department store or a well-known designer brand, this Google method is everywhere.
You just have to visit the app or the store's page to find out if they accept it or, if that's not possible, go to the payment area. However, I'll help you get there faster by leaving you with a short list of clothing retail locations:
Bloomingdale's
Aéropostale
Rei Co-op
Foot Locker
If you are looking for beauty products, ASOS and Sephora are the right stores to shop with peace of mind and enjoy paying only with your cell phone without the need for a physical card.
Does everything accept Google Pay?
We wish! But I assure you that in a few months, the list will be even longer. As I already mentioned, Walmart does not accept this method, but neither does any other similar method.
What is certain (and we showed you a few paragraphs ago) is that Google Play is available in at least a couple of stores for the different items that make up the market.
This is due to how fast and easy it is to use, so don't waste any more time and enjoy the best digital Wallet service currently on the market. In addition to its practicality, it is the safest method there is today that, in case you do not know, lets you pay with your smartwatch.
References