When we buy online, one of the main things we look for is to save money, either by comparing prices between different stores or by looking for offers.
For the latter, there are many online tools that can help us speed up the process; one of them is Smarty.
Smarty is a tool that can help you obtain coupons and discounts within the web pages you visit, and, in addition, it is possible to receive cash back from some purchases. Here we explain how to take advantage of it and what you need.
Smarty Cash Back
According to its creator Vipin Porwal, Smarty is a platform that allows "shopping efficiently" because it can:
Compare prices between stores
Find and apply coupons automatically
Get cash back on purchases from up to 5,000 retailers
Protect orders and prices
Monitor the delivery process
Among many other things
It works as a browser extension (for Chrome, Mozilla, and Microsoft Edge) and is currently free.
Regarding cash back, this is a program where users can receive a percentage of their purchase as a direct refund. This amount will be deposited in your Smarty account, and then you can transfer it to a Paypal account; this way, the money can be used for other purchases later.
But you might be wondering, why do they do this? Well, it is a sales strategy that many companies use to reward their users and encourage them to continue buying through them.
How to get it
Register on the platform
In order to start getting this benefit, create a free account at joinsmarty.com/login. You can create one from scratch or connect it with your Facebook, Gmail, Microsoft or Apple account.
Also, make sure to install the extension in your browser to get more offers at the time of purchase.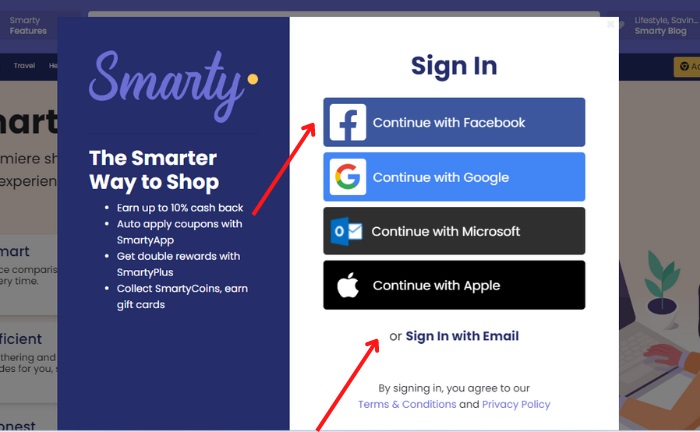 Explore Cash Back offers
After creating your account, navigate through the Smarty page and select a store with cash back available.
You will find a wide variety of categories to choose from: from fashion and electronics to travel and services.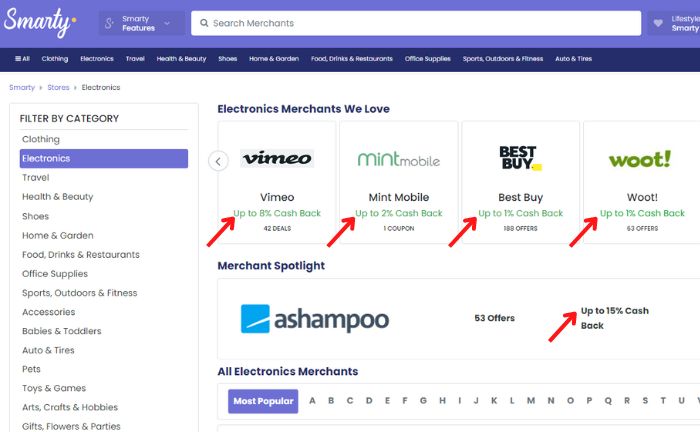 Activate offers
With your Smarty account open, and the extension installed, activate the cash back offer to receive notifications on the products or services you are looking for.
Make your purchases
Once you have activated the cash back offer, purchase online as you normally would.
As a recommendation: use the same browser window to make your purchases; this way, Smarty can track and record the data correctly.
Wait for the confirmation and Cash Back
After making your purchase, Smarty will confirm that your purchase has been completed and then reflect your cash back in your account.
Withdraw your Cash Back
Once you have accumulated enough money in your Smarty account, you will have the option to withdraw it.
Currently, the only withdrawal option is to a Paypal account that must be owned by the same user.
Some disclaimers
Remember that cash back offers are not the same for all products or services; in some cases, they will request a minimum purchase amount or may exclude certain items. Make sure you read the terms and conditions carefully.
This benefit only applies to completed transactions and not to cancellations, returns, incomplete purchases, or purchases made through gift cards.
After purchasing, Smarty and the selected store may take up to 48 hours to track your cash back order. Once confirmed, the amount will be reflected in your account as "Pending Balance"; this means that it has not been received yet and may take from 4 to 8 weeks.
After this time it will become an "Available Balance", and you can withdraw it. You can sometimes receive it before time, but if it takes more days than stipulated, contact support.
In order to withdraw the money to your Paypal account, you must have a minimum of $10.
If you want to accumulate your Cash Back in Smarty, you can do it; it will not expire. The only condition is that you must make at least one purchase a year from a Smarty merchant.
And finally, Smarty does not apply any fee or deduction to withdraw the money.
Why choose Smarty?
Although there are indeed other options to receive money this way, Smarty's Cash Back stands out for its vast network of associated establishments, from department stores to specialized stores.
Consequently, if you get used to making most of your purchases through this platform, you will be able to save money little by little without much effort.
References