PayPal is one of the most widely used payment platforms, especially because it is straightforward, and getting the money out of your account will not be a problem. However, some methods, such as requesting a check by mail, are not convenient and can take a long time to process. For this reason, today, we will talk about how to transfer money from PayPal to a bank account instantly, so I invite you to read on.
You should keep in mind that two types of transfers can be made to your bank account from PayPal. There is the free option, which will credit you the money overnight, and the instant transfer option, with which will let you have the money in your bank account in minutes.
However, an additional processing fee will be charged for this type of transfer.
How do PayPal instant transfers work?
These transfers will allow you to have your money available in your bank account very quickly for any unforeseen situation. These transfers will be made in minutes, with a maximum crediting time in your bank account of 30 minutes.
These transfers can be made wherever you are, without worrying about not having the money available in your account. For making instant transfers, a 1% fee will be applied to the value of the transfer, with a maximum fee of $10, in case you need higher amounts of money.
How can I transfer money from PayPal to my bank account instantly?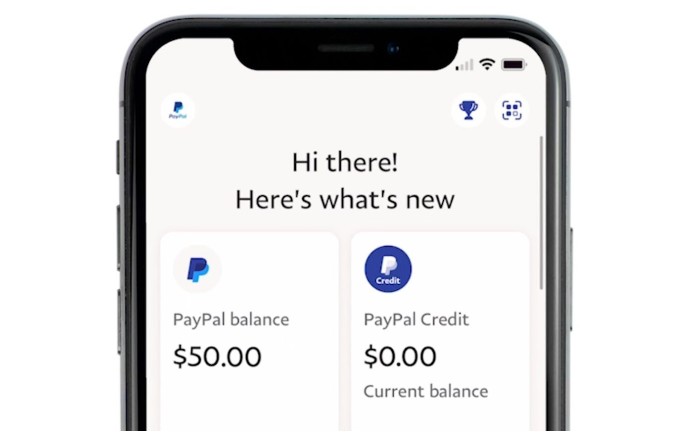 Making an instant transfer from PayPal to your bank account is very simple. Just follow these steps:
Log in to PayPal App

, and there you must select your balance on the main screen. This will be the balance that you can transfer to your bank account.

Select the "

Transfer money

" option, and then "

Transfer to your bank account

."

For your instant transfer, you will have to select your Visa debit card, or 

if you have not linked it to your account, you must do so and press the next button

. If you do not have a Visa debit card, you will have to make a standard transfer.

Select the amount of money you are going to transfer to your account, review the transaction details, and click "

Transfer.

"
Once you follow these steps, your instant transfer should be credited to your account within 30 minutes. Note that if you don't want to pay fees and don't mind waiting 1-3 business days, you can make a standard transfer which will be free of charge.
How to make a money transfer from PayPal to your bank account using a web browser?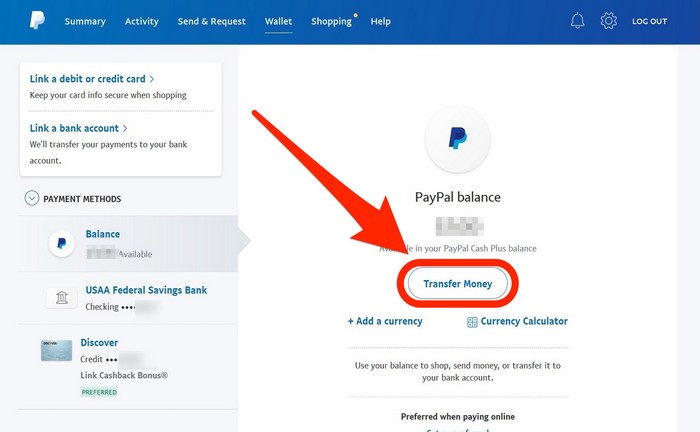 In case you do not want to make the money transfer using the PayPal App, you have the option to do it from their website. To do so, just follow these steps:
Go to the 

PayPal.com page

 in a web browser and log in with your account.

Click on "

Wallet

" at the top of the screen.

Click on "

Transfer Money.

"

You will get the option to "

Transfer to your bank

."

You must select the account to which you want to transfer the money. For instant transfers, 

remember that you must have a Visa card linked

. Otherwise, you will only be able to make a standard transfer.

Enter the amount of money to be transferred, then click on "

Next

," and finally click on "

Transfer

."
Once you follow all these steps, your transfer will be reflected in your bank account in the next few minutes if you select the immediate transfer option. If you did not, the money would be transferred within the usual 1 to 3 business days, just like from the App.
Limits that apply for withdrawals from PayPal to your bank account
If you wish to make an instant transfer from PayPal to your bank account, you should know that certain withdrawal limits apply. Usually, you can withdraw a maximum amount of $5,000 per transaction, per day, and per week.
However, you should also consider that monthly maximum limits of $15,000 may also apply. Once you reach the limits, you will have to wait the corresponding period to make another withdrawal.
It should be taken into consideration that the maximum fee charged in the case of instant transfers will always be $10. On the other hand, you should consider that PayPal has an account inactivity fee, which is usually $20, in case your balance is abandoned.
What does PayPal instant transfer pending mean?
Once you make an instant transfer, you may receive a notification that your transfer is pending. This could be because PayPal is verifying the transaction. After all, some transactions will be reviewed to prevent fraud.
Other reasons may be your bank or card processes, which are taking longer than expected to process the transaction. This can happen at any time and with any transfer, and in these cases, you have to wait a reasonable amount of time.
Why is PayPal instant transfer not working?
If you are having problems receiving your PayPal instant transfers, this could be due to various causes:
You have some limitation or blockage on your PayPal account.

Security checks are pending.

Your linked card or account does not allow transfers.

PayPal has blocked or delayed your transaction due to suspicion of fraud.
If you continue to have problems with transfers, you can directly get in touch with PayPal. This way, they will be able to help you resolve any situation that may be occurring with your account.
Keep in mind that if you use PayPal regularly, you will usually not have any problems with your money transfers.
Was this Content Helpful?