Navigating the path to higher education requires a clear understanding of critical factors, such as the financial aid eligibility threshold. This threshold, its existence, the specific amount, and whether it is determined by annual family income are crucial questions we will address in this article. Financial aid, which includes scholarships, grants, and student loans, provides significant relief to students and their families by helping offset educational expenses.
These resources are indispensable in realizing academic and career dreams, paving the path to higher education, and ensuring equitable educational opportunities. Ultimately, a thorough understanding of financial aid eligibility requirements is a crucial step in simplifying the often-complex process of obtaining funding for education. There are many questions regarding financial aid; for example, are students earning more than 75,000 per year eligible for financial aid?
Types of student financial aid
The different types of financial aid offer a range of opportunities for students to pursue higher education. While the relationship between eligibility and family income varies by type of aid, each option uniquely contributes to realizing academic dreams, supporting students from all economic backgrounds.
Scholarships
Revered for their focus on academic, artistic, or athletic merit, scholarships represent a form of reward based on individual achievement. Often, scholarship eligibility is derived from exceptional academic performance or special abilities in various disciplines.
Although family income may influence the decision to award specific scholarships, many are based on tangible achievement, meaning that students with an outstanding record have the opportunity to receive financial assistance regardless of their income level.
Grants
In contrast, grants are intrinsically linked to financial needs. These funds provide financial relief, especially to those whose family income exceeds certain thresholds. As family income increases, eligibility for grants may gradually decrease. However, the attractiveness of assignments lies in their ability to reduce the financial burden in direct proportion to financial need, ensuring that resources are allocated to those who need them most.
Loans
A valuable but cautious tool, student loans allow students to access funds that must be repaid in the future. Loan eligibility is generally not affected by family income, as it is based on enrollment in the educational institution and the creditworthiness of the borrower or guarantor. Although payment may indirectly influence the decision to borrow, loans are a viable option regardless of income level, with the financial responsibility falling on the borrower over time.
Work-Study Programs
Work-study programs offer a unique alternative by providing on-campus employment opportunities, allowing students to earn money while gaining work experience. Eligibility for these programs is not based on family income but on the availability of positions and the student's ability to meet work requirements. This option can provide financial flexibility for students from diverse backgrounds, as family income is not a determining factor in their participation.
Others financial aids
Tuition Fee Waivers
Some institutions offer these waivers, which reduce or altogether waive the tuition cost for eligible students. These waivers are often granted based on financial need, academic achievement, or the institution's specific criteria.
Fellowships
These are financial awards from graduate or doctoral students to support their research or advanced studies. Fellowships often include a stipend and may cover tuition and other related expenses.
Student Allowances
Specific programs or organizations provide allowances to assist with living expenses, such as housing, meals, transportation, or textbooks. These allowances can significantly ease the financial burden on students.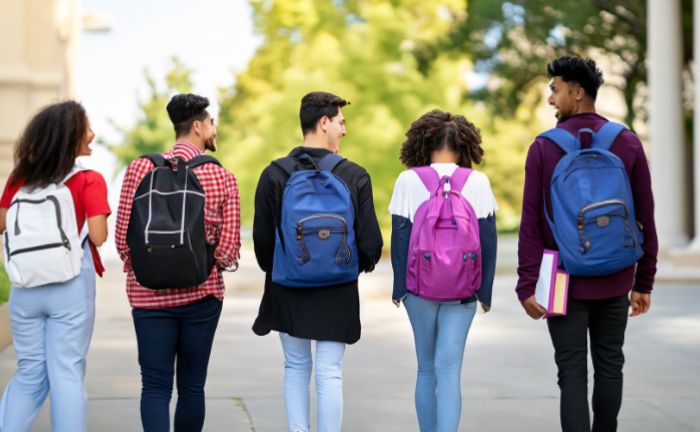 FAFSA 2023-24 Requirements: Who is eligible for financial aid
The U.S. Department of Education uses the Free Application for Federal Student Aid (FAFSA) to assess a student's eligibility for federal assistance, encompassing grants, loans, and work-study opportunities. Here are the essential requirements for the 2023-24 academic year:
Complete the FAFSA form 2023/24 academic year that is available online.
To be eligible for federal student aid, you must be a U.S. citizen or an eligible non-citizen with a valid Social Security number.
A high school diploma or equivalent, such as a General Educational Development (GED) certificate, is required for federal student aid eligibility.
Males between 18 and 25 must register with the Selective Service to qualify for federal student aid.
Most types of federal student aid require a demonstration of financial need. Your Expected Family Contribution (EFC) must be below a certain threshold.
To maintain eligibility for federal student aid, you must achieve good academic progress in your coursework. This typically involves holding a specific grade point average (GPA) and completing a certain percentage of attempted credits.
When completing the FAFSA form, you must provide accurate information about yourself, your family, and your finances. Providing incorrect or misleading information can lead to penalties or even a loss of eligibility for federal student aid, but what if students make over $75,000 annually, do they qualify for financial aid?
What are the Renewal Requirements?
If you already receive federal student aid, you must renew your application annually to continue receiving support. This involves completing a new FAFSA application form each year and meeting the exact eligibility requirements as first-year applicants. If you have previously taken out a federal student loan, you must not be in default on that loan to qualify for further federal student aid. Lastly, if you have previously received a federal grant, you must not owe a refund to be eligible for other federal student aid.
Can students apply for financial aid if they earn over $75,000 annually?
If students or their parents make over $75,000 annually do they qualify for financial aid? Contrary to the common misconception that if a student or their parents make over $75,000 per year they do not qualify for financial aid, no specific income limits set by the FAFSA 2023 disqualify students or their parents from applying for federal aid. The first step towards qualifying for federal assistance, irrespective of income, is completing the FAFSA.
Various factors, including income, family size, and other financial circumstances, determine eligibility for financial aid. These factors can vary significantly from one student to another. Opportunities for federal student aid, state or institutional grants, low-cost federal loans, or federal work-study programs may be available.
If my family's income exceeds $75,000, does that mean I won't receive any financial aid?
Not necessarily. While surpassing the $75,000 income threshold may impact your eligibility for need-based financial aid programs, it doesn't automatically disqualify you from receiving financial assistance. Many colleges and universities offer merit-based scholarships, often awarded based on academic achievement, extracurricular involvement, or other talents, regardless of income.
How to Fill Out the FAFSA Form 2023/2024
To apply for financial aid, you must get prepared by gathering the necessary documents and information for the application process, which may include the following:
Your Social Security number (or your parent's social security number if you're a dependent student).
Your driver's license or state I.D.
Your W-2 forms from the previous year.
Your tax returns from the previous year.
Any other investment information, such as stocks, bonds, or real estate.
2. Fill out the FAFSA form. This form determines your federal grants, work-study programs, and loan eligibility.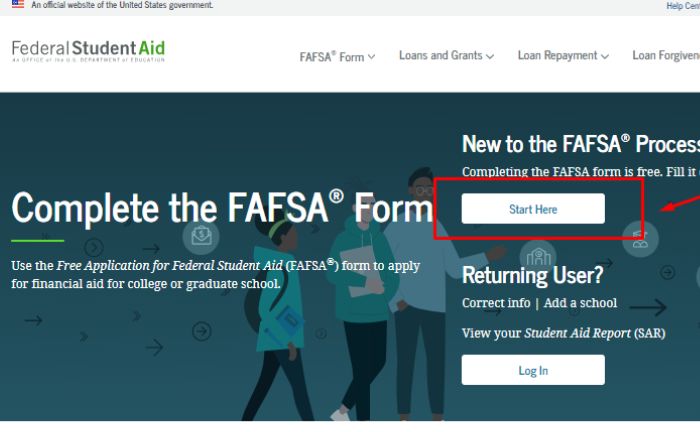 3. You will receive a Student Aid Report (SAR) after submitting the FAFSA form. Review this report carefully to ensure all the information is accurate. Make any necessary corrections or updates.
4. Once your FAFSA form is processed, you will receive financial aid offers from the colleges or universities you applied to. Compare the offers and choose the one that best meets your needs. Follow the instructions provided to accept or decline the aid offer.
If you accept the financial aid offer, the funds will be disbursed to you or your school, depending on the type of aid. The funds can be used to pay for tuition, fees, books, and other educational expenses.
NOTE: Financial aid is typically awarded annually, so to continue receiving assistance in subsequent years, you must renew your FAFSA form by the specified deadline.
Other ways to apply for financial aid
Suppose you choose not to apply for the FAFSA program for financial assistance. In that case, you can explore several other avenues to secure funding for your education.
One such option is State Aid. Many states offer their own financial aid programs to support students in their pursuit of higher education. These programs range from grants and scholarships to work-study opportunities and low-interest loans. To learn more about the aid programs available in your state, you can check with your state's Department of Education.
Another alternative is Institutional Aid. Many colleges and universities have financial aid programs to support their students. These programs can include merit-based scholarships, need-based grants, work-study opportunities, and even tuition waivers or discounts. Check with your school's financial aid office to learn more about these opportunities. They can provide information on what aid is available, the eligibility requirements, and how to apply.
Additionally, you can also search and apply for private scholarships. Numerous organizations, companies, and foundations offer scholarships to support students' educational pursuits. These scholarships can be based on various factors, including academic achievement, athletic or artistic talent, community service, and more. Numerous online databases and resources are available to help you find and apply for these scholarships.
Remember, securing financial aid often requires a proactive approach. Start your search early, apply for multiple aid opportunities, and feel free to contact financial aid offices or organizations for help or clarification.
FRIENDLY TIP: Every bit of aid can help reduce the financial burden of higher education and make your academic goals more attainable.
FAQs
Can I qualify for financial aid if my family's income exceeds a certain threshold?
Yes, you can still qualify for financial aid even if your family's income is above a certain threshold. While some need-based aid programs may prioritize students with lower incomes, many forms of financial aid are more than just dependent on financial need. Scholarships may be awarded based on academic, athletic, artistic, or other achievements, regardless of income.
Are international students eligible for financial aid in the U.S.?
Federal financial aid is generally unavailable to international students studying in the United States. Most federal financial aid programs, which include grants, work-study opportunities, and federal loans, are exclusively available to U.S. citizens, eligible non-citizens, or permanent residents. However, international students may have access to other forms of financial assistance.
Who is considered an eligible non-citizen?
Eligible non-citizens include individuals who hold an F1 Student Visa and their dependents/spouses (F2), individuals with Temporary Protected Status (TPS), individuals on work-sponsored visas, U.S. permanent residents with a Permanent Resident Card (I-551), conditional permanent residents, refugees, and individuals granted asylum. These individuals must be in the U.S. for at least five years to become lawful permanent residents (Green Card holders).
Resources