Southern Illinois University Edwardsville (SIUE) is a well-known university in Illinois, USA. It was founded in 1957 and is known for its high-quality education and focus on creating future leaders. The university believes in providing equal opportunities for all, regardless of their background.
To help students afford their education, SIUE offers many scholarships and support programs. SIUE's scholarships span a diverse range, catering to academic achievements, financial needs, and specific talents. These scholarships alleviate the financial stress of tuition and serve as a testament to SIUE's dedication to inclusivity and diversity.
A Brief History of SIUE
Southern Illinois University Edwardsville (SIUE) is a testament to the power of education and community development in the heart of Illinois. Founded in 1957, SIUE's origins date back to a commitment to provide accessible, high-quality education to the region's residents.
It began as an extension of the campus of the renowned Southern Illinois University Carbondale but quickly evolved into an independent institution with its own identity. Over the decades, SIUE has expanded its academic offerings and physical footprint, transforming from a modest campus into a sprawling educational center that serves as a beacon of learning for the entire Southern Illinois region.
Today, it stands as a vibrant community of scholars and students, presenting a wide range of undergraduate, graduate, and professional programs that prepare students for success in the rapidly evolving global landscape.
How many schools are in the SIUE?
SIUE has several schools within the University, so it offers different options for those students who decide to choose this institution to become professionals in one of the following 7 schools.
College of Arts and Sciences (CAS): Offers various undergraduate and graduate opportunities in multiple fields.
School of Business: Accredited by the Association to Advance Collegiate Schools of Business International, it grants undergraduate and graduate degrees in fields related to Business Administration and business.
School of Dentistry: Provides dental health treatment, checkups, and training through community outreach events.
School of Education, Health, and Human Behavior: Trains students in fields related to public health, psychology, nutrition, educational technology, exercise science, audiology, administration, and pedagogy.
School of Engineering: Offers comprehensive and cost-effective engineering programs with undergraduate and graduate degrees.
School of Nursing: Committed to excellence in nursing development through education, experience-based practice, research, advocacy, and service to society.
School of Pharmacy: Specializes in preparing humanitarian pharmacists through a training program that combines teaching, research, community work, and patient care.
Library and Information Services (LIS), home to Lovejoy Library, provides information to students and faculty, supporting collaboration and innovative thinking. The Graduate School offers a variety of graduate programs and research opportunities for those studying any of the degrees mentioned above within the university.
The school also supports adult learners and promotes research and creative activity. The SIUE East St. Louis Center focuses on empowering people and strengthening communities in the Metro East region, offering programs and services in education, health, social services, and the arts.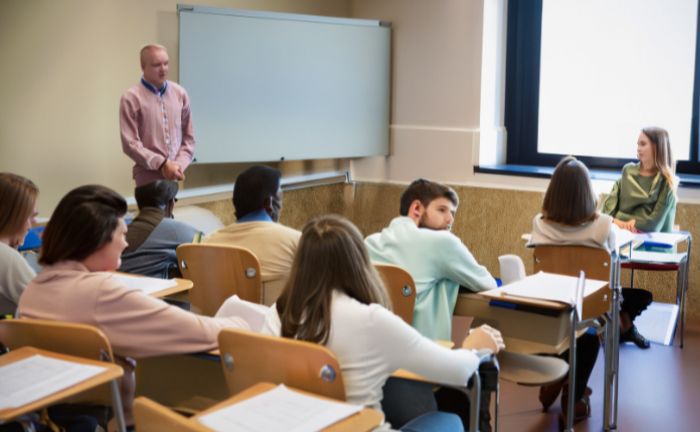 SIUE eligibility criteria for first students
The requirements to join SIUE as a first-year student are as follows:
First, ensure that you meet the published deadline for application submission.
To apply, you need to submit your application by the deadline. You should have a high school GPA of at least 6 out of 4.0. If your GPA is lower, you need a SAT score of 990 or more or an ACT score of 19 or more.
Complete the required high school coursework, which includes:
– 4 years of English
– 3 years of Math
– 3 years of Lab Science
– 3 years of Social Science
– 2 years of Electives
Submit a completed application along with a non-refundable $40 application fee.
Provide an official high school transcript.
Mail to: SIUE Office of Admissions. Campus Box 1047. Edwardsville, IL 62026-1047.
Electronic transcripts can be submitted through electronic transcript services or sent directly from the institution to etranscripts@siue.edu.
If students don't meet the minimum high school course conditions, they must address any deficiencies identified by the SIUE Office of Admissions.
NOTE: Submitting SAT/ACT scores is optional for admission consideration.
SIUE scholarships
Southern Illinois University Edwardsville (SIUE) provides diverse scholarships, awards, and grants for new and current students. These opportunities encompass various categories, including options specifically tailored for military personnel and veterans.
In addition to the scholarships offered by SIUE, students are encouraged to explore external sources for additional scholarship opportunities. Professional organizations and scholarship search websites can be valuable resources in this regard.
However, students must exercise caution and be vigilant against scholarship scams. We recommend you check the legitimacy of any scholarship before applying, ensuring that it is from a reputable source and aligns with the student's goals and qualifications.
SIUE available opportunities to save money
SIUE helps undergraduates achieve their academic aspirations with scholarships, awards, and grants so students can make their education more affordable. Here are the SIUE scholarships for 2023:
Scholarships
The Meridian Scholarship is a prestigious award covering your educational expenses, including tuition, fees, and accommodation. Don't miss the November 15 deadline to apply!
The Cougar Pride Scholarship offers substantial financial support for first-year and transfer students. The amount you receive depends on the availability of funds, so make sure to apply early for Freshmen (up to $16,000 over 4 years) or Transfers (up to $6,000 over 2 years.)
Johnetta Haley Scholarship
The Johnetta Haley Scholarship is another opportunity for financial assistance, with varying amounts for first-year students (up to $8,000 over 4 years) and transfer students (up to $4,000 over 2 years). Apply early to secure your chance to receive this award.
Phi Theta Kappa Scholarship
If you're a Phi Theta Kappa member, you can benefit from this $2,000 one-time award to support your academic journey.
SIUE Scholarships financially support deserving students, with awards of up to $4,000 per academic year. They are granted as funds become available.
The SIUE Commitment ensures eligible students have their tuition and fees covered, provided funding is available.
Awards
Geographic Enhancement Opportunity (GEO) Award
International students can take advantage of the GEO Award, which offers a special tuition rate to enhance their educational experience at SIUE.
Competitive Graduate Award
The Competitive Graduate Award provides valuable support for graduate students through a research assistantship with a tuition waiver and a $8,370 stipend. Be sure to submit your application by the January 15 deadline.
Graduate students can also benefit from the Graduate Scholar Award, which offers a tuition waiver for up to 30 credit hours. Make sure to meet the March 1 deadline for your application.
Federal and state scholarships for SIUE students
These federal and state scholarships are designed to ease the financial burden of higher education and make your academic goals more attainable. Whether you are an incoming freshman or continuing student, you can choose one of these options based on your needs.
Currently, there are five scholarships available in 2023 offered by the state for SIUE students.
The AIM HIGH Scholarship offers substantial financial support, providing eligible students $2,500 per academic year. Don't delay; apply as soon as possible after October 1 to secure this scholarship.
The Federal Pell Grant is a crucial resource for students with real financial needs. The annual amount of the grant varies depending on your circumstances and financial condition, but it ranges from $639 to $6,345.
Federal Supplemental Educational Opportunity Grant (SEOG)
The Federal SEOG Grant is a valuable resource for students with exceptional financial need. Awards of up to $1,400 are available but apply promptly after October 1, as funds are limited.
Illinois Monetary Awards Program (MAP)
The Illinois Monetary Award Program (MAP) is designed to help Illinois residents cover their educational expenses. Apply as soon as possible after October 1 to maximize your chances of receiving this award of $5,496.
Illinois Grant for Dependents of Police or Fire Officers
If you are a dependent of a police officer or firefighter in Illinois, you are eligible for this scholarship, which covers general student fees and tuition.
Beyond the standard financial aid programs, SIUE offers many additional scholarship opportunities to help students achieve their academic goals.
Other Scholarship Opportunities
SIUE is proud to offer over 450 undergraduate and graduate scholarships, which are made possible thanks to the generosity of our donors, professional organizations, and university partners. These scholarships span a diverse range of academic fields and eligibility criteria, providing students with many options to obtain financial assistance for their academic pursuits. Let's see some of them:
The Office of Military and Veteran Services stands ready to assist military personnel, veterans, and their families. Navigating the complex benefits world can be challenging, but this office guides to ensure a seamless transition through college.
Also, SIUE offers graduate assistantships for graduate students that provide essential financial support. These positions often involve teaching, research, or general work within the university, allowing students to gain valuable experience while funding their education.
On the other hand, graduate students currently enrolled at SIUE may also qualify for additional awards and grants. These opportunities may arise from various sources beyond the university, further enhancing the financial aid options available.
In addition to SIUE's offerings, numerous scholarships are available from external sources. For instance, the Illinois Student Assistance Commission (ISAC) provides a range of scholarships tailored to Illinois students attending in-state institutions.
Embarking on a scholarship search journey is made simpler with helpful tools, like online platforms, such as FastWeb and College Board (the ones that the SIUE recommends on its official website).
How to apply for a SIUE scholarship?
Embarking on your scholarship journey at Southern Illinois University Edwardsville (SIUE) is an exciting step toward achieving your academic dreams. Here's a guide on how to apply for scholarships at SIUE, ensuring you make the most of the opportunities available:
Complete the Free Application for Federal Student Aid (FAFSA). Even if you don't intend to apply for need-based financial aid, this step is often a prerequisite for most scholarships. The FAFSA becomes available on October 1 each year.
Explore Scholarship As mentioned, SIUE offers many scholarships, including those provided by the Office of Student Financial Aid, academic departments, and external organizations. Choose the one that best suits your needs. Remember that you can read about the different options in the previous sections or find out more information by visiting the SIUE official website.
Once you have chosen the scholarship you want, you must check that, before applying, you meet the specific requirements for that scholarship, whose eligibility criteria may include GPA, talents, ethnicity, qualifications, etc.
Prepare and submit all the application materials. The scholarship application comprises an application form, a well-crafted resume, an insightful essay, and, occasionally, letters of recommendation.
Once the scholarship selection process is complete, you only need to wait and watch your inbox for notifications regarding your award. The communication will also detail how the scholarship will be applied to your student account.
Finally, after being approved for the scholarship, you must maintain the minimum GPA and complete a specified number of credit hours.
SIUE scholarship requirements for international students
Foreigners who wish to study at SIUE are required to meet the following requirements:
English Language Proficiency: Applicants must demonstrate proficiency in the English language. The accepted English proficiency tests and minimum scores are as follows:
– Duolingo: 110
– IELTS: 6.0 (no component score under 5.5)
– PTE: 50
– TOEFL: 72
Applicants must provide adequate financial resources to support their studies at SIUE. This includes submitting financial documents as part of the application process.
Students must complete the online application and pay a non-refundable application fee of $40. They must also submit official or unofficial academic transcripts/records. A certified English translation must accompany any documents not in English.
Once approved for admission, applicants must submit additional documents, including official transcripts and test scores, before being formally admitted and issued an I-20 document to obtain a U.S. visa.
SIUE Contact information
To contact SIUE, you can use the following methods:
General inquiries
Admissions
Service Center
Library and information services
FAQs
Are exchange student scholarship opportunities available at SIUE?
Yes. SIUE provides scholarships and grants for exchange students. The availability and specifics of these opportunities may vary depending on the exchange program and the student's home country.
What if I do not meet the SIUE scholarship renewal requirements?
If you do not meet the renewal requirements of a scholarship, you may lose the scholarship in future academic terms, which is why it is essential to maintain the eligibility of each scholarship.
References