For lovers of coffee and the famous frappuccino brand, the Starbucks gift card is an excellent gift idea. It can be used for orders at the checkout line, from the APP, and online.
However, you may need to learn how to use a Starbucks gift card. If so, we explain below how to use it and whether it requires activation, among other questions that will help you resolve any doubts you may have.
What is a Starbucks Gift Card, and how does it work?
It is a prepaid card issued by Starbucks. Like any other gift card, it is given a certain amount of money as a present so that the person can use it for any purchase at the store located in the U.S. and the rest of North America.
From the Starbucks website, you can select from several models of gift cards for special occasions such as Valentine's Day, birthdays, or any other important holiday. Starbucks eGift Cards can purchase food and beverages at participating Starbucks locations.
They simply work. You must show it to the barista or cashier when making the payment (at the checkout). The employee will scan the card, and depending on its availability, the total or part of the purchase will be paid.
For your interest: Starbucks gift cards are available in bulk. An ideal alternative for the corporate sector (businesses, companies, retailers, etc.).
Where can I use my Starbucks Gift Card?
Physical and eGift cards can be used online (web or APP) and directly at any Starbucks where they are accepted. You can check the balance at checkout or online. It is also possible to buy it on Amazon, but in this case, you should do the process on any official Starbucks site.
It is very easy to use the Starbucks Gift Card. You must download the Starbucks APP and enter the card number and security code. This way, you will have better control of the expenses you make with it. So, can I use a Starbucks gift card online? Of course!
Remember: the Starbucks gift card can be used to pay at any Starbucks location in the U.S. present it at checkout. If the card does not cover the purchase amount, it is possible to use other payment methods, such as cash or debit and credit cards.
Redeem your Starbucks Gift Cards Online
If you do not yet have an account on the Starbucks website, but you do have a Starbucks gift card and want to start using it, you must first follow the steps below:
Log in to the Starbucks website.

Click on "Join now."

Add the requested information: first and last name, email, and password.

Then, you will see an option that will allow you to redeem a Starbucks gift card you already have directly.

If this is your case, enter the card number and security code.

Check the terms and conditions box and select whether or not you wish to receive emails (promotional campaigns, etc.) from Starbucks.)

Click on "Create Account."
That's it! Now you can use the Starbucks gift card online, from the APP, or in stores that accept the card. In case you are wondering, you can also send a Starbucks gift card via text.
Does the Starbucks Gift Card require activation?
One of the most relevant aspects of the Starbucks gift card is that you do not have to activate the card because it is already activated. Remember that when you buy it, you add money to the card to send it to someone else.
Do not confuse gift cards with Starbucks cards. For example, you cannot redeem points with a Starbucks gift card.
The only one with which you can add and redeem the respective points for being a Starbucks member is the Starbucks card. It is an option designed for those who are regular users of the company. This card can be registered in your name, but we are talking about a totally different product.
How To Send a Starbucks Gift Card to the Starbucks APP?
Log in to the Starbucks APP

Go to the "Gift" section and browse the options/designs available. There are plenty of options from which you can choose.

Once you have selected the perfect gift card, click on your choice and proceed to fill in the requested information (to whom it is addressed and their email) and the amount of money you want it to have.

Click on "Checkout."

That's it! You have sent a Starbucks gift card from the APP.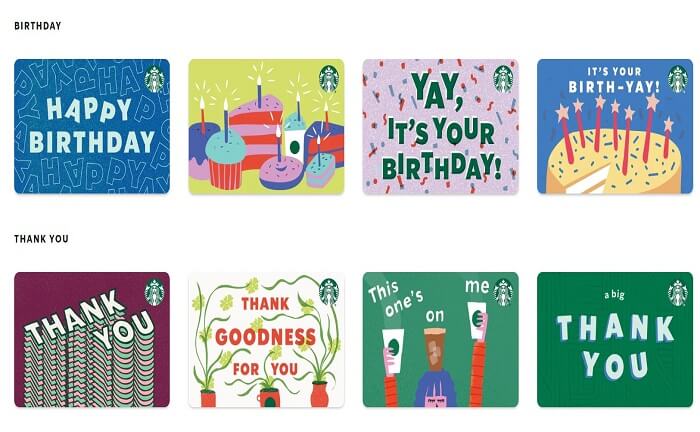 How do I know when I receive a Starbucks Gift Card?
You will receive an email notification that someone has sent you a gift card. For more questions about it or how to refund an eGift purchase, you can email the Customer Support Service at: StarbuckseGiftCardSupport@cashstar.com.
References