A pretty common problem among Grubhub users is that the company's gift card does not work when trying to make a payment. What happens in these cases? How should you proceed? Should you call customer support?
If you have any of these questions, here is why is my Grubhub gift card not working. You may need to check the types of payments on your account. Let's take a closer look at what to do if this happens.
What's wrong with my Grubhub Gift Card, and why is it not working?
First of all, it is worth mentioning that Grubhub offers the option to purchase gift cards. If you are interested in purchasing one, you can do so directly from www.grubhub.com/giftcards.
However, purchasing a gift card from this food and beverage delivery company from retailers such as Walmart, Target, and Kroger is also possible.
You should purchase it from Grubhub's website, as you can personalize it with a special message if you want to give it as a gift. There are also eGift Cards available. Any can be redeemed on the spot or saved for another occasion, as they never expire.
Users on Reddit have asked themselves this question to find out if it has happened to anyone else. The reality is that it happens more than expected. But in what situations might your gift card not be working?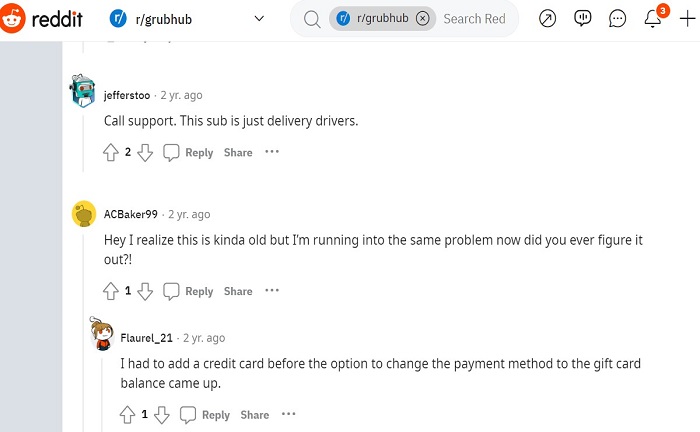 What do I do if Grubhub is not letting me use my Gift Card?
At Checkout, some users receive the error that the payment could not be processed. If this happens to you, ensure you have entered the wrong information first. If you are sure everything is in order, then it is another problem.
According to other users' experiences when paying with a gift card in Grubhub, the error occurs because you do not have an additional payment method in your account. The system requires that you have another means of payment, i.e., that the gift card does not have sufficient funds to pay for the order. And the truth is that this is a requirement of the company for all its users.
However, nobody reads the fine print, so it is quite normal that if, for example, it is the first time you are going to use Grubhub because you were given a gift card, then it is very likely that this will happen to you.
This mechanism allows Grubhub to make sure that the payment is made without errors. Otherwise, it will mean a loss of earnings.
But what if the Gift Card still doesn't work?
If you have entered a second payment method and the gift card still does not work, double-check that you have entered the correct numbers. If they are correct, check that you have not put the number in the "Credit Card" section.
Remember that if there is a problem with the transaction for a payment-related reason, the Grubhub delivery person will not be able to deliver your order.
Finally, if none of the above instances have worked, check that the card has funds. If you don't know how to do this, you can contact Grubhub's support center at 844-828-5331 to find out if your gift card has money on it.
The advisor will solve the problem for you, as it could also be an error in the card or the system itself. In any case, by logging on to https://www.grubhub.com/account/giftcards/balance, you can find out how much money you have on your card.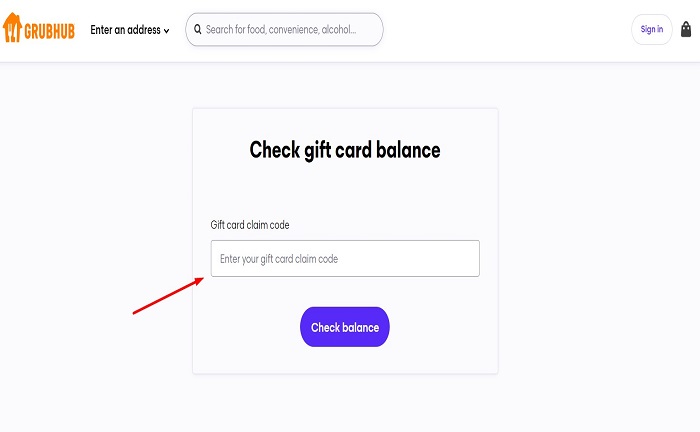 What happens if my credit card does not work when paying on Grubhub?
In this case, according to information from the delivery company, you must ensure you have entered the correct information, including billing information (such as ZIP code, etc.) as it appears in your bank.
If you have made any changes to your bank details or recently changed the plastic in your Grubhub account, you can update them). If the problem persists, then contact your bank. (You may also wonder if Grubhub accepts EBT).
Learn how to redeem your Grubhub eGift card
If you still don't know how to redeem a Grubhub gift card, follow these instructions:
If you don't have the code yet, click on the Redemption URL to get it.
Now, you must go to the Grubhub website and select what you want to eat.
Add the products to the cart.
You must click "Add gift cards and promo codes at the checkout."
Enter the code given to you by the URL above and click "Apply."
The amount of the order will be deducted from your gift card balance*. The remaining amount can be used at a later time.
*Please note that for each order, it is possible to use several Grubhub gift cards.
References