Most people require a checking account, and no one likes the fees or minimum deposits required by many banking institutions. Luckily you can open a free online checking account with no opening deposit, with which there are no minimum balance requirements to be approved.
If you want to open a free checking account with no deposit, I have selected the best banks you should consider.
The best free checking accounts with no opening deposit
Many of the banks that offer free online accounts are online banks, which have lower operating costs than traditional banks. Among the main ones to consider will be:
Ally Bank
Ally Bank offers all of its customers an interest-bearing checking account and is one of the few that will pay you an annual interest rate percentage as low as 0.25%. This is one of the lowest rates that many savings accounts pay.
This account also offers standard courtesy checks, a MasterCard debit card, and online bill pay. In addition, customers of this bank can access Allpoint's ATMs completely free of charge, and this bank does not charge overdraft fees.
However, it should be noted that returned deposits will incur a $7.50 fee, while outgoing domestic wire transfers cost $20.
At this bank, you will find yourself with a free checking account that has multiple benefits, such as Direct Deposit Express, which makes it possible to receive paychecks up to 2 days earlier. It has unlimited refunds of domestic ATM fees, and they have no overdraft fees.
In addition, peer-to-peer payments can be made using only the recipient's email address or cell phone number. On the other hand, if your family or friends open a qualifying account, you each get $20.
However, this bank does not pay interest, as is the case with the previous one. Among its fees is the replacement of the debit card for $50. Suspension of payments for online applications will be $10, and outgoing domestic transfers will be $35.
This is a checking account that charges no fees, has no minimum balance requirement, and pays interest. It also offers a debit card that is completely free and can be used at over 70,000 ATMs with no fees.
This bank also offers mobile banking and online banking, including mobile check deposits, and you can deposit into your account at CVS stores. The percentage yield on this account is 0.10%.
The fees they charge for an online check are $20, while at a physical branch, it is $10. On the other hand, for a stop payment, they charge $25, and for an outgoing domestic wire transfer, it is $30.
This is a very interesting account because it will pay you up to $3000 for doing the things you do regularly with your checking account. You will get 1% cashback whenever you make purchases with your debit card.
It also has a very useful mobile app, which will allow you to freeze your debit card and deposit checks without going to the bank. You can use 60,000 ATMs, and it allows peer-to-peer payments with Zelle.
This bank charges an outgoing domestic wire transfer fee of $30. Note that with this account, you cannot own or co-own more than two cash-back checking accounts.
Chase
Chase College Checking is an account available to college students between the ages of 17 and 24. It offers free checking for five years or until after the expected graduation date.
It offers free access to 16,000 ATMs and 4,700 bank branches. This account offers free help in finding affordable online courses and identifying scholarship opportunities in a simple way.
To avoid the monthly service fee, you must make an eligible direct deposit of $5,000 or maintain a balance above this amount. This account pays no interest, and if you withdraw money at a non-Chase ATM, you will have to pay a fee of $2.50 to $5. Also, outgoing domestic wire transfer fees are $25.
NBKC Bank
This is an account that combines the functions of a checking account with a savings account without any fees. This account has 24-hour mobile banking, and you can pay bills for free.
It allows free transactions at more than 37,000 MoneyPass ATMs and offers $12 in out-of-network ATM cash back each month. This account has a very attractive domestic outgoing wire transfer fee of only $5.
This bank offers the Asterisk-Free Checking account, which is free of all maintenance fees, and they have no minimum balance requirement. It comes with special features such as a security zone, which will allow you to avoid overdraft fees.
In addition, eligible customers can apply for a line of credit of up to $1,000. In addition, if a Premier Savings account is opened, the $4 monthly savings account fee will be waived, with a $300 minimum balance requirement.
It should be noted that the fee for using an ATM of another bank will be $3. This account does not pay interest, and international transactions will have a 3% fee on the amount of the transaction.
How to choose the right checking account?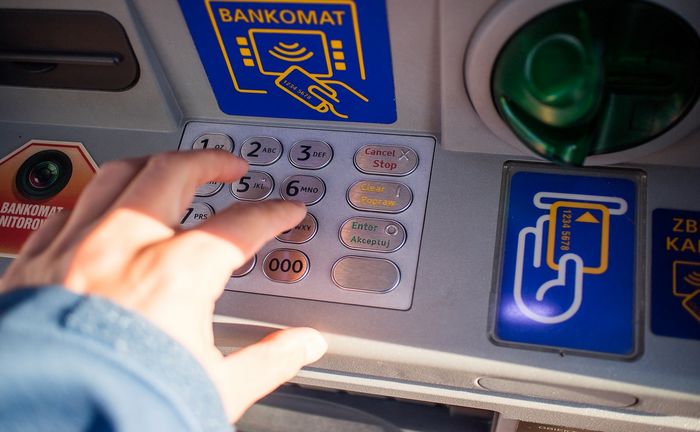 The best checking accounts will adapt to your lifestyle, and for this reason, you should take them into consideration. Among the main aspects to consider are:
You must determine the

bank that will best suit your needs

. Online banks are usually the most convenient, especially because they have lower operating costs.

Check if the

bank has online and mobile banking applications

to keep track of your balances and make payments easily. Some also have budgeting tools to better manage your finances.

Always

read the fine print and review the fee schedule

. Keep in mind that even with a free checking account, fees may be charged for different activities.
If you follow these tips, you'll be able to choose an account that perfectly suits your needs, and you may even be eligible for additional benefits.