I – 35 Credit Auto is a company that offers you the best auto financing in Oklahoma. It is one of the best when you are looking to buy a vehicle with low-payment financing.
They are popular because of their ability to offer auto financing for no credit, bad credit, SSI income financing, disability, second and third vehicle financing, or to get over previous reports.
Why Prefer I-35 Credit Auto?
The company has been making auto loans in Oklahoma for 14 years. Although they do not have very low-interest rates, they offer more comfortable payment possibilities than other alternatives.
You can find a credit calculator on their website to understand how it would work if you apply with the company. On the other hand, the loan application is simple and fast through the company's digital platform.
They have opportunities for those with bad credit and bankruptcies that prevent them from accessing credit to purchase their new vehicles. They have excellent alternatives to buying a used car with the best possible conditions.
You will find various options in the "inventory" section on the website. You can choose from different vehicle brands and decide if you prefer a convertible, van, sedan, or SUV.
Furthermore, you can browse through the different alternatives and choose the one that best suits your needs and tastes. Their varied options will always be attentive to offer you the best possible solutions.
How to apply for a loan with I-35 credit auto?
Once on the I – 35 credit auto website, go to the "financing" option in the options bar at the top and select "apply online" from the display menu.
The selected step will open a new page with the credit application form.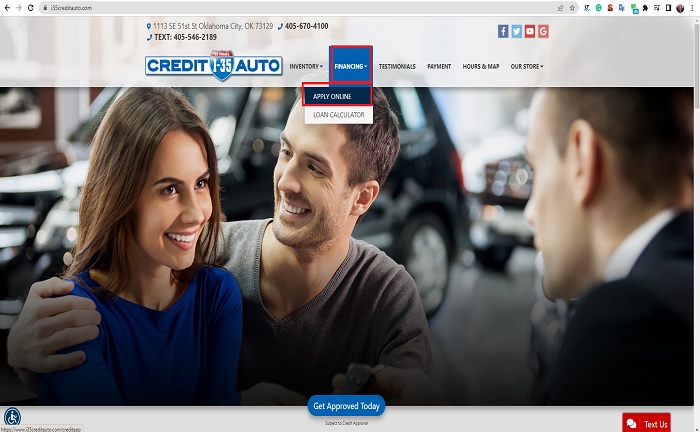 It is necessary to be careful and ensure that all the fields are filled in with the correct data.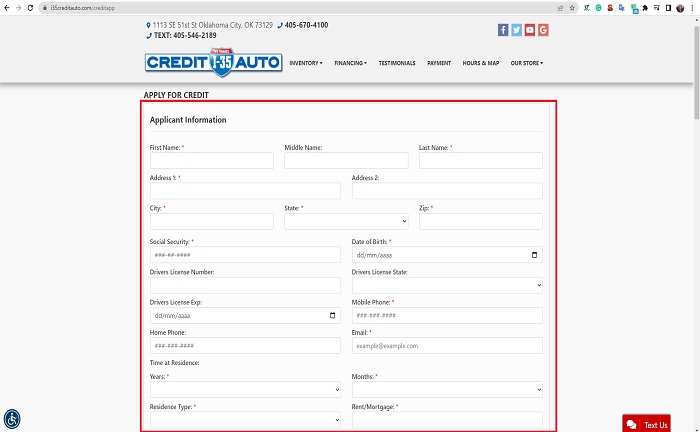 Ultimately, you must accept the acknowledgment and consent that all the information provided is real and reliable. Also, allow the agents to communicate via email or phone call.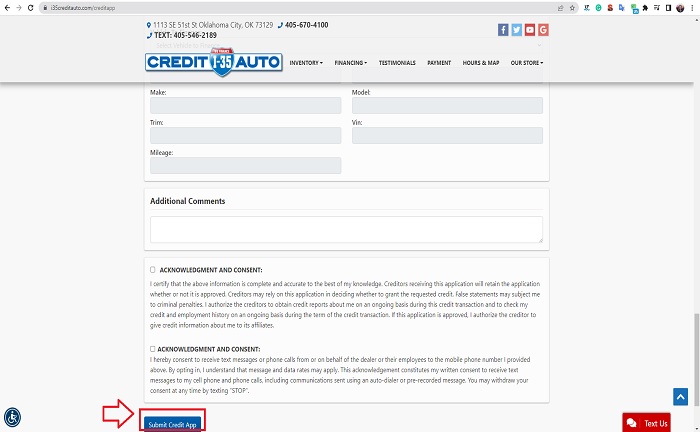 Finally, press the blue "send credit application" button and await a response. Sometimes you get it right away, but if it takes a little longer, you don't have to worry too much.
Applying in person
There is also the option of coming to the agency's offices at 1113 SE 51st ST in Oklahoma City, OK. They are available Monday through Saturday from 9 am to 6 pm. Customer service is also available for any questions at 405-670-4100.
Can I purchase the vehicle with a credit score of less than 500?
Possibly you can, but it requires great effort. Be prepared for higher-than-expected interest rates and additional fees. When you fill out the application form, you must include all the banking information necessary to evaluate your movements.
When the company evidences bad credit, they may not deny you the option to purchase the car. However, it will place additional conditions and slightly higher than normal fees to ensure that the sale will be productive.
Was this Content Helpful?