If you are a Supplemental Security Income (SSI) recipient in the United States and need a car, it can be difficult to find dealerships that accept SSI. However, there are some dealerships across the country that cater to people on SSI and offer special financing options tailored to your needs.
If you are part of Supplemental Security Income you may have several benefits, however, when it comes to obtaining a financed vehicle it can be complicated. But it's not impossible to find dealerships that are willing to help you get a car that fits your needs.
Car dealerships that accept SSI nearest me in Phoenix
Do you live in Phoenix and need a dealership that accepts SSI? As always, we've compiled a list of the best options. Although, we recommend you write directly to each one to ensure they will provide you with the help you need. Generally, business hours begin at 9 AM.
| | | |
| --- | --- | --- |
| Site | Address | Phone Number |
| DriveTime Used Cars | 2143 W Camelback Rd, Phoenix, AZ 85015 | +1 602-794-1090 |
| Goldie's Motors | 2950 E Broadway Rd, Phoenix, AZ 85040 | +1 602-454-6400 |
| In-Power Motors 2 LLC | 3912 W Indian School Rd, Phoenix, AZ 85019 | +1 480-983-3461 |
| Cactus Jack's Auto Phoenix Airport | 2246 E Van Buren St, Phoenix, AZ 85006 | +1 602-244-2424 |
| Bueno Used Cars, Inc. | 1247 E Van Buren St, Phoenix, AZ 85006 | +1 602-254-6707 |
| Right Choice Automotive | 4335 N 7th St, Phoenix, AZ 85014 | +1 602-650-2277 |
| In-Power Motors LLC | 2301 W Buckeye Rd, Phoenix, AZ 85009 | +1 602-648-5275 |
| Alta Vista Auto | 323 E Dunlap Ave, Phoenix, AZ 85020 | +1 602-331-9000 |
Car dealerships that accept SSI closest to me in Chicago
If we are talking about dealerships that accept SSI in Chicago, these are some of the best options below. Most of them have more than 4 stars and more than 3 years of experience in the market in question. Therefore, you should not doubt that they will help you.
| | | |
| --- | --- | --- |
| Site | Address | Phone Number |
| Carfect (Formally Auto Warehouse) | 3632 N Cicero Ave, Chicago, IL 60641 | +1 877-978-3242 |
| Carfect (Formally Auto Warehouse) | 2629 N Cicero Ave, Chicago, IL 60639 | +1 773-825-6448 |
| Car Credit Center | 7600 S Western Ave, Chicago, IL 60620 | +1 773-737-7600 |
| Windy City Motors | 2662 N Cicero Ave, Chicago, IL 60639 | +1 773-717-7000 |
| AutoBank | 2310 N Cicero Ave, Chicago, IL 60639 | +1 773-668-0011 |
| Cars R Us Chicago | 2336 N Pulaski Rd, Chicago, IL 60639 | +1 773-289-4500 |
| Drive Today | 2036 N Cicero Ave, Chicago, IL 60639 | +1 773-622-8808 |
| Carfect (Formally Auto Warehouse) | 2435 N Cicero Ave, Chicago, IL 60639 | +1 773-840-0932 |
What are the Car dealerships that accept SSI near me?
As an SSI recipient, you should already be familiar with the many confusing rules you have for accessing certain things. However, if you need a car that fits your needs, you'll always find dealerships that are willing to help you finance it.
DriveTime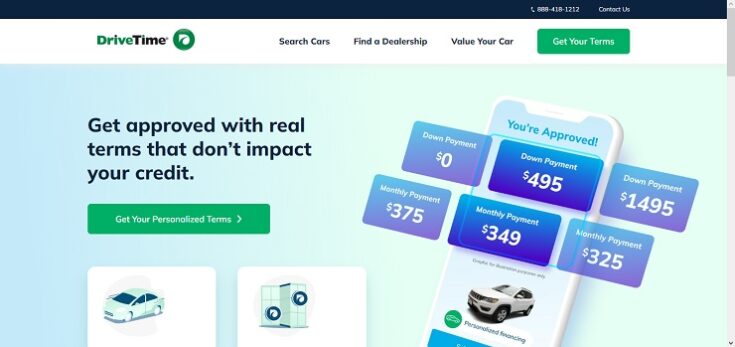 DriveTime is a popular nationwide used car dealership that is known for offering financing options to people who have a bad credit history or are on a fixed income. They understand the challenges people with SSI face and work with them to find a suitable vehicle and financing plan.
With more than 145 dealerships spread across the country, DriveTime aims to provide affordable car options for everyone, including those with SSI. You're sure to find the best alternative for you.
JD Byrider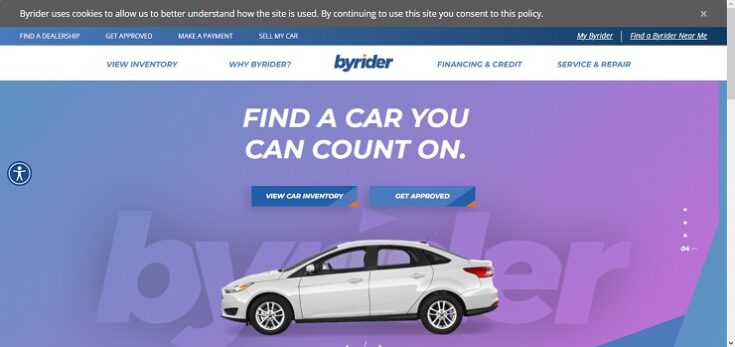 JD Byrider is another nationally known used car dealership that specializes in providing vehicles and financing options to people with poor credit history or limited income. They offer an in-house financing program that makes it easy for people with SSI to purchase a car.
Byrider has over 150 dealerships across the United States and their goal is to help people get behind the wheel of a reliable vehicle regardless of their credit or situation. They have different models of cars to fit the wants and needs of all their customers.
📍 Address: 2008 Okeechobee BLVD West Palm Beach, FL 33409.
✆ Phone Number: 561 – 210 – 5990
🌐 Website: https://www.byrider.com/
Green Light Auto Credit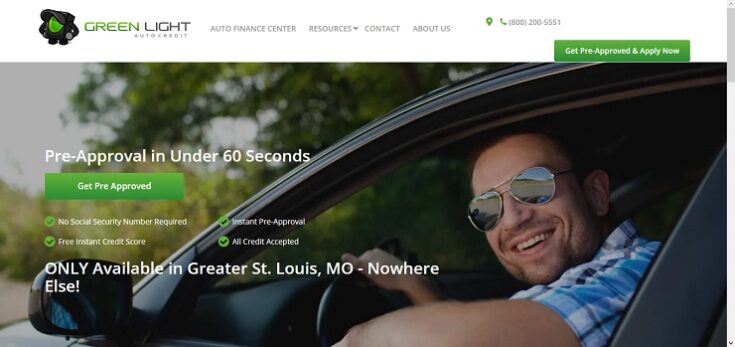 In this case, it is a service that helps you obtain financing to purchase a new vehicle using your SSI. The application can be done in a few minutes through their online page and in simple steps, plus, they don't have overly extensive or complex requirements to allow you to access the car you've been wanting.
Hawthorne Auto Square
Again, this is a dealership where you have access to used cars, but in excellent condition and ready to go. From the online page, you can check the inventory of the cars available currently and select the one you like to see in person.
From the digital page, you can arrange a visit to get all the necessary information and start paying the necessary installments to acquire the vehicle you have selected. It is a dealership with great alternatives and with a great facility to acquire your new car with your SSI.
Golden State Auto INC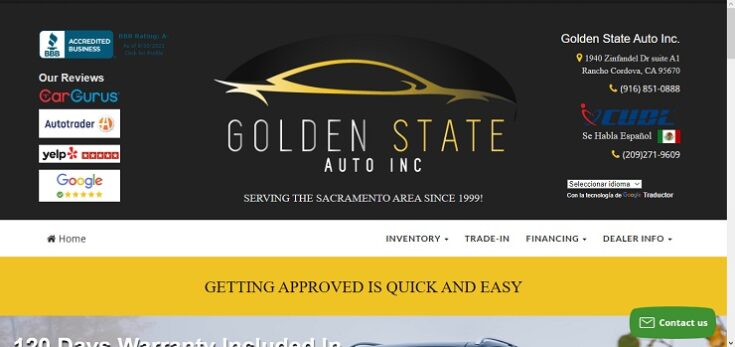 Through Golden State Auto INC you can access the vehicle of your choice with a 120-day warranty on all cars in the inventory. They have fantastic benefits, among which you find that they accept SSI to access the car of your choice. It's as simple as applying from their online application page and learning all about the process to get your new car.
How many auto dealers accept SSI in the U.S.A.?
At this time, there is no accurate record of how many dealers accept SSI for car purchases. What we can say for sure is that in every state in the country, you will find at least one that offers you the option of financing your car with your SSI. You need to contact the dealerships near you and ask for information.
Finding exact information about the number of dealerships that accept this benefit is complex because each one has its policies regarding financing. What is certain, however, is that you have a better chance in places that sell used vehicles; these dealerships usually have simpler rules regarding the purchase of a car.
How can I buy a car with the SSI benefit?
Supplemental Security Income is a benefit that you get when you have a disability, although the mission is that you have a simpler option, the truth is that it can be complicated to access certain benefits using it. However, acquiring a car is not impossible using SSI.
Generally, those who are SSI beneficiaries never made FICA payroll tax payments for the financings, therefore, the Social Security Administration has some rules for such beneficiaries. As for countable resources, you cannot exceed specific limits.
You have a total of $2,000 for a single person and $3,000 for family households, which explains the complexity of accessing financing for an automobile.
However, through the dealerships specified above, you find alternatives that will fit that income and allow you to own a vehicle.
The money can only be spent on basic needs and among them is the need for a car to transport you more easily. Therefore, you will not have any inconveniences with the public administration for it.
How else can I find dealers who accept SSI?
The other alternative to finding car dealerships that accept SSI is to call the ones closest to your location and request information. It's a time-consuming process, but it will be the best way to find the one that best fits your current needs.
Can I buy a new car with my SSI?
Although most of the dealerships available are used car dealerships, depending on the state you are in you may be able to find a dealership that will accept financing your brand-new car with SSI. Again, you'll need to do extensive research on the alternatives you have.