With more than 50 years in the market, Gap is one of the most important clothing stores in the United States. The company has clothes for the whole family: for children, maternity clothes, and even the most sought-after sizes for adults.
Over the years, Gap has forged a large community of consumers that rewards with discounts, promotions, and two credit cards: the Gap card, which works at Gap stores and affiliated companies, and the Gap visa credit card, designed to be used anywhere.
Gap credit cards are issued from Synchrony Bank and work through the company's web portal for online shopping, bill pay and bill pay. The company provides several ways to pay for the card. Here's how.
How to register your Gap credit card online?
If you have a new Gap credit card, an online access account is required to start enjoying its benefits. You must register your personal data on the website and create a profile to manage your payments and settle your account. After you have entered your data, you can log in and enjoy the benefits 24 hours a day.
Some of the procedures you can carry out from the portal are as follows:
Have a record of your past and current transactions.
Manage payments
Paperless invoicing
Define an authorized buyer
Access the Secure Message Center
To register, go to the Synchrony Bank website. At the top right, you will see a yellow "Sign In" button, click on it, and a pop-up window will open showing two options; however, ignore these two alternatives and click on the lower section that reads "For all other retail credit cards, click here".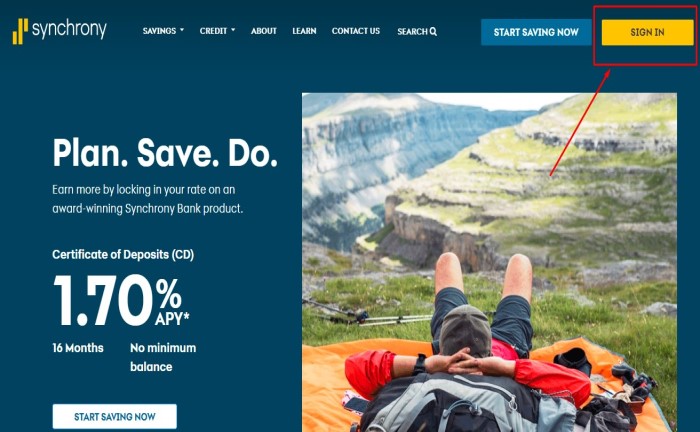 A new window will open with all the information about Synchrony Bank cards and their affiliated credit cards. Scroll down, and in the middle, you will find a section titled "A few of our partners" and underneath, different company logos. Find the Gap logo and click on it.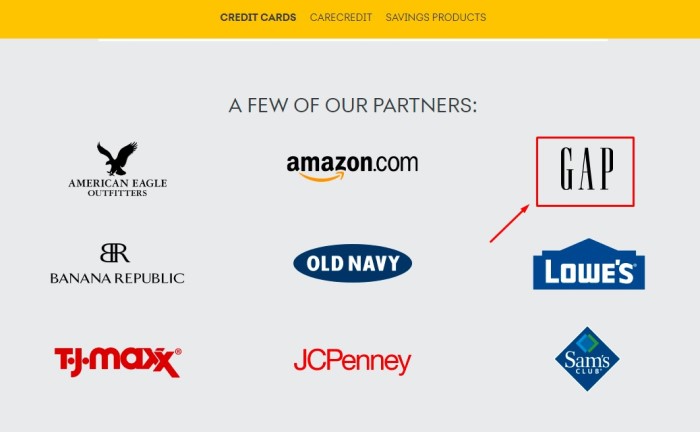 The login portal will open, but as we want to register the data, you must click on the "Register" button at the bottom of the page.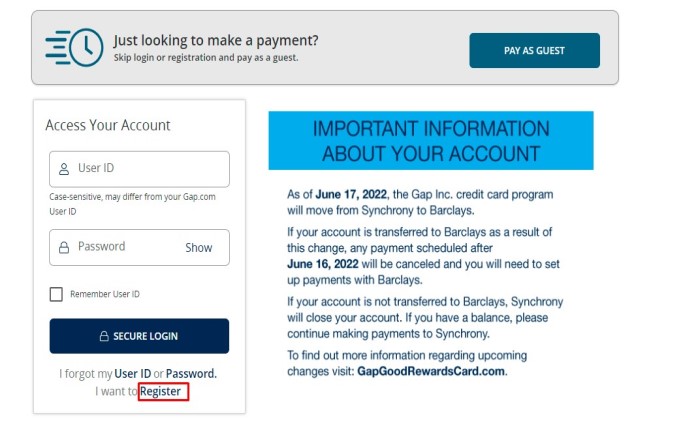 The platform will display a small form that you must complete in steps. It will ask for information such as:
First and last name
Zone code
Card number
Your email address
Date of birth
Social Security Number (SSN)
After completing the data, click on "Continue" and finish the process. At the end of these steps, you will have your account registered, and you will be able to log in whenever you want. You will receive an email with your login credentials: username, password and security questions.
Gap credit card login step
Logging in to the Gap credit card page is easy. Through this process, you can manage your account online and access all the procedures mentioned above. 
Now that you have a username and password created, you can log in by following these instructions:
Step One:

Go to the Synchrony Bank website and click on the "Sign In" button located on the top right-hand side of the screen.

Step two:

As in the last segment, go to the official Synchrony credit card page and click on the Gap logo.

Step Three:

 When you reach the login page, enter your username and password and click on "Sign In".
By completing these three simple steps, you will have access to your online account. You can view your profile information, set up automatic monthly payments, etc.
Gap credit card payment
Credit cardholders can count on the online support of U.S. banks. In this case, Synchrony Bank offers digital services to perform all movements and transactions online. If you want to pay your bill online, follow these steps:
Go to Synchrony Bank's official website and the "Sign In" section.
Enter your login information.
Within the platform, click on the "Pay your bill" tab.
Enter the payment name with which you will make the payment, the current account number and the routing number.
Choose the amount you wish to pay. The platform allows you to pay the monthly minimum or to pay off the debt in half or in full.
Click on pay.
After completing all these steps, you will have paid your monthly bill. Try to do this process on the corresponding days to avoid interest on late payments.
How do I pay my Gap credit card bill by phone?
To pay your Gap credit card over the phone, call the number corresponding to your card. A customer service operator will take your call and direct you through the steps to make your payment.
Be sure to follow the operator's instructions and enter the digits at the appropriate times. Have your credit card, account number and routing number ready.
The number to call varies depending on your card. You can see below the number that corresponds to you:
Call Gap credit card services at 800-887-1198
Call Gap Visa credit cards services at 866-450-4467
How can I pay my Gap credit card bill by e-mail?
As with telephone payments, the mailing address varies depending on your card type. To pay your bill, you must send a check or money order with your information, checking account number, routing number and amount.
You can see the postal addresses below:
Gap Credit Card
Gap/Synchrony Bank
P.O. Box 960061
Orlando, FL 32896-0061
Gap Visa Credit Card
Gap Visa/Synchrony Bank
P.O. Box 960013
Orlando, FL 32896-0013
We remind you that payment by mail is not immediate. Therefore, you should send the document seven to five days before your payment date to avoid late fees.