When you first register with Robinhood, you will notice that it allows you to add external bank accounts. Thanks to this option, you can add your Chime account to trade with both from one place.
Robinhood is a compendium with which you can have several support services where Robinhood Securities, Robinhood Financial and Robinhood Crypto are included. That explains why you would want to keep both accounts active.
How to link a Chime account with Robinhood?
Download the Robinhood app on your cell phone and launch it; when you are in the user interface, look for the account icon in the bottom-right corner.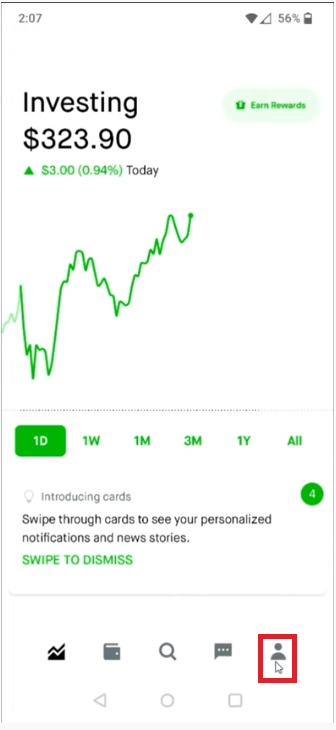 When you click on it, a new screen appears, and the "Transfers" option appears; look for "Add New Account".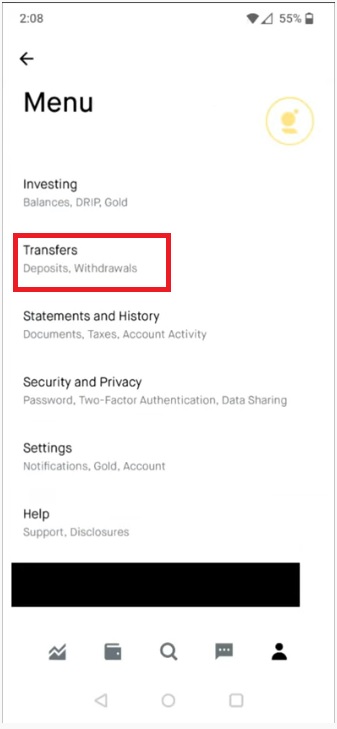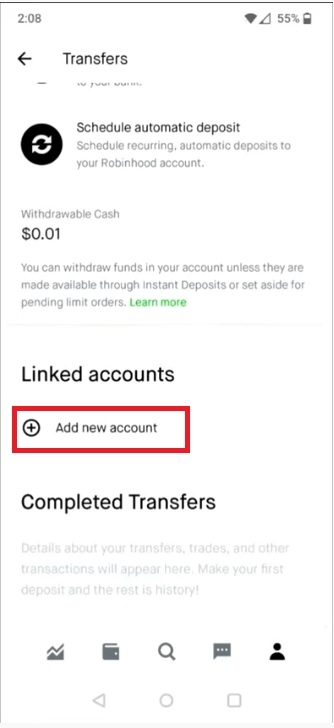 A comprehensive list of banks you can link with the application appears here, but to find Chime, you must enter the name in the search bar.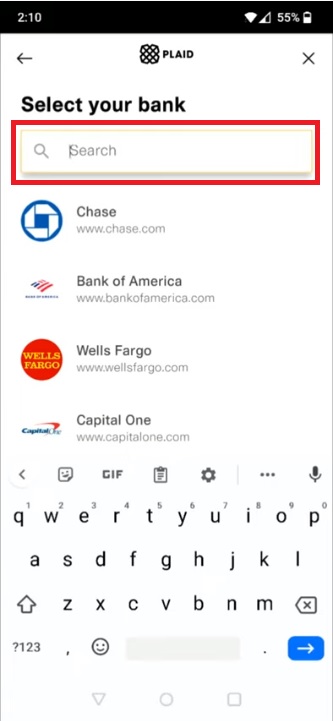 If you don't see the option, click "I don't see my bank". Now you can select a savings or checking account and enter Chime's account and routing number. Once completed, the application will prompt you with the next steps to complete application.
Linking through Robinhood's online page
The procedure can also be done from the Robinhood website. First, go to robinhood.com and on the home page, look for the account icon in the lower right-hand corner of the home page.
On the new menu, look for "Transfers" and "Linked Accounts" on the next page. On the new page, press "Verify" and add your account details for verification.
You must enter the two deposit amounts and continue to complete the process. You must accept the terms and conditions and add the information requested by the platform, and you will be able to start using Chime with Robinhood.
What if I can't link my Chime account with Robinhood?
Generally, when you have problems with linking, it is because some of the information you have added is wrong. If you experience difficulties, we recommend verifying the information provided and trying again.
You may also have problems if the platform is down or experiencing failures. If you cannot link your Chime account with Robinhood, you should wait at least one day to try again.
If, after several attempts, you are still having issues, it is best to contact Robinhood customer support to find out why and get some solutions.
How do I transfer money from Chime to Robinhood?
Once you link your account with Robinhood, transferring money is simple. You can log in to your Chime account and make a transfer just like any other transfer to your Robinhood account; the transferred funds appear pending in your account history until they are cleared within the next five business days.
To make a transfer from your account, log into the application and go to the "Cash" tab, click on "transfer" and "Transfer to your bank". You will see your linked accounts with which you can make the procedure.
Enter the amount and execute the operation. Kindly note that transfers usually take 3 to 5 business days to complete.
Benefits of merging both accounts
You may not feel the need to make this linkage; at last, it is not so complex to manage them separately. However, it is a simpler way to have your money under control and be able to make quick transactions without having to log in and out of each application.
It is a favourable choice to improve the security of your data and always have an effective solution at hand to carry out your payments. Moreover, it is a simple and fast procedure when you follow the instructions correctly.
What do they offer to customers?
Although many users see Chime as a banking entity, the truth is that it is not. This platform offers excellent financial services such as savings or checking accounts to manage your income without paying extra fees.
It is a magnificent alternative when you want to save and have your money protected; this is one of the most attractive features. On the other hand, Robinhood has low fees and does not require a positive balance to open an account on its platform.
Both have something in common, and that is that they offer a simple interface so that all users can learn to use it in a short time. However, Robinhood offers greater possibilities, such as trading stocks, cryptocurrencies, and ETFs.
While Chime is a platform where you can save and make transactions quickly, with Robinhood, you can venture into the world of investments in the simplest way available online so far.
Was this Content Helpful?