Chime is a platform available since 2013 to offer modern alternatives to traditional banking options. It is important to note that it is not a bank but a financial technology company with banking services.
To offer its products, it has allied with other recognized financial institutions to guarantee quality. It offers savings accounts, checking accounts, and a special credit card to improve your credit history.
Advantages of being part of Chime
It is common to wonder if it is a good option to take Chime as your trusted financial institution to make your transactions. It is best to know its main benefits to answer this question:
No overdraft fees
With Chime, you will have overdraft protection, and there are no fees when you use their platform through SpotMe. Some banks tend to have fees of around $37 for overdrafts.
With SpotMe, you can receive $200 or more in monthly direct deposits without the risk of paying high service fees.
No monthly fees
As you have evidenced, fees are not Chime's thing. The platform does not charge maintenance, special service fees, or any minimum balance fees. Foreign transactions are not subject to these types of fees either.
You can access a wide network of ATMs
More than 60,000 MoneyPass and Visa Plus Alliance ATMs are in the United States. All your transactions are free of additional fees, meaning you can make as many withdrawals as you want without paying fees.
Receive cash in advance through direct deposit
This special service is for employers who want their employees to have their payroll money in their bank accounts on time. You can have your paycheck up to two days before the pay date when you set up this option.
Disadvantages of using Chime
Like any financial institution, you will find some disadvantages in its processes. Remembering that Chime is not a banking institution, you may encounter some cons such as:
Limited banking services
The services you find with Chime are simple; they do not have certificates of deposit, lending options, or money market accounts. You need an account at another bank to get all of the above.
Not the best average savings rate
With Chime's savings account, you will have an annual percentage yield of 0.50%, considered a high yield rate. While that's considerably better than what many traditional banks offer, you don't have the same luck with online banking.
Cash deposits are a bit tedious
You don't have the ease of making cash deposits from an institution. Instead, you need to go to one of the partner retailers for this service. Another negative point is that each retailer applies a fee for the cash deposit service.
You will incur additional fees when using out-of-network ATMs
Although there are 60,000 ATMs associated with Chime where you will not have additional fees for transactions, if you are not near one of these and use one outside the network, you must pay the fees of the bank you have used.
Is it a good choice to have an account with this bank?
Despite having some disadvantages, Chime is still a good choice if you are looking for basic and fully online services. It has a convenient platform that suits the needs of users. In addition, applying for your account is simple.
You can open a savings account with no minimum balance requirements and get a debit card with your checking account. You can also access a wide network of ATMs and use your debit card abroad without additional fees.
Furthermore, you can even deposit checks from your cell phone in a few easy steps. It will be an excellent choice if all those services are enough for you.
Account opening requirements
The whole procedure is done through Chime's online page. You only require an email address, social security number, and identification. These are the basic requirements for financial institutions to validate your information.
Log in to Chime's online page or mobile app and click "Get started."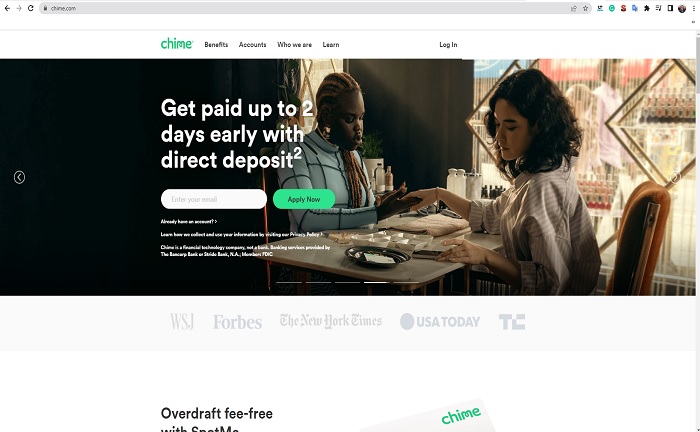 It would help if you filled in all the corresponding fields to create your account, and once inside, you can apply for the products you want. The complete process takes no more than 5 minutes when you put the right information in each of the fields.
Is the Visa Chime debit card purchased immediately?
With your checking account, you will have your Chime debit card; from the moment you create the account, the provisional card is generated, which will be the one you can use to make online purchases during the 7/8 business days in which you receive your physical card.
On the other hand, you must request the debit card through the menu of your Chime account. Just go to "products" and "Chime credit card." Fill in the corresponding information and wait for the business days it will arrive at your home address.
Was this Content Helpful?