Your resume is not just a piece of content listing all your credentials or experience; it is a representation of who you are and what you have to offer. Whether it's for a job you are writing your resume or an internship example, it will only stand out if you choose the right layout, focus on the correct details, and customize it to look eye-catching and strong but decent at the same time. 
Simply stated, you would need the right inspiration to create your resume. And a simple way to do that is to go through these best resume examples listed below and pick the one you find the most suitable. So, shall we start?
Twelve resume examples you could use
1. NewCast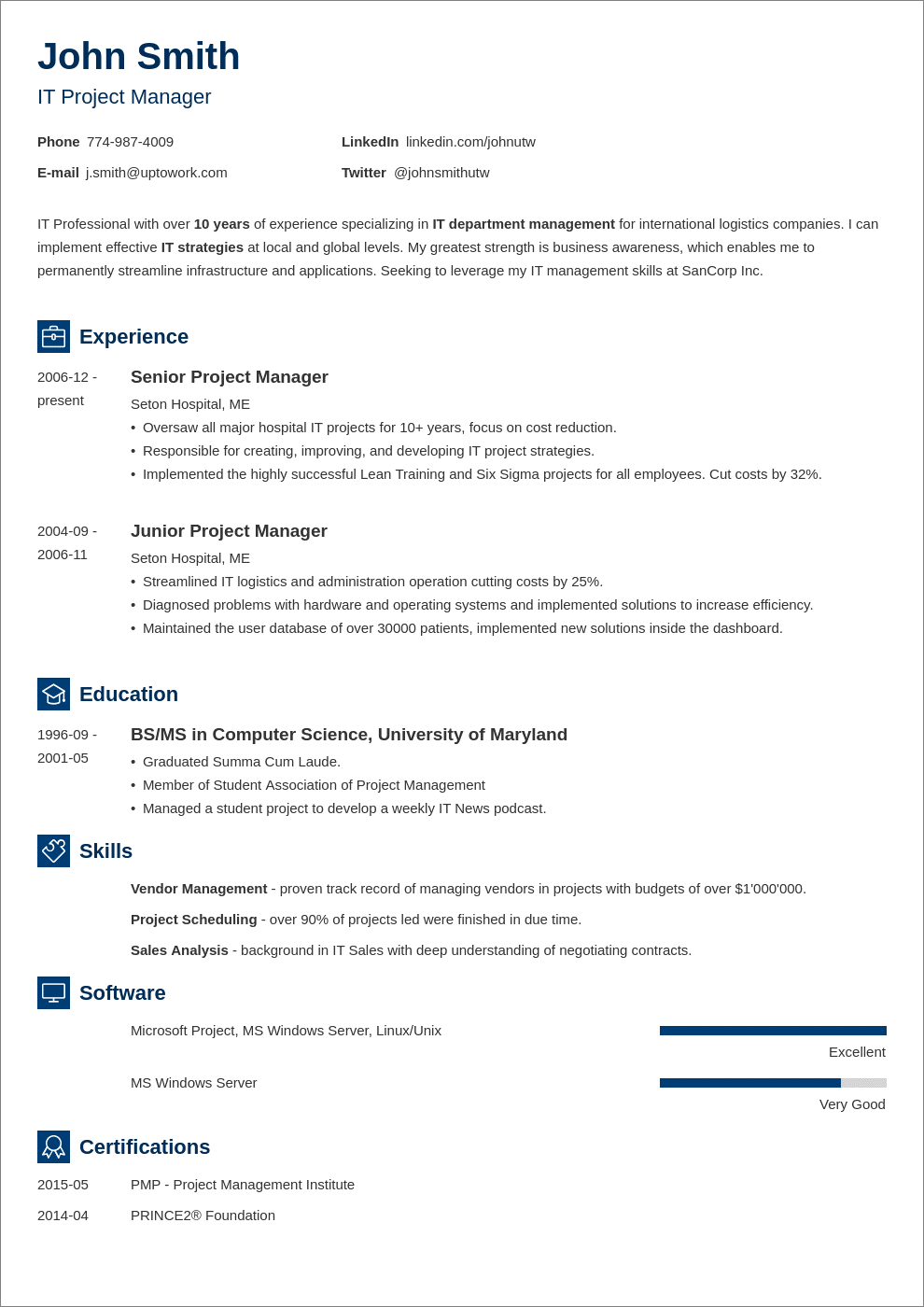 A classic yet outstanding resume style, Newcast gives you ample space to showcase all your achievements. Whether you belong to the medical crew like doctors, nurses, even dentists, or have great experience in business skills such as consultancy, Human Resources, or a career counselor, Newcast is the resume template you need! 
With a simple, eye-catching look, you can list all about your skills, work history, and education in great detail. The introduction highlights your name, profession, business address, and you can link your social profiles like Twitter, LinkedIn, or your portfolio as well. 
Next, give information about your most recent jobs, educational background, skills, and format the text as you like! The best thing about Newcast is that it prefers you write in bullets to lead the reader's eyes straight to your accomplishments!
2. Enfold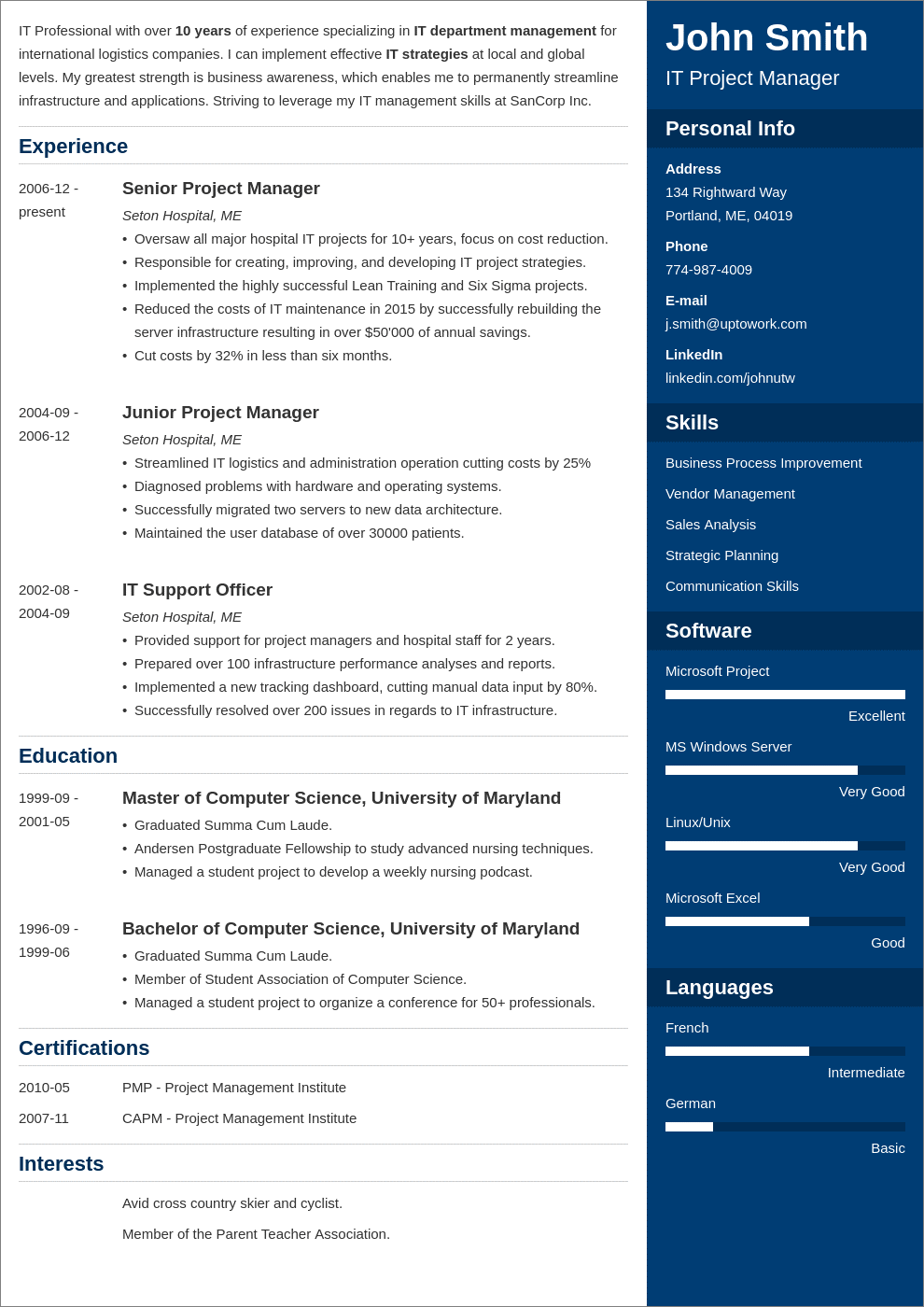 Got a long list of skills and experience but never the right resume example? Look no other than Enfold. The name speaks for itself with the extensive yet one-page resume where you can freely mention all about your expertise and skills without worrying about the space or messy look of the resume! 
The template is divided into two sections. The right sidebar is where you can list your business information, link your contacts and socials, and talk about all the skills you have a fine grip over. You can add your business skills, communication, or technical skills; everything will pop up in the blue sidebar. 
Enfold cares about the space as much as you do, which is why the left section has further sub-sections to write a detailed, yet on-point introduction. Then talk about your experiences, educational background, certifications, interests.
This resume example is genuinely a great template for marketers, engineers, social media managers, and whoever has plenty of expertise to discuss! 
3. Cubic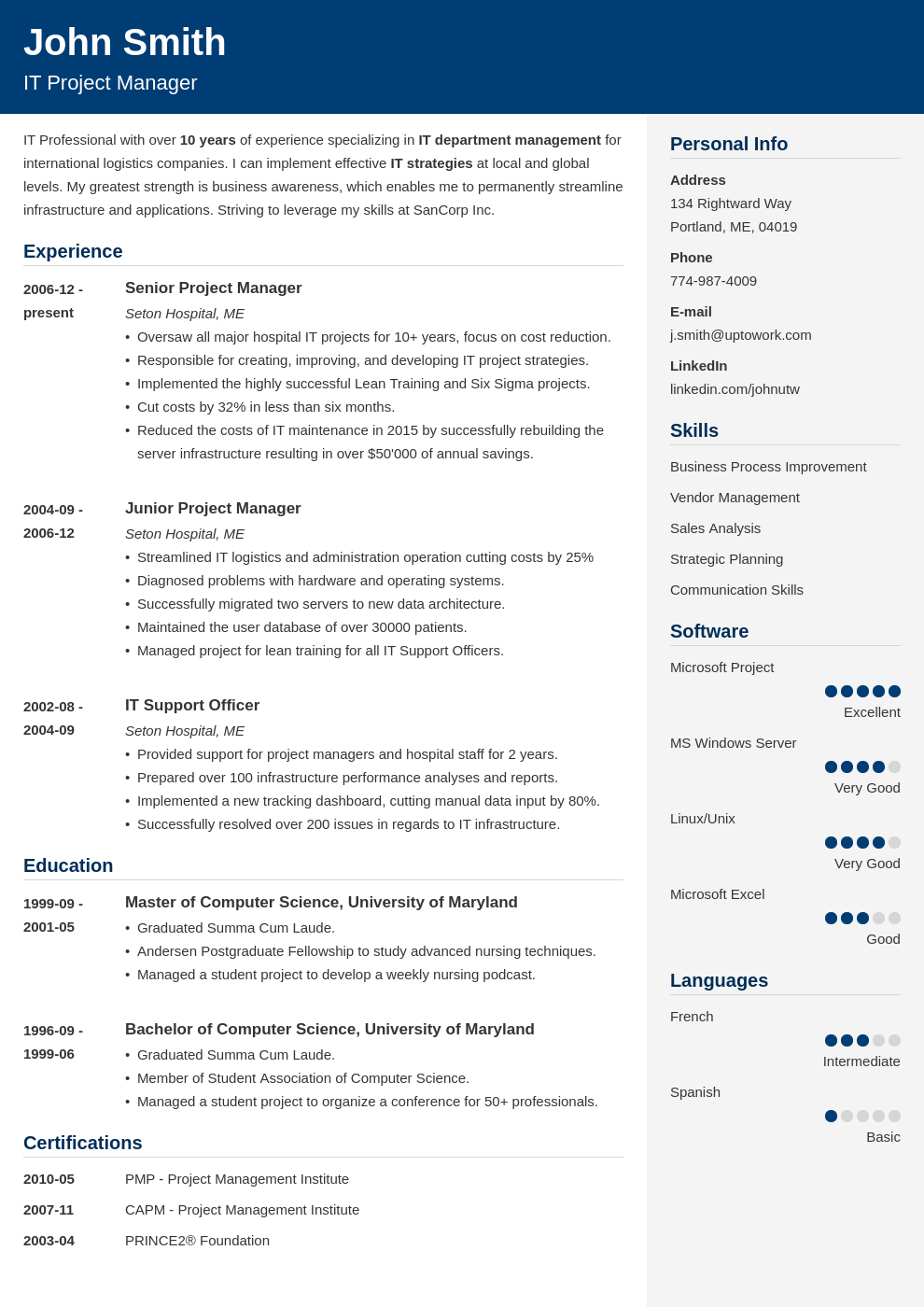 Cubic is a resume template designed to meet modern requirements. Like Enfold, it works excellent for supervisors, executives, and managers who want to showcase their skills but prefer a neutral, monogram style. 
This resume example is simple: it divides the resume into sections, with each having visible margins not to let the information mix. It not only saves the resume from looking messy or stuffy but also gives it a decent look.
You can add your personal information, link your best profiles, add your business website, and any other relevant data on your left. Then, you can go on to lay out your skills and expertise in whichever style suits you best. 
Since your name and profession are highlighted at the top, it will catch the reader's eyes at first glance. Introduce yourself, talk about your previous jobs, accomplishments, education, services, and certifications in the left bar. Undoubtedly, Cubic is what you need if you are looking for a classy and elegant resume!
4. Muse
With unique ribbon icons, Muse not only keeps your reader focused on your expertise but also organizes the resume effectively. You can be a data analyst, project manager, scientist, or ever a writer, and Muse would work for you! 
Also, Muse is different from any other resume example because it showcases everything like an organized, professional business card. On the left will be all quick links to your personal information, skills, and you can also add your expertise of different software or languages. 
At the same time, the space at the top is reserved for your name, profession, and a quality introduction. The right section gives you plenty of space to display all your recent jobs and pitch your experience. 
Not only that, the blue and black colors for headlines and content make everything look well-formed yet simple at the same time! Add your education, interests, necessary credentials, and everything that you think would take your resume to the next level.
5. Iconic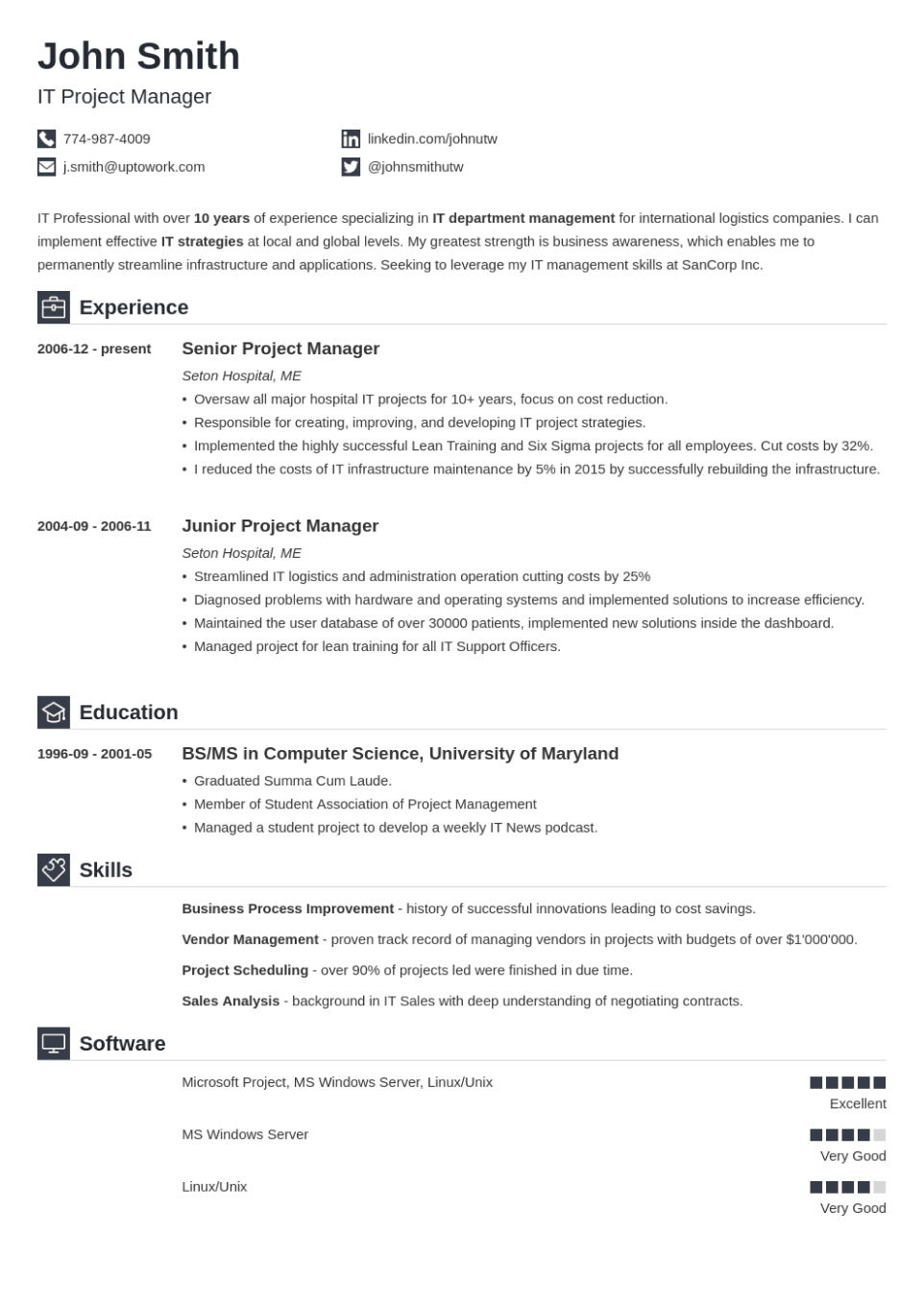 Not everyone has a long list of skills or work experience to mention. In such a case, using a template that has sections and subsections for everything can make things more complex when all you want is a simple, elegant look. Iconic is designed for the same reason: to cover all you've got without making your resume look empty or incomplete. 
A perfect option for photographers, artists, actors, or anyone who has a creative mind but doesn't like to limit their creativity in mere words, Iconic will be your next best resume template! 
On the top, you can write your name, profession, social links, and an introduction which you can customize as you prefer. 
Then comes the step-by-step resume outline starting from experience, followed by education and skills. You can also mention your grip on software or apps if you want to outshine your creative skills, and that's all!
6. Simple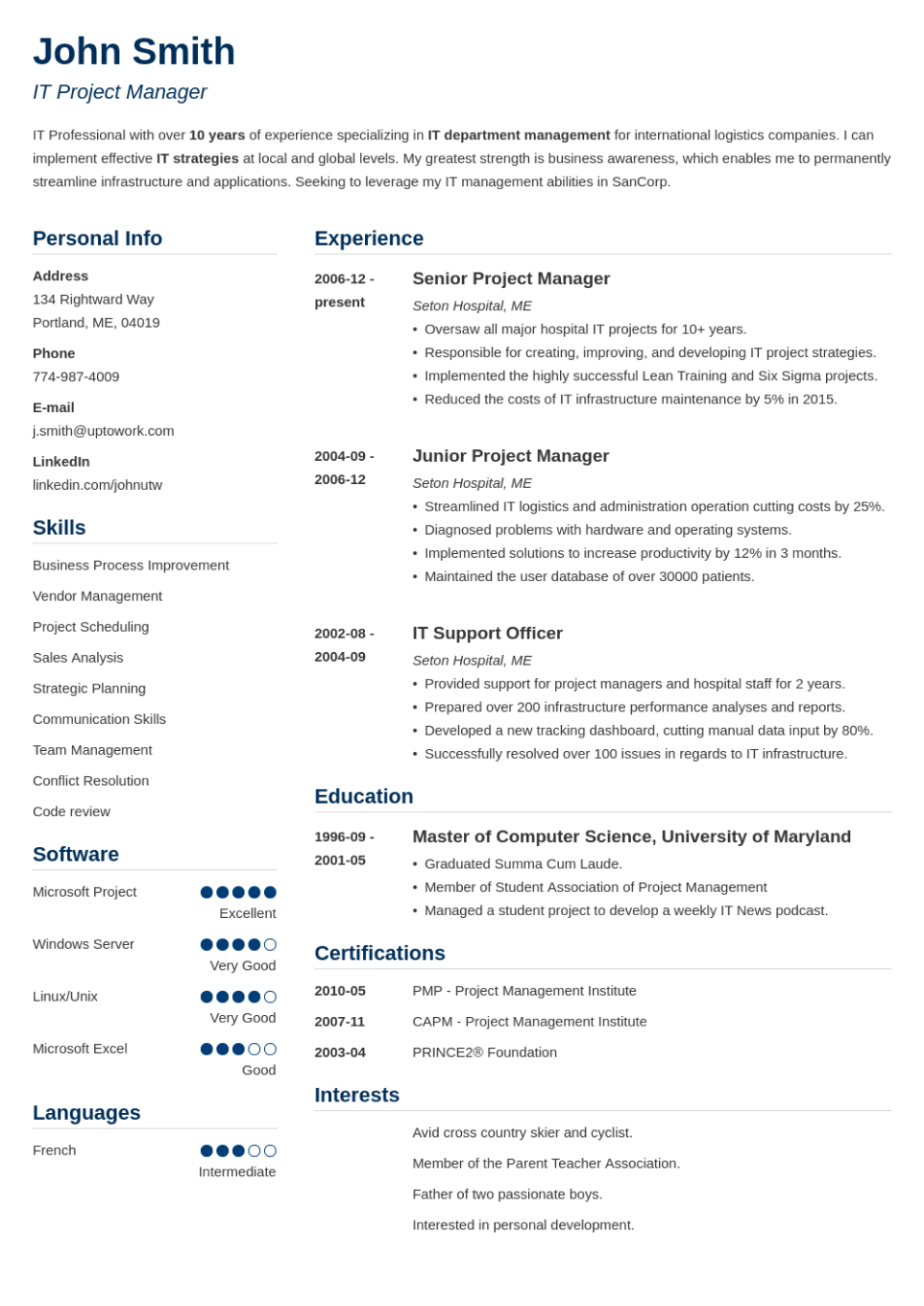 As the name suggests, Simple is a neat, elegant resume example to fulfill all your minimalistic requirements. It is a perfect resume for all the teachers, librarians, and receptionists out there to show their proficiency and high-knowledge skills. 
Also, it is different from the alternatives because it always has enough room to customize your accomplishments. Thus, if you have more to add, you don't have to worry about space at all; the customization depends on how you want your data to be scattered. Even if you are just a beginner, you can still ace your next job with a Simple resume. 
It is divided into two parts but doesn't define the boundaries which harmonize all the sections into one perfect resume. Also, after your introductory paragraph, come your personal and business information, skills, and achievements that go side by side with detailed experience, academic status, credentials, certifications, interests, etc.! 
7. Concept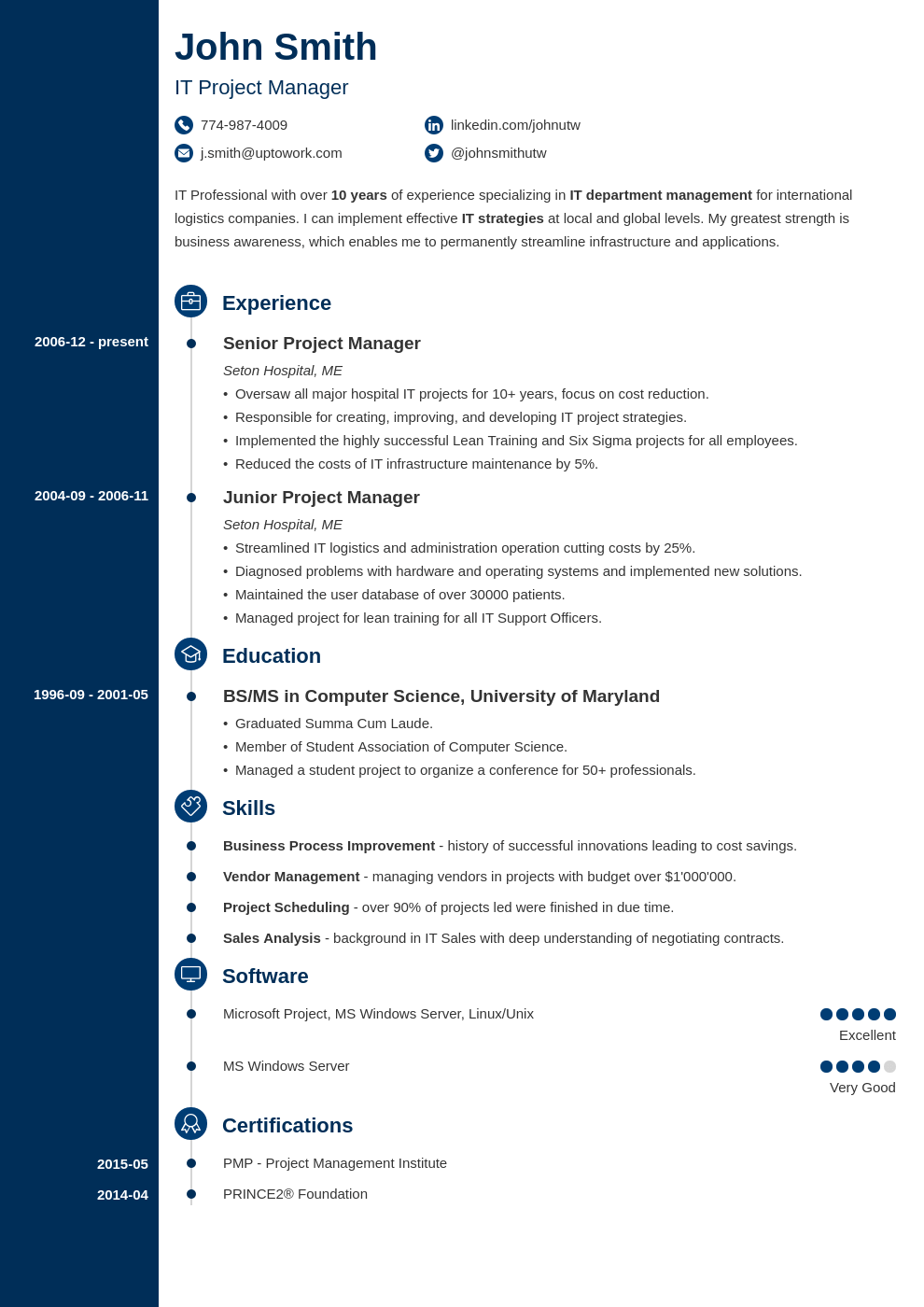 Enough of the simple designs; here's a resume template you would need if dates mean something to you. For bartenders, chefs, or those who may not have experience as medical or computer professionals, Concept is the resume example template that will stand out your credentials.
Not just that, freshers looking for a resume template high in quality but with decent looks, Concept covers it all for you!
A blue sidebar at the left to add important dates and also covers most of the page. It means you don't need to force yourself to fill the page, just write your expertise, and it will still look good and complete. 
Another thing that makes Concepts remarkable is the excellent use of infographics that are arranged in chronological order. Such an innovative, unique design makes the reader go through every part of the resume and, no doubt increases your chance to get selected!
8. Initials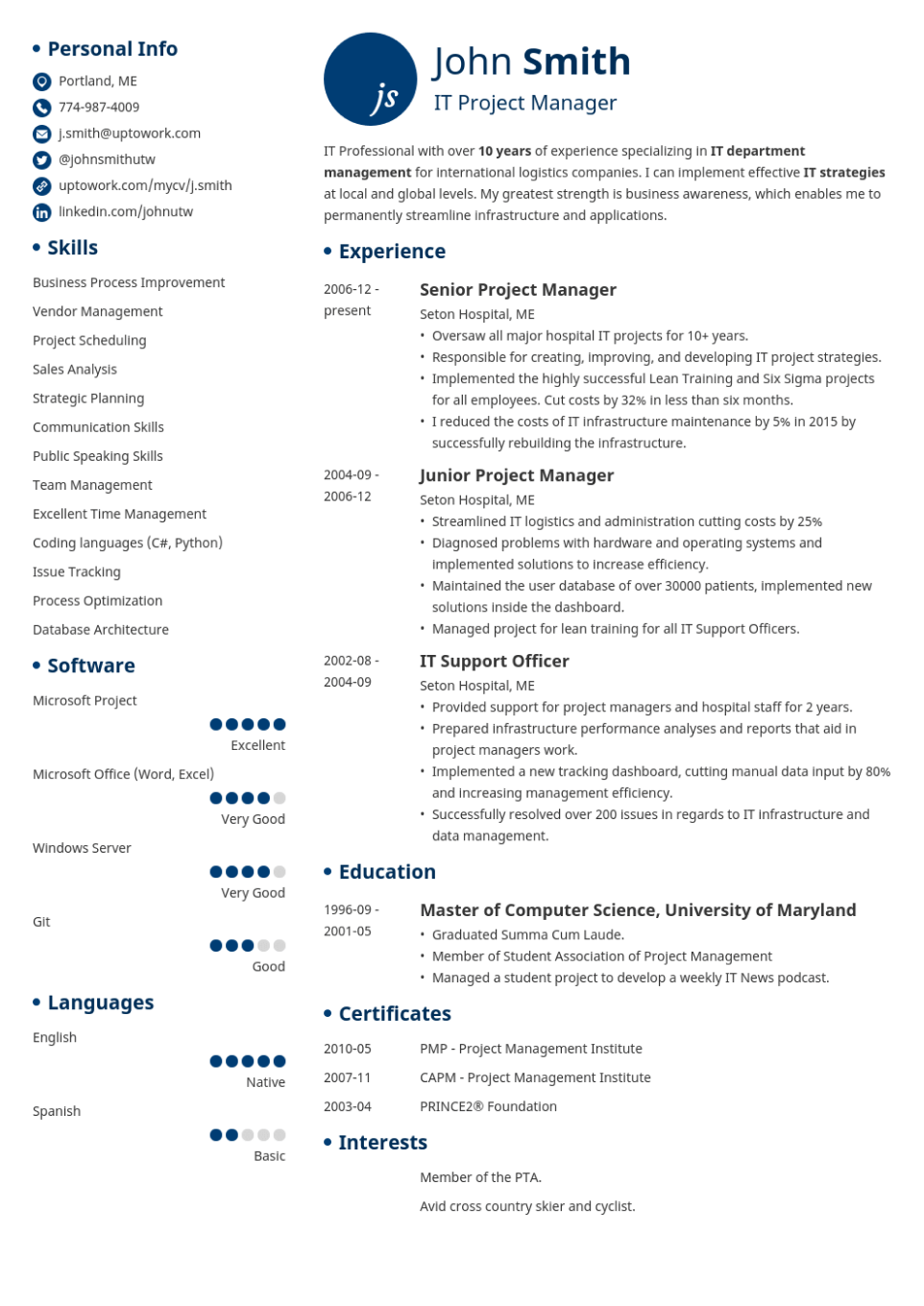 If you are tired of finding resume templates that just don't go with your style, you should try Initials. Unlike the alternatives, Initials give you a handful of unique features, and the most prominent of all is the figure right behind your name at the top.
Not a photo or logo of your brand, but just an image showcasing your initials will add a lot to your resume!
Another thing that features Initials as the best resume example is the infographics to your personal and business information. You can add your business address, contacts, email, social profiles – everything will have its unique icon listed at the top right of your resume! 
However, this doesn't mean that you'll lack an introductory paragraph; instead, it'll be right under your name, profession, and initials image.
The two sections Initials come with are not confined by boundaries giving you the freedom to mention everything you know of: skills, talents, languages on the left while experience, academic background, certificates, and interests on the right!
➡LEARN MORE: 9 Best Free Resume Builder Sites in 2021
9. Modern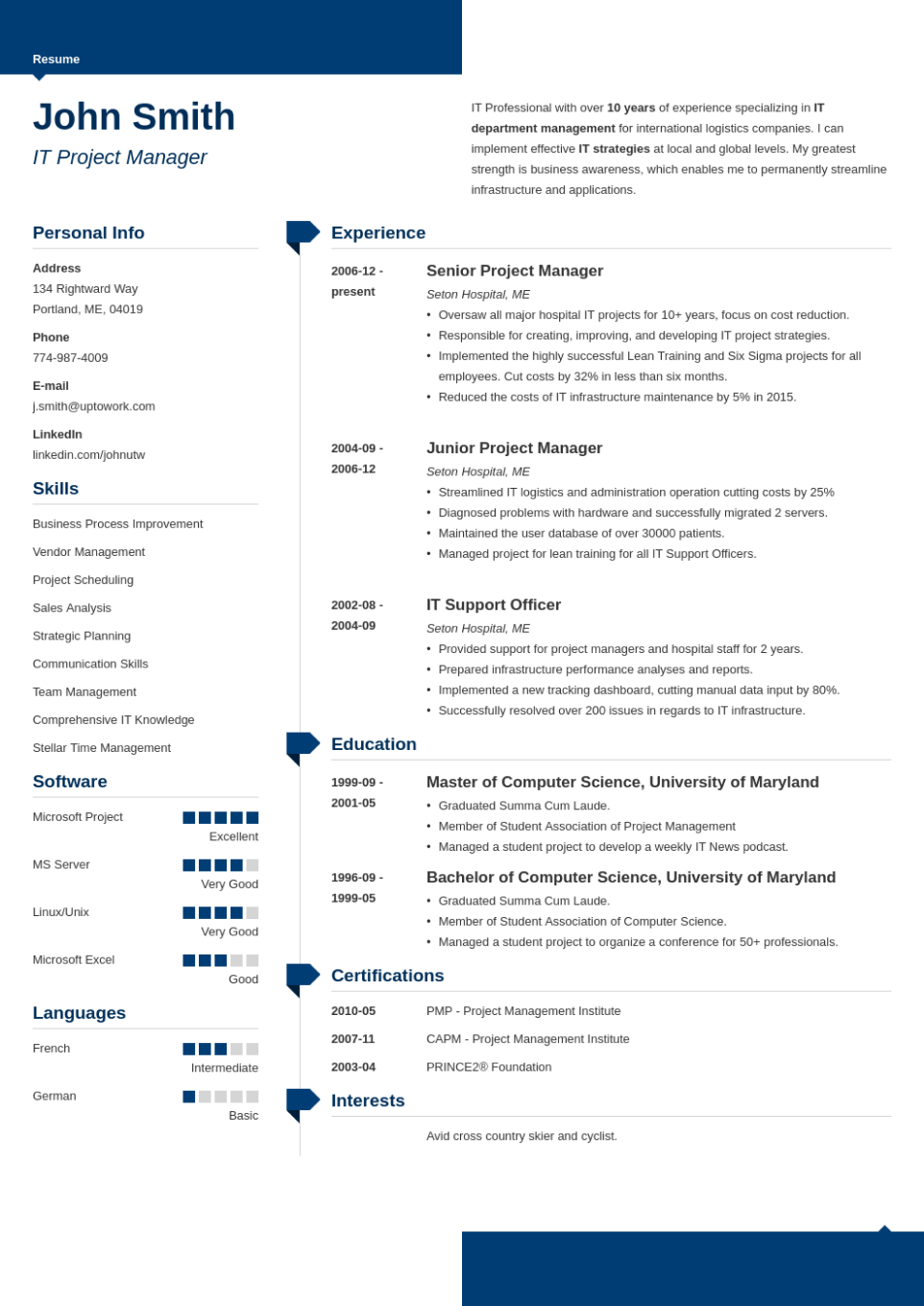 Modern is not just any other resume template; it comes with features no other alternative has! First, the resume is divided into sections, each for a different heading. This gives the resume a neat, decent look while allowing the reader to jump to the information he is looking for. 
It is again unique in terms of appearance with its classy two strips located at the top left and bottom right, balancing the color code all over the place. Another great feature is the ribbon infographics associated with each main heading, and thus along with the ribbon strips, Modern is a sophisticated, beautifully designed resume template! 
Your name and profession appear on the top left under the blue strip while the introduction places it, to the top right. The left section comprises personal details, skills, expertise, while the right section features experience, educational status, and certifications. 
10. Diamond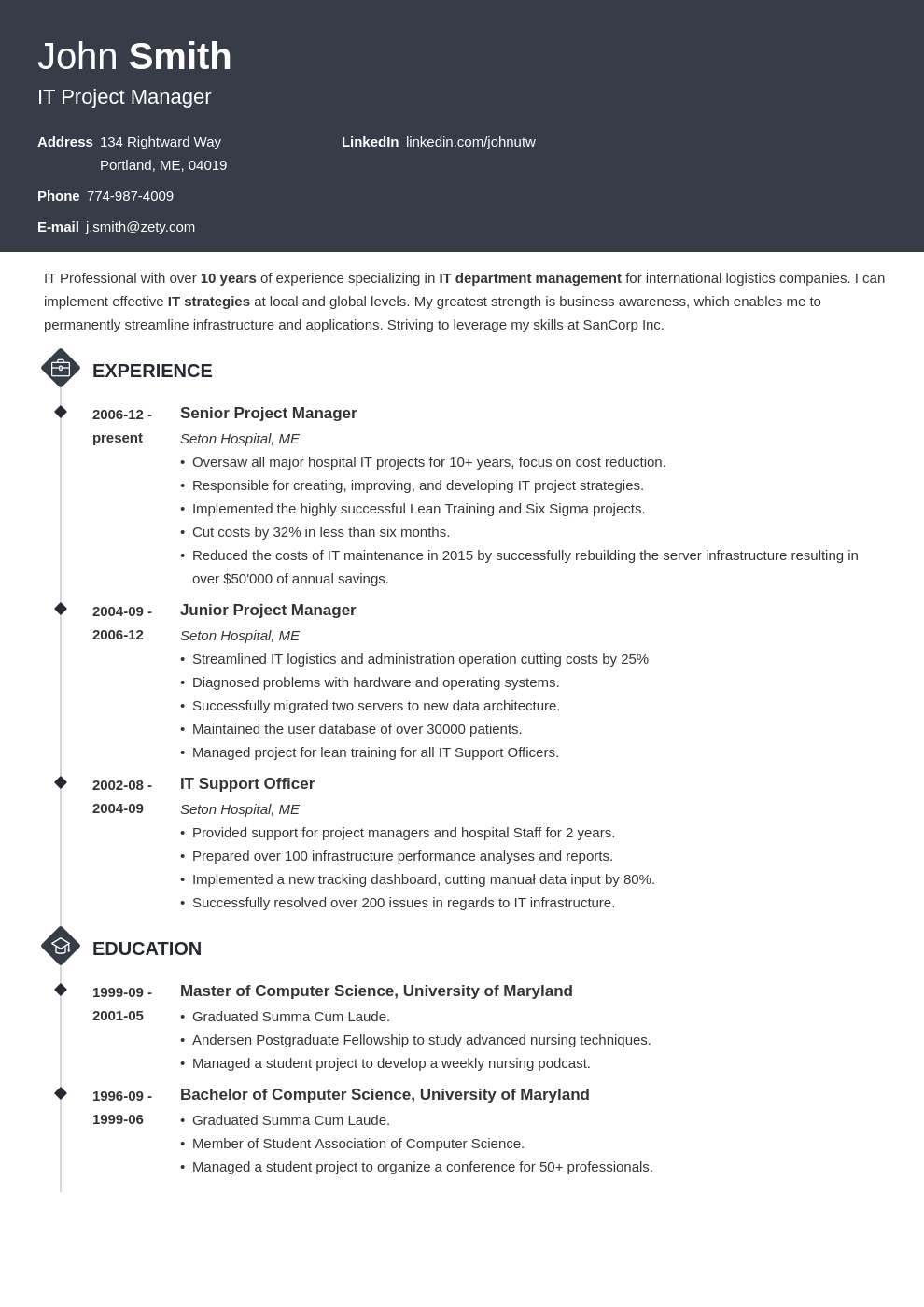 You cannot get enough of Diamond, for it has not just the looks but also remarkable peculiarities. It is a simple resume example, full of sophistication, and has no limit to the content. Not just that, it treats your personal information as the most important material giving it the top place along with your name and profession. 
Also, diamonds are divided into two sections, but contrary to their counterparts, they have their colors. The individual information stands at the top dark section, while the rest has a decent whitish color.
Everything in the white part is listed with their unique diamond-shaped infographics, and you can add more or less to experience, education, skills, certifications as per your liking!
11. Influx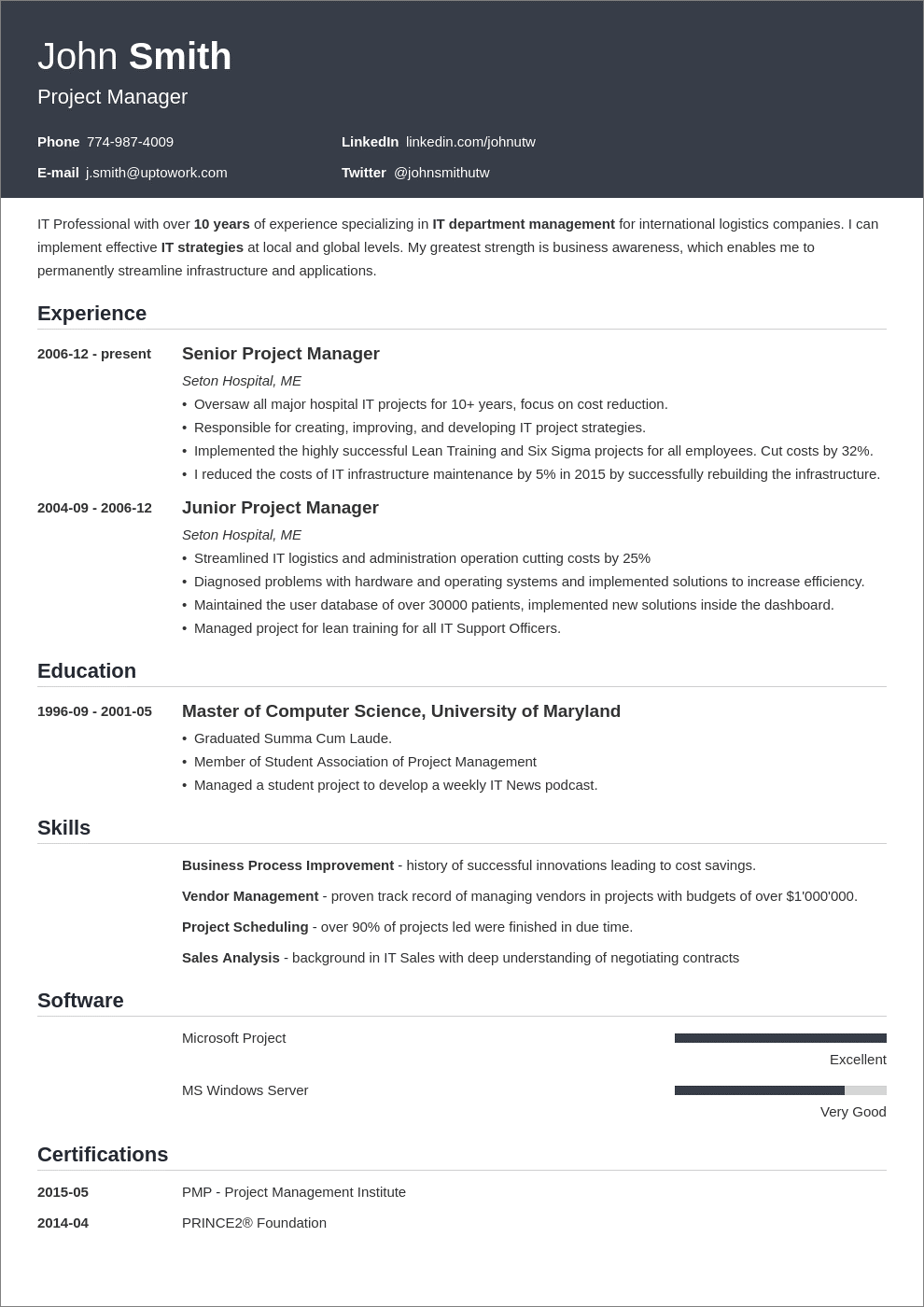 If Diamond stole your heart, then rest assure Influx will too. Its design is similar to Diamond; it also has the resume divided in a dark and light section with the name, profession, and other individual information written in the same place.
However, Influx is more of a to-the-point, simple resume template that focuses on content more than the graphics. 
It is an excellent resume example for personal bankers, sales managers, mechanics, or anyone who just wants to keep things straightforward without making things complex. You have more than enough space to mention all your accomplishments in whatever order you like from top to bottom.
You can add your recent job experience, academic background, interests, skills, certificates; all sections have single-line boundaries so as not to let things get messed up!
12. Cascade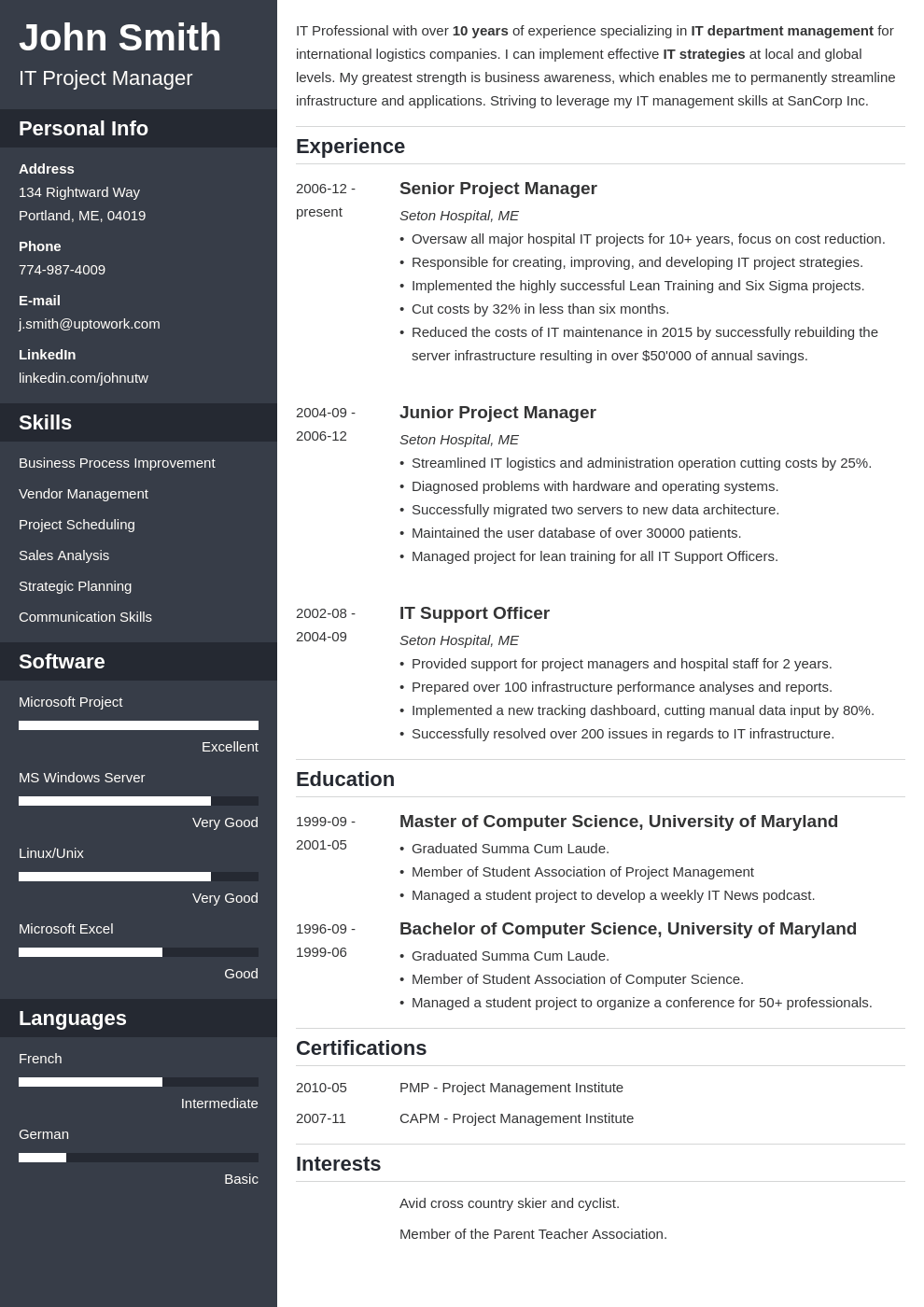 If you want to ace your next job interview, make sure you choose Cascade as your resume example. It is not simple and gives a strong impression at first glance. If you have an extensive list of skills, have multiple job experiences, or a series of scholarships, know that Cascade will suit your best!
It has two sections, dual-columns, each heading divided by visible boundaries; however, the resume still looks robust and straightforward. Also, an innovative design that doesn't look stuffed or messy, you should list every experience or skill you are a pro at. 
The left dark blue sidebar showcases your name and profession along with your email, business address, social links, and business website or portfolio. You can also add your skills and other expertise here, like languages or software you have an excellent knowledge of.
At the same time, the right side covers the experience, education, and other credentials, with each heading comprising two-columns to list in chronological order! 
Conclusion 
Whether you like a simple or robust resume, it is important to mention everything in a simple order. All the best resume examples mentioned above are exceptional on their own, but depending on how much skills and experience you have, you can choose a decent or strong layout. 
You can also decide how you want to scatter the information throughout the page. Just make sure you are not over-adding the content, for your resume should be anything but not hard-to-read!