A recommendation letter is a document used to give a positive point of view of someone, generally towards a new job position, a scholarship, a project, or simply a new client. This letter is really helpful because it works as a general review of the person's skills, values, strengths, etc.
In most cases, a good recommendation letter can make a difference in someone's application, so it is very important to know how to do it.
In this article, you will find useful information about tips to write it, answers to the most frequently asked questions, and even a free template so you can make one easily!
Structure of a Recommendation Letter
As the name suggests, a recommendation letter focuses on telling the positive aspects of someone. However, you cannot just give lots of compliments; there is a structure that you must follow so it can be effective.
DISCLAIMER: Here we present a structure that is common in most letters, and that can be used for lots of professions. However, you will find a big variety of templates online that vary on different things, like the order of elements and the format.
1. Sender's information
On the top left corner of the paper, write your basic information: Name, last name, title (if any) address, city, state, and zip code.
2. Date
Below that, write the full date of the day on when you are writing the letter.
3. Recipient's information
On this part, you can write the information of a person, an institution, organization, or a company depending on the purpose of the recommendation letter. For example, if the letter is for a scholarship application, you can write it for a specific department of the university or, if the applicant gave you the receiver's details, you can write it for a representative.
On the first, you will put: Name, last name, title (if any), institution/organization/company (if any), address, city, state, and zip code.
On the latter, you will put: Name of the institution/organization/company, department, address, city, state, and zip code.
4. Salutation
There are also different types of salutations; choose the best according to the case.
If you know the recipient's name, you can use: Dear Mr./Mrs, Dear Sir/Madam.
If you do not know the recipient's name, or if you are addressing an institution/organization/company, write: To Whom It May Concern.
Tip: On the salutation, always use capitalized letters and finish with a colon (:).
5. Body of the text
Now is where you will write the main things about the recommended person. Although this part can be intimidating, there is also a structure that you can follow to make it easy to write.
Introduction: Start in a positive way saying that you are pleased to recommend this person for the position/scholarship/etc. Then, mention who you are and your relationship with them and how do you know each other.
Description: Mention the person's strengths and values according to what they are applying for. It is advisable to ask the person for more details about the position/scholarship/etc. to give the correct approach. Remember that we are not trying to write lots of compliments without context.
Following the case of a scholarship, in that case, you can address the commitment as a student and fast learning ability.
Also, give examples and details that can prove those strengths and make them stand out from the rest. For example, how they managed to keep excellent grades while working, and how they developed a study.
Closing:  Finish with a strong but direct recommendation saying how this person will be valuable for the recipient and mention that you are able and willing to provide further information if needed.
6. Closing and signature
Use a word of closure like: Sincerely, Best wishes, Best regards, Respectfully Yours.
Below, put your signature (ask if it should be handwritten or electronic) and then your name.
Download Template
Following the structure explained above, here you can download our free template and customize it as you want.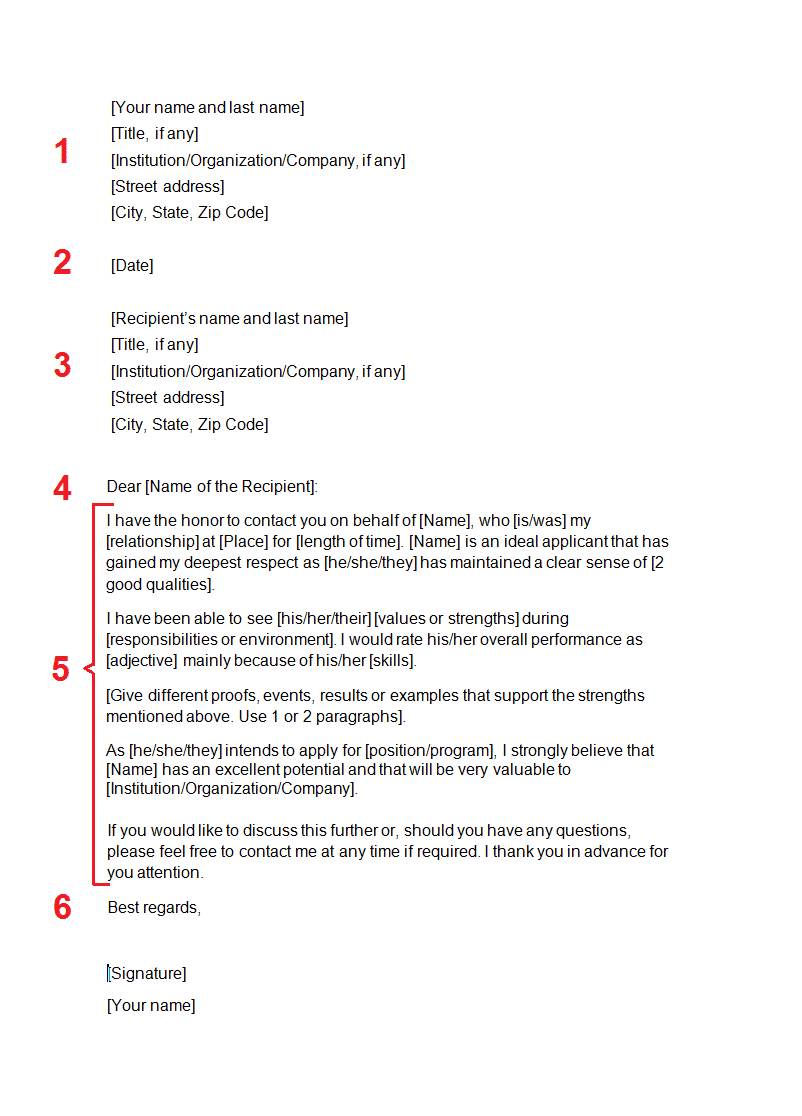 Format
If the letter will be printed, use a Serif font like Times New Roman (better when reading on paper).
If the letter will be sent by email, use a Sans Serif font like Arial (better when reading on screens).
Use a 12-point letter size, 1-inch margins, and the text aligned to the left.
FQA about letters of recommendation
Who should write the letter?
The letter must be from someone that knows the applicant well enough to give his word.
It is advisable to select someone with a higher rank or position because it will add more relevance to the statement. For example, a:
Professor, Coordinator, Director.
Former supervisor or boss.
Leader of an independent project.
Long-time client.
Can a letter of recommendation be from a family member?
Although it is not an explicit rule, most of the time the requirements of the letter indicate that it must be written by someone outside the family group.
However, if it is not mentioned, we still recommend that, since someone from your family will not be as objective as someone from your academic or professional circle.
How long should a letter of recommendation be?
This type of letter must be concise and precise, so it should not be more than one page. And, beyond that, it is advisable to use this amount of paragraphs in the body of the letter:
1 for the introduction.
3 for the description.
1 for the closing.
Should I design a letterhead?
No, you just only need to put your name, last name, title (if any), address, and zip code.
Does this template work for an academic and professional application?
Yes, the template can be used for both cases. You just have to adapt the body of the letter to each area.
For example, if the application is for a scholarship, mention only relevant contributions in the academic field. If, on the other hand, it is for a new job, mention the skills that favor the position.
The rest of the letter is the same.
Should the letter be printed or digital?
That will depend on the application requirements.
If it is printed, you must put your signature and give it to the person who requested it. If it is digital, you can print it, scan it, and email it.
In some cases, it is possible to use an electronic signature.