Have you ever wondered who was behind some of your favorite websites, products, and even the gadgets you use in your daily life? Behind the device you are reading this article at the moment is a highly dedicated engineering team that brainstorms on the next best and up-to-the-minute product offerings! 
Chemical engineers also account for a horde of products that we use every day. With a chemical engineering internship on your resume, you are bound to have a competitive edge over other candidates and pretty much become capable of getting a job anywhere, from private companies and pharmaceuticals to medical device firms and labs. 
Nothing can be more exciting and beneficial for students with chemical engineering majors than a chemical engineering internship. If you aim to pursue your career in the chemical engineering field, this is the ultimate guide for you!
What Does A Chemical Engineering Intern Do?
Chemical engineering interns get to interact with prospective mentors, establish meaningful relationships with their fellow coworkers, and learn the inside trade secrets of chemical engineering. 
Interns are usually responsible for providing field support or carrying out significant research. Most companies comprise of a team of experienced engineers and researchers who will teach you how to handle and work on many chemical engineering projects effectively. 
They also tell you about their contribution compared to the other chemical engineering firms in the industry. Moreover, if you're lucky you will land a paid chemical engineering internship.
Who are Chemical Engineers?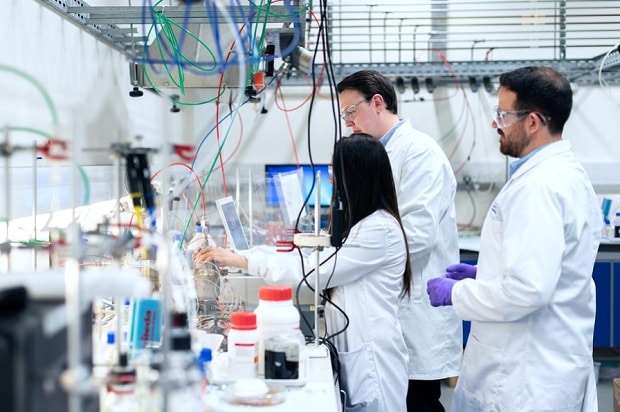 A chemical engineer is basically responsible for designing and creating chemical processes for a wide array of manufacturing products. A chemical engineering internship indeed enables you to learn and acquire a plethora of skills ranging from technical, scientific, problem-solving, and interpersonal. 
An internship in the field of chemical engineering is bound to make you more proficient in employing manufacturing designs and analyzing all the activities involved in engineering solutions effectively and efficiently. It will leave you with invaluable work experience and give you a real taste of what working down the chemical engineering line will be like.
What Can You Learn From A Chemical Engineering Internship?
Besides benefiting from excellent mentorship and networking with diverse people, chemical engineering interns will gain substantially from this internship. Everything they learn from the internship will help them in their professional lives ahead. 
As an intern, you can learn how to strategize and implement technical production, collaborate and work with a diverse team on mutual targets and goals, and communicate your ideas and visions successfully. 
These internships allow you to develop soft skills and hard skills and boost your ability to network. During the term of this internship, you will get to learn about some of the most universal and essential skills such as accountability, teamwork, time-management, and organization. 
Moreover, you will find yourself deeply engrossed in the chemical engineering world that will undoubtedly enhance and widen your knowledge in the fields of physics and biology.
➔ READ MORE: Environmental Engineering
Is It Necessary To Do an Internship in Chemical Engineering?
A chemical engineering internship is the first step towards pursuing your career in the field of chemical engineering. A reputable organization's chemical engineering internship can add weight to your resume and make it stand out even more. 
It can lead to valuable recommendation letters and potential job opportunities. If you are lucky, most firms even end up converting your internship into a lucrative full-time job. 
How Can I Get an Internship In Chemical Engineering?
To secure an internship in chemical engineering, you clearly need to have an excellent academic background and some kind of experience regarding projections and data analysis. A few companies prefer their interns to have an Engineer in Training (EIT) designation at a minimum. 
Also, while making your resume, it is vital to put down the right set of skills to demonstrate yourself as a worthy candidate. You must list all the relevant courses, skillset, and accomplishments for the hiring manager to see. 
For instance, some skills worth mentioning in your resume include time-management, technical skills, the ability to collaborate, work, and add value in a team setting, as well as the ability to execute and finish off a project.
Which Companies Offer Chemical Engineering Internships?
Several renowned companies like CF Industries, General Mills, Merck & Co., Inc., and Nestle USA offer chemical engineering majoring students a chance to work as interns for their company. 
Internships like these can pave the way for several other lucrative roles such as nuclear engineer, manufacturing engineer, and even quality manager. 
Where Can I Find a Chemical Engineering Internship?
Finding an internship in chemical engineering is not as tricky as you think. In fact, during your search, you will come across several organizations on the lookout for bright and intellectual interns to help them progress further, despite not having a primary focus in chemical engineering. 
Depending on your location, you can quickly come across several companies that have put up chemical engineering internship offers on their portals. 
For instance, Simply Hired and Glassdoor are two sites that actively post a wide array of internship offers, including chemical engineering internships. 
The Career Paths for Chemical Engineering Interns
An internship is a stepping stone as it will take you along further in your career. It prepares you to take up more and more responsibilities. It makes you strong and confident enough to take up the leadership role. 
Similarly, an internship in chemical engineering can substantially influence your future career goals. Most interns can secure good jobs in companies belonging to the energy and manufacturing sectors. 
After this internship, you will be suitable enough to pursue your career as a process engineer, advance further as a project engineer, and then of course be qualified enough to become a project engineering manager. 
You can also pursue your career as a chemical engineer, move on to senior process engineer, followed by a senior manufacturing engineer, and eventually a manufacturing manager. 
Average Salary for Chemical Engineering Interns
On average, a chemical engineering intern in the United States of America can make up to $33/hour, which amounts up to an average yearly salary of approximately $68,000. 
Even the bottom 10% of interns can earn up to $45,000/year, while the top 10% can make up to $101,000/year. 
Was this Content Helpful?