On many occasions, unforeseen events may occur on the day we had scheduled for a certain meeting. In case of an inability to attend, the best way to fix the mistake is to apologize by email. Still, you must know how to apologize for not attending a meeting and write an apology email.
Below you will be able to access different examples of professional apology letters, with additional sentences and exclamations that explain the situation that prevented you from attending the meeting. On the other hand, it is important to show that the apology is totally sincere.
What is an apology letter?
An apology letter is a method used, usually by email, to express why you were unable to attend a business meeting. These feelings must be written correctly to show that you are sorry for this absence.
This form of apology not only serves to warn that you will not go to a meeting or explain why you did not attend, but it is also a way to show respect to the other person, who will notice that you are truly sorry and, therefore, the work deal may continue to exist. A proper apology letter can even improve the relationship between both parties.
When to apologize for not attending a meeting?
There are times when we sincerely do not feel like attending a meeting that we had arranged, but this is not a reason to apologize. However, many people write apology letters making up excuses, which is not ideal since a relationship should be based on trust and truth.
In any case, there are several reasons why you may not have been able to attend the meeting, and you should apologize if you do not want your reputation to be tarnished. Apologize if you cannot participate in a discussion at the agreed time and date, whether for personal, work, health, or other external reasons.
Tips for writing an apology email for not attending a meeting
Write the apology letter before the agreed meeting time.
If you were unable to send the letter before the meeting, send it as soon as you can and as soon as possible.
Explain why you could not/will not be able to attend the meeting. This will show that you are interested in being part of the company and that you do not want to lose the relationship with the company.
Apologize.
Take responsibility for your actions.
Try to solve the problem by proposing a new meeting or suggesting other strategies or methods to fix the mistake.
Assure the recipient that this will not happen again.
Apologize again before finishing the letter.
End your letter with positive phrases.
How to apologize for not attending a meeting?
Unforeseen events happen perhaps at the least thought moments, so you should know that you must write a professional and serious apology letter if you can't attend a meeting. The big question is how to write a letter of apology.
Since it is your own mistake for not being able to attend the work meeting, you will have to write a sincere apology letter and show your regret for not being able to participate without "buts" that invalidate your apology.
In other words, you should say "I'm sorry," not "I'm sorry, but…". Just apologize and admit that you have made a mistake. On the other hand, remember to write in the first person, without including third parties, if this is the case (for example: "I'm sorry," not "We're sorry").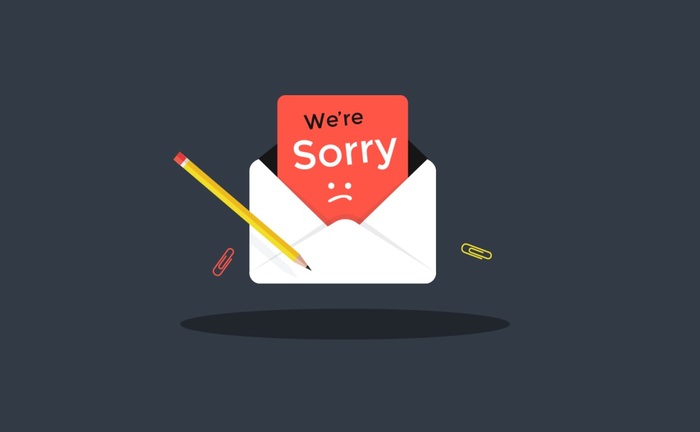 What is the structure of an apology letter?
We can distinguish three parts of an apology letter, which are fundamental to explain in detail and briefly what happened. The letter needs three indispensable acts to be well written:
Admitting the mistake: Acknowledging what was done wrong from the first moment is an excellent choice to start a letter of apology.
Empathy: Put yourself on the other person's side to understand how you would feel if they did the same thing to you. Apologize sincerely, and clearly state what happened and why you will not be able to attend the meeting.
Remediation: After clarifying what happened and apologizing, you must show that you are willing to make amends for the mistake made. You can propose to reschedule the meeting, reiterate your apologies, and end with a short positive sentence.
What is the format of an apology letter?
We have already mentioned the most important aspects that email should have. If we break down the letter, we can distinguish between several points that should be present in the email so that it is professional and complete.
Although there are several formats that we leave you below, there is a basic and orderly structure for this type of letter:
Greeting.
Gratitude.
Apology.
Reasons for not being able to attend.
Conclusion and positive note.
Closing of the letter.
Signature.
Email Format
The email consists of five essential parts for its organization, which allows for maintaining a rational and formal order.
The subject of the mail.
Polite greeting.
Opening and development of the letter.
Closing of the apology email.
Sender's signature.
Examples of apology letter subject lines
Mental blocks when writing the subject of an email are usually more frequent than we think since we know what the letter is about, but we do not know how to express it in a single sentence.
In the subject line, this sentence must be concrete and to the point, so it is important to include your apologies in this section so that people know what the letter is about.
Some examples of subjects you can place in the apology letter are:
"Please accept my apology."
"I made a mistake."
"Apologies on behalf of (sender).
"An apology from (sender)."
"My sincerest apologies."
References