Whether you are currently searching for a new job or are looking to progress your career, one of the best ways to increase your chance of success is by furthering your education.
So many companies now offer online courses, many of which are free online courses with printable certificates. These are a great way to boost your resume and give you further training to succeed on your desired career path.
If you want to take one, keep reading this article!
Best 5 Free Online Courses
Nearly half a million people around the world are using edX to further their education and career. Their courses are supported by top educational institutes, including the Massachusetts Institute of Technology, Harvard University, and Berkeley.
You'll enjoy online certification courses in a wide range of topics, including leadership, customer engagement, and project management. 
It's great for furthering your skills, and you'll enjoy engaging video lectures and dynamic lessons. Quizzes and assessments are used to test your knowledge, and you'll find that the lessons on this site can easily be applied to your everyday work.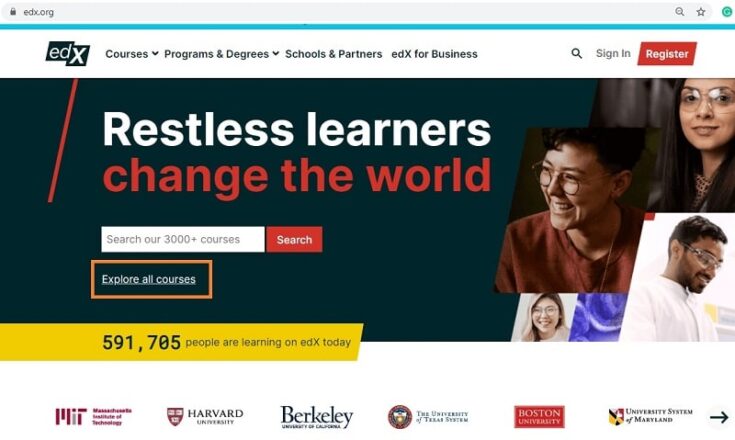 Alison offers a wide selection of free online courses with certificates, covering a whole host of industries and topics. Leading experts from around the world have put together the courses, which are available in technology, languages, science, health, business, and much more. 
There are also some great online certification courses for lifestyle topics, which you may like to enroll in for your personal enjoyment. Studying free courses at home allows you to fit them around your current commitments while still gaining a certificate to add to your resume.
Oxford Home Study offers a fantastic range of free courses, and all of their classes are led by industry experts and notable academics. Their courses are incredibly flexible, with no deadline to complete your free online courses with certificates. 
For anyone looking to further their career, consider their free management courses, which specialize in a whole range of industries. Whether you are looking to enter into hotel management, event management, or human resources management, you'll find a free course for you on this list.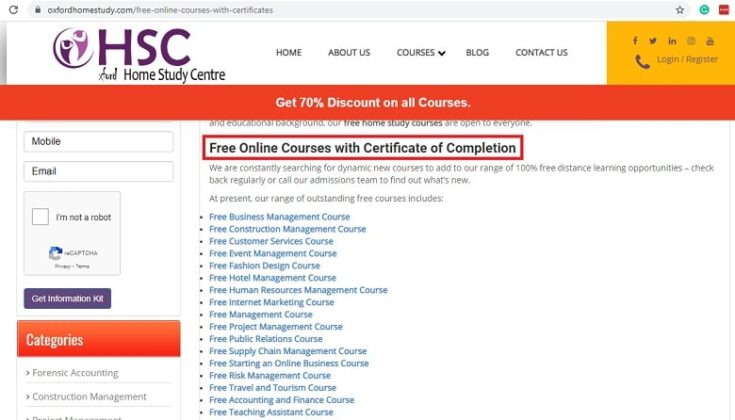 ➔ READ MORE: Best Accredited Online Colleges.
Udemy is one of the leading online course providers. While they are known for offering paid courses as well, they have so many free options to choose from, with over 800 of these classes offering free courses with certificates.
Their courses are ideal for anyone looking to expand their knowledge of technology or IT skills, with courses on web development and Excel. 
Just make sure you filter through their courses to ensure you will receive a certification from your lessons. All of their courses offer very modern and engaging classes for young students, and you'll enjoy the videos and interactive elements in each course.
The Open University is renowned for their high-quality online certification courses, as they cover qualifications all the way up to degree level. They offer introductory, intermediate, and advanced courses in various subjects, including maths, science, and technology. 
The free courses can be completed at your own pace and use engaging materials to keep learning exciting and stimulating. There's no deadline for most of the classes, and you'll find they start at a very low recommended amount of hours each week.
Benefits of Online Courses
There are so many benefits of opting to take part in free online courses with printable certificates. Firstly, you'll improve your resume and increase your chances of success in the future when applying for jobs or promotions. Another great thing about online courses is that you can complete them in the comfort of your own home. 
This is ideal for anyone who works shifts or unusual hours and can't commit to evening or weekend courses. Most of these courses have no deadline, so you can simply fit your learning around your other commitments. 
You will also be able to complete these courses in short chunks, which helps with concentration. If you've been out of education for a while, this can be much easier than returning to the classroom for a full day! 
If you are currently studying, you'll find these are an ideal way to further your industry-specific skills, which are sometimes overlooked in classroom settings. Especially for anyone looking to work in technology or computing fields, you'll pick up some great new skills online.
Further your Education Today!
Online courses are a fantastic way to increase your knowledge and skills, and with these free online courses with certificates, you'll have something to show for your time and effort. 
Make sure you check out the great companies listed above, all of which offer courses in a wide variety of subjects to fit everyone's interests. With the competitive job market today, you want to stand out from the competition, so equip yourself with as many skills and certificates as possible to help you succeed.
Was this Content Helpful?