State Farm is a well-known insurance provider in the United States, offering coverage for everything from home and auto insurance to life and health insurance. As a customer, it is very likely that at some point you have had a concern or question that you need to contact them about, or even need a State Farm insurance review.
This is why this company offers a safe way to communicate through its 1-800 hotline, which will connect you with a technical service representative who will solve your problem and answer any questions you may have.
This toll-free hotline is a convenient and accessible way to communicate directly with the company, especially when you don't want to visit a location or avoid online services. By calling the number, you can speak directly to a representative who can answer your questions, provide guidance and offer solutions to any problems you may be facing.
What is the State Farm 1-8000 number?
The State Farm telephone number in the United States is 1-800-STATE-FARM (1-800-782-8332). This number is available 24 hours a day, 7 days a week, and is a quick and easy way to contact the company for help with any insurance needs or to ask questions.
State Farm always has a customer service representative ready to assist the customer and guide them through their service and needs. No matter if this goes from obtaining an insurance quote or if you want to file a claim for any given accident.
Likewise, through this number, it is also possible to obtain detailed information and advice regarding your policy. In this way, the company, which has been selling insurance since 1922, seeks to provide the first-class service that characterizes this company.
Would it be possible to get a quote by calling this number?
One of the easiest ways to get a quote is to call State Farm's toll-free number at 1-800-STATE-FARM, the same number we told you about. When you call this number, you will be connected to an insurance agent who will guide you through the process of getting a personalized quote for the type of insurance you require.
This specialized agent will also provide a more personal service than is usually provided through the website. Thus, many users prefer to opt for an agent under the 24/8 1-800 customer service instead of getting a quote through the website.
Although it is worth clarifying that in case the quotation service is still at an advanced stage, it is most likely to be completed through virtual contact. In this way, a clear solution is sought for the delivery of the service and subsequent contracting.
How long does it typically take State Farm to resolve your problems when calling 1-800?
As with any telephone customer service center, at State Farm, the time it takes to resolve a problem can vary significantly. This is related to the nature of the difficulty and other factors such as the availability of agents at any given time.
Another point to consider is how long it may take for the service to be resolved. This is because sometimes solutions such as budgeting or policy questions may be resolved quickly, while others may require more detailed analysis and even the involvement of several support departments.
I should clarify that in the insurance industry, customer service is a fundamental part of the customer experience. Customers expect to be able to communicate easily with their insurance company and receive quick and accurate answers to their questions and concerns. In addition, customers want to feel that their insurance company supports them and helps them resolve problems effectively. That's why State Farm seeks to provide top-notch service to meet the needs of its customers.
What other methods of contact are there with State Farm?
State Farm offers several additional contact methods that customers can use to communicate with the company based on their needs and preferences. Some of these include:
Website: Customers can visit the State Farm website for information about products, services, and coverage, as well as to access their account online, file claims, and request assistance
Online form: State Farm offers an online form service on its website so customers can communicate with a customer service agent in real-time. In this way, they receive as much feedback as possible from users and respond to any concerns they deem necessary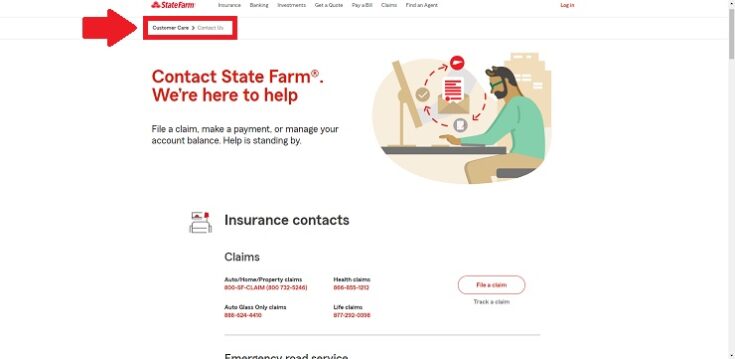 Social networks: State Farm has a presence on several social networks, including Facebook, Twitter, LinkedIn, and Instagram, where customers can communicate with the company and obtain information about products and services.
Mobile app: State Farm has a mobile app that allows customers to access their accounts online, file claims, pay bills, and get assistance anywhere and anytime.
Undoubtedly, this ease you will have with the company will convince you to continue having your policies with it. If with other insurance companies you have wondered why car insurance is so expensive, with State Farm you will not have a problem because they not only offer the best, but they will attend to any of your doubts.
Some people even say that State Farm is among the best five insurances for cheap apartment renters. Remember that they usually offer any type of insurance to their customers.
Contact them and wait for a response
Through its website, State Farm focuses customer contact on the feedback service for out-of-control solutions. It is in this way that when people leave their messages through the web service or provide the problems they have, a manager of the company will contact them.
In the same way, different methods of contact are proposed according to the inconvenience that the user has at the moment, seeking that there is no overload in any of its help services, but rather that all users who belong to their service or want to do so can get out of their problems.
State Farm's customer service staff is dedicated to providing friendly, professional, and efficient service at all times. Customer service agents are highly trained and experienced in responding to a wide variety of questions and concerns, from purchasing a new policy to filing a claim.
References