The American supermarket chain with more than 500 stores around the United States has taken a different stance on its schedule following the pandemic. Drastically changing its working hours as well as the hours in which users can enjoy their shopping.
While this was a decision made in 2020 at the height of the pandemic, it continues to draw the attention of thousands of users across the country who are wondering about the specific reasons for the change in hours and the new shopping hours at the supermarket. On the other hand, there is doubt that these limitations are still in effect in the middle of 2023.
It is worth noting that the question about the opening hours of some stores is more frequent than it seems. There are customers interested in other stores or chains such as
Walmart's
,
Popeyes'
, or
Tractor Supply's hours.
Why did Trader Joe's change hours?
In the middle of March 2020, Trader Joe's found itself faced with the decision of having to deal with a pandemic schedule to offer comfort to its users. That is why the supermarket chain imposed a schedule of 9 AM to 7 PM during the 7 days of the week, with no exceptions.
It also offered a specialized shopping time for senior citizens, where they could access the stores without being so crowded. Undoubtedly, an excellent decision to protect its users most at risk of being affected by the Coronavirus.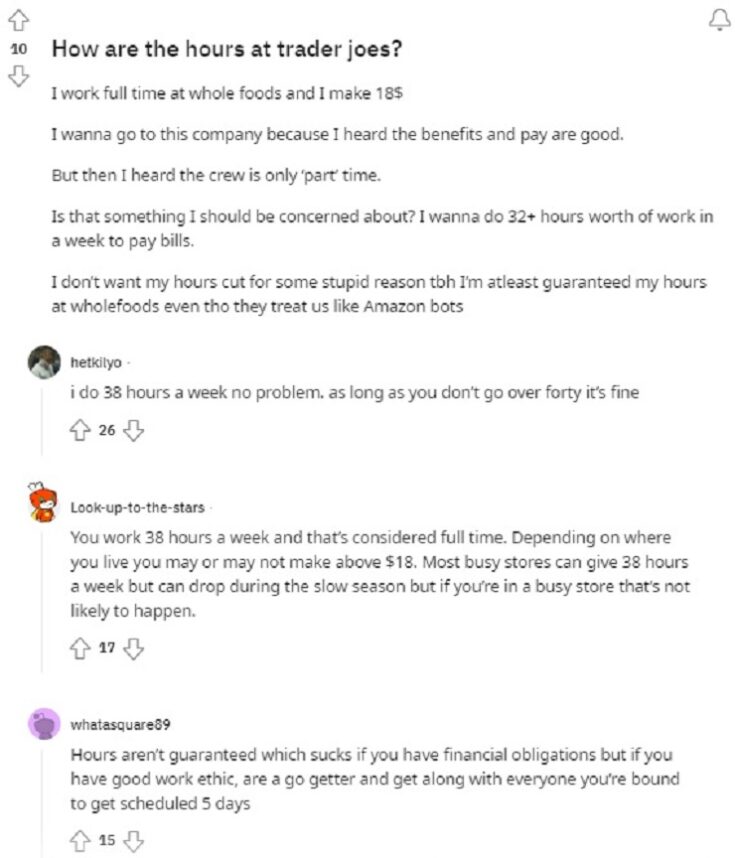 Likewise, since the pandemic has gradually diminished, the company has moved to the point where it is trying to return to normality. Eliminating these benefits as areas of its headquarters became free of cases of the deadly virus. Adapting to this new normal following the virus' attack on everyone's lives.
What time does Trader Joe's close after the pandemic?
By mid-2021, the company would decide to return to traditional working hours at its more than 500 locations around the country. Eliminating at the same time the hours for the purchase of senior clients. An understandable decision to return to normality, although criticized by those who considered that there was still a threat of the Coronavirus.
Since then, Trader Joe's working hours have been simple compared to other chains that tend to vary a lot in their working days. At Trader Joe's they work every day of the week from 8:00 AM to 9:00 PM, making a difference only on certain specific holidays.
Among the holidays that could change Trader Joe's hours are:
New Year's Day (Closed)
Easter (Closes at 5 PM)
Independence Day (Closes at 5 PM)
Thanksgiving (Closed)
Christmas Eve (Closes at 6 PM)
Christmas Day (Closed)
New Year's Eve (Closes at 6 PM)
What is the best day to go to Trader Joe's?
Once you have seen the schedule it is normal that the question arises as to what day is the best day to go shopping at Trader Joe's. Especially, if we consider how the products are arranged in the store and how after a busy day they could be difficult to find.
This is something normal in this type of convenience store, where workers do not arrange all the sections daily which can generate real disasters. This complicates the experience for users who shop on specific days. That is why it is usually recommended to shop at Trader Joe's on days when there are not so many people.
More specifically, on Mondays, Tuesdays, and Wednesdays, when the clientele rate is not as high and the sections are often better accommodated. Thus facilitating the buying process for users who dislike encountering so much trouble when shopping. It is worth noting that according to multiple users, the worst time to shop is on weekends, given the number of people that attend Trader Joe's.
What is the best time of day to go to Trader Joe's?
So, given that Mondays, Tuesdays, and Wednesdays are the best times to buy, it is time to analyze what are the best times to buy. According to many users, the recommendation would be to make the purchase between 8:00 AM and 10:00 AM. This is when the Trader Joe's team is reloading the rows of products.
A real advantage for those who are looking to purchase fresh produce at the time of their weekly shopping. However, this does ensure that all purchases made are fresh or in good condition, so you'll have to double-check what you're buying. So the actual schedule in which it is best to shop will depend on your possibilities and opportunities.
Likewise, this is usually highly recommended for those who do their vegetable shopping for the week. Since the vegetable shelves at Trader Joe's are frequently reloaded daily with fresh produce available to customers each morning. Plus, by shopping during these hours you won't be encountering long lines to purchase your favorite produce.
What day of the week does Trader Joe's restock?
Another point that many people take advantage of to shop for the week is to go to convenience stores at times when restocking takes place. This way you can make sure that the products you buy have expiration dates that are far away from when you buy them. That is, you can get fresher items or items that normally sell out quickly.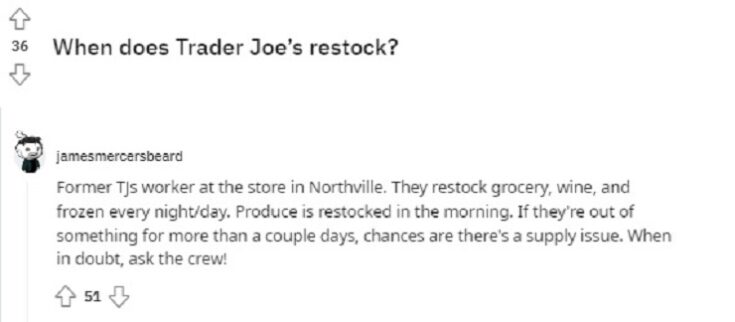 In the case of Trader Joe's, the restocking process is done daily, so rather than a specific day to make the purchase, it is recommended to go during the morning. During this time of the day, you will find products that usually run out quickly from the rows.
In the same way, it is normal that during the day the rows of products at Traer Joe's tend to be overloaded. Since the chain store receives daily shipments of products in bulk, they restock their shelves throughout the day. This is especially true for items that tend to run out quickly, such as flowers, fruits, and vegetables.
References
Was this Content Helpful?