The United States has very strong competition in the world of supermarkets, one of these competitors is Trader Joe's, which is located in 42 U.S. states, with a representation of more than 500 stores throughout the United States.
This year they are looking to continue expanding and taking their culture of affordable prices throughout the U.S., a task that not only stays there but also their products are usually from local and entrepreneurial chains.
Where will we see Trader Joe's this year?
Trader Joe's has been known for being a supermarket store that makes its own products in a very particular way and with unique flavours that attract people. This is coupled with the qualified staff they also have in their stores.
In this year 2023, they want to start in the best way and intend to be located in 4 specific states, which are the following:
Maryland
Utah
Oregon
Rhode Island
Located at 4429 Calvert Road. Maryland is getting ready to welcome Trader Joe's for the tenth time, it will open its doors on October 27th at 8 am, with a ribbon cutting ceremony and some special prizes for its first customers.
This space will be adjacent to the University of Maryland, a strategic location that will serve as a complement to the university, airport and soccer stadium that is centred in that particular area.
| | |
| --- | --- |
| Direction | Opening |
| 4429 Calvert Road, Maryland | October 27, 2023 |
| located at 11497 State Street, Utah | Opened March 3, 2023 |
| 16200 SW Pacific Highway, Tigard, Oregon | There is still no confirmed date |
| 425 South Main Street, Rhode Island | Opening in early November |
In addition, the building will have 11,000 square feet (ca. 10 a) of space, with more than 100 workers available to serve the city's public.
Continuing with these stops we move on to Utah, specifically Draper, where the 4th Trader Joe's opened its doors on March 3 and is located at 11497 State Street.
Oregon also hopes to join in these U.S. openings with its tenth location at 16200 SW Pacific Highway in the city of Tigard. There is still no confirmed date for this opening event.
Another one to consider is the Rhode Island location, whose front door will be at 425 South Main Street and will be the second establishment within this franchise to set foot in the Ocean State. This is expected to happen in early November.
Other Trader Joe's Openings
In addition to these 4 states, a Trader Joe's is expected to open in Sarasota, Florida. This is yet to be announced and will be located at 8473 Cooper Creek Blvd, University Park, FL 34201. It will be the fourth branch of the retail chain.
| | |
| --- | --- |
| Direction | Opening |
| 8473 Cooper Creek Blvd, University Park, FL 34201 | Date not confirmed |
| Glastonbury, Connecticut | Opening February 2, 2023 |
| 5245 Katella Ave Cypress, CA 90720 | Opening May 5, 2023 |
Furthermore, a Trader Joe's in the city of Glastonbury, Connecticut, opened on February 2 with a 9,500 sq. ft. facility and more than 80 store team members.
Similarly, on May 5, a new location opened in Cypress, California located at 5245 Katella Ave Cypress, CA 90720. With more than 70 people in its ranks and jobs.
Can we find Trader Joe's abroad?
This franchise or brand is entirely local, and we cannot find it currently in Canada, Mexico, Panama or any other country, as can happen with other chain stores.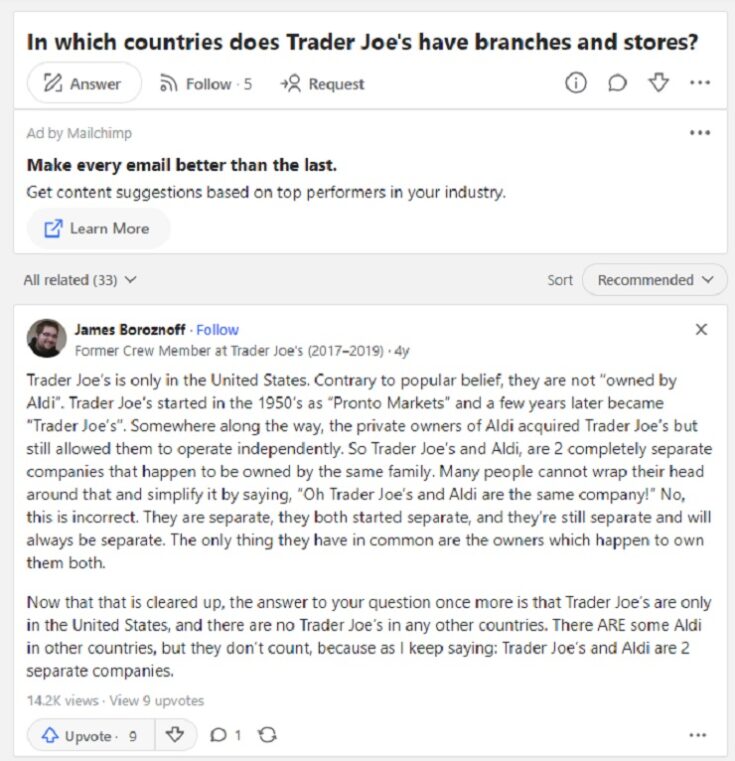 This however has not been a problem for the company, which in 2021 had annual revenues of up to $13.3 billion and had more than 50,000 employees under its care.
Being a retailer with significant representation in the United States and looking in the future to extend and publicize its most popular products abroad, which at least this year will not be the case.
In short, Trader Joe's is a great chain because you can find these foods
These stores continue to cause a great impact on the products sold in the franchise, one of its features is the sale of Mandarin chicken, located among the best-selling products, as well as the coffee and wines they offer.
Other items that we can highlight and that cause great interest are their tiny avocados, their famous unexpected cheddar cheese, their peanut butter and dark chocolate cups, their French onion macaroni and cheese, along with their chipotle vegetable quesadillas.
Trader Joe's, through their networks and website, invites not only locals but also foreigners to prepare their most representative dishes with the recipes they post on the page to the delight of their followers.
They seek that people can match what they sell to the public and do not hide their secret of sales and production of particular foods.
References