Google Pay is a digital payment application that has positioned itself as the favorite of many users in the world. Therefore, every day more and more stores include this payment method that facilitates many transaction processes and lines.
However, companies like Walmart (considered the largest retail chain in the United States) refuse the possibility of including Google Pay in their payment methods.
Although they have their reasons, here we will tell you the exact reason for this company's refusal of such a modern payment method. In fact, the answer we will give you will also answer the question: "Does Walmart have Apple Pay?".
Why does Walmart not take Google Pay?
While Google Pay is a mobile payment service that allows users to store their credit and debit card information on their smartphones and make payments at participating merchants with a single tap, Walmart is one of the retailers that has not integrated Google Pay into its payment options.
This is because Walmart has its own decentralized digital payment service known as Walmart Pay, which seeks to pose as a direct competition to what is offered by Google Pay in its service, i.e., that Walmart accepting Google Pay would be directly supporting its competition.
Thus, the store chain offers its users the possibility to make their purchases and continue to enjoy the best prices while paying with contactless methods, which are presented as the technology of the future due not only to its speed to pay but also to the security that this provides to the user.
What is Walmart Pay? The reason Walmart does not take Google Pay
Walmart Pay is presented as a mobile payment method that seeks to revolutionize the way typical users of this retail chain shop, being a payment platform that allows customers to pay for their purchases through their smartphones in a very fast and secure way.
Since its appearance in the market more and more users are turning to this platform to make payments at Walmart. Leaving aside the burden of having to carry cash or cards when shopping, they can do it all through their cell phone, with a truly simple and innovative process that closely resembles what is presented by platforms such as Google Pay.
To pay with Walmart Pay in any Walmart store the user must follow the following process:
Once you are at the checkout you will need to open the Walmart app and select Walmart Pay
Scan the QR code presented at the cash register looking to complete the purchase
In case you have Touch ID or any security method enabled on your device, you will need to confirm the purchase. That is, you will have to approve the payment method as valid to purchase
The payment will be processed and charged directly to the payment method previously chosen by the customer.
At the same time, different payment methods can be set up within the platform, so you will be able to choose the right one in a matter of seconds.
Walmart Pay is not only convenient for customers but also secure. The app uses advanced encryption technology to protect customer's payment information, ensuring that their transactions are secure. So it's no wonder it's an option that many Walmart customers consider when it comes to accelerating the checkout process.
How to set up Walmart Pay?
In case you are tired of carrying cash or cards to pay at Walmart and are willing to get into these virtual payments, you can activate Walmart Pay. This is simple in a process that can be done in a few steps to start paying at Walmart from a decentralized contactless portal.
The first thing to do is to download the Walmart app on your device and log into an account. Once you have done this you will need to go to the "Walmart Pay" section presented in the app, where you will be able to create your payment profile within the contactless system. Here you will be able to add your preferred payment method such as debit or credit card.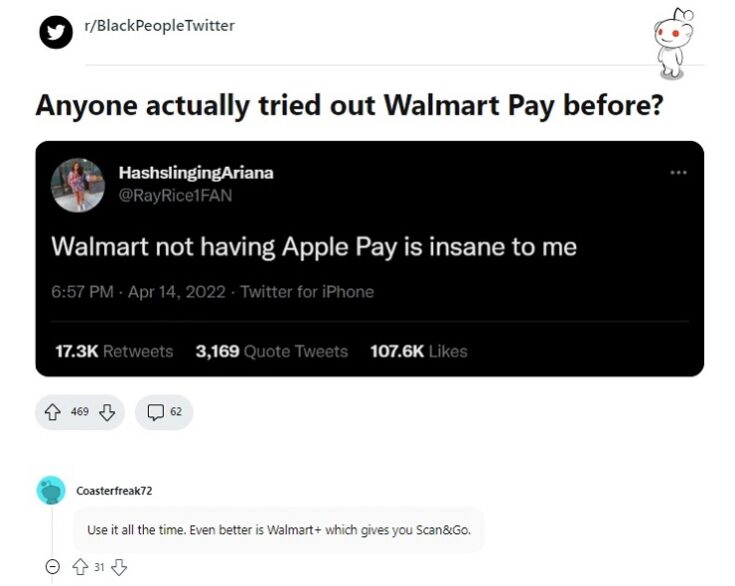 Once you have done this, you will be able to start the contactless payment at any of Walmart's branches without any problem. You can also activate Touch ID or Face ID on your mobile device to increase the security level of your cards. To pay with Walmart Pay you will only have to register the payment process at the cash register by scanning the QR code present there.
Payment methods accepted at Walmart
In case Walmart Pay doesn't catch your attention you will still be able to resort to the traditional payment methods presented at the retail chain. As one of the largest retail chains, Walmart has a variety of payment methods in an effort to make the shopping experience as convenient as possible for its customers.
When it comes to card payments, Walmart accepts all major credit and debit cards, including Visa, MasterCard, American Express, and Discover. This makes it possible for anyone to make card payments regardless of the bank to which they are subscribed.
Note that you can Activate the Walmart Visa Gift Card to use it as another payment method. That said, some may wonder if it is possible to convert the Walmart Visa Gift Card to cash, but that is another process.
In addition to traditional payment methods, Walmart also accepts payment via electronic checks and money orders.
Customers can also pay with cash at any Walmart store, which can be especially helpful for those who don't have a bank account or prefer to use cash for their purchases. Walmart offers deferred payment services for customers who want to make a purchase, but cannot afford to pay the total amount up front.
References