One of the priorities that must be met in stores, as well as in renowned sites and platforms, are security measures. And just as in many places, Walmart covers all the possible problems that may arise when browsing its virtual section.
It is possible that you do not know the reasons why this system is applied or is of vital importance in the protection of each user's browsing. Therefore, this informative compilation will be helpful for you to understand this tool, its benefits, and how to use it.
Stop researching Walmart pharmacy hours, whether Walmart accepts Google Pay, or how to cancel Walmart Plus for now. It's time to verify your account and make it more secure.
What is Walmart's two-step verification?
Walmart's two-step verification (or 2SV) is a security measure that requires users to validate their identity before accessing any information on Walmart's networks or when using its applications. This verification typically involves the use of two main factors.
First, something the user knows, such as a password, and then something the user has, such as a security code sent to their cell phone or email. This helps protect Walmart accounts from unauthorized access and strengthens online security.
The importance of following the necessary steps to enable Walmart's two-step verification also lies in further protecting an account's personal information. Likewise, all types of financial data are protected by this security measure.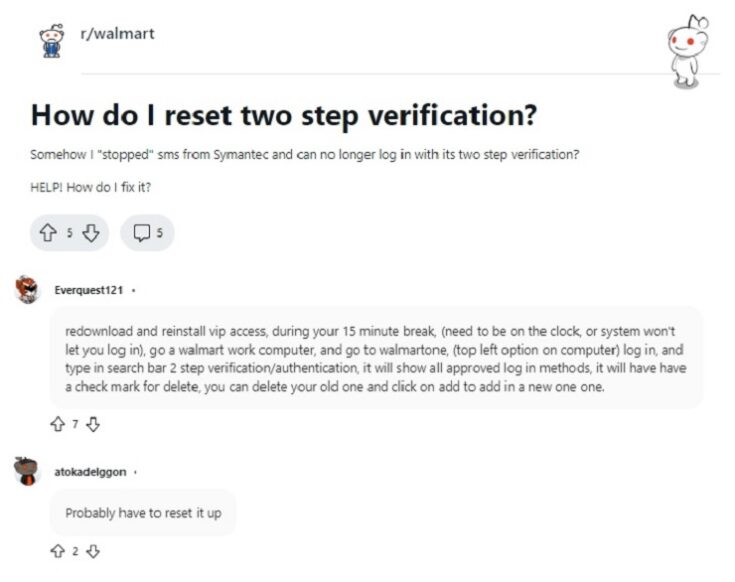 Some of this data protected through verification may be sensitive sources or information, such as bank accounts or social network details. Two-step verification provides an additional layer of protection for accounts, even if a password is breached.
The confidentiality of the data needed to be able to access the next plane after two-step verification is what makes this method successful, protecting users from cyber attacks, as well as the platform and potentially valuable information on it.
Walmart Online User Policy
Walmart, on its online shopping website, has terms that detail the rules for making use of its platform, such as the price match policies they have that allow customers to purchase products at the same prices offered on other online retail sites.
Walmart maintains privacy and security policies for all its online users. In their Privacy Notice, they detail how they respect the privacy of information and how they provide a better and safer user experience, including, of course, the 2SV.
If you have additional questions or concerns about Walmart's online user policies, it is recommended that you consult the full terms and conditions on Walmart's sites or contact a Walmart representative directly for additional assistance.
Walmart Terms and Conditions
Walmart, within its operating policy, applies terms and conditions covering the most important areas of the company and its respective platform. Within them are detailed the processes and measures that the chain follows when dealing with the security of its customers.
Some of these policies of general use and indispensable application are:
Returns policy: states that some items are not eligible for returns. Customers who make returns may receive a cash refund, depending on the terms and conditions of the purchase
Terms and conditions of purchase: these regulate the use of Walmart's online shopping platform, detailing the rules that must be followed to make proper use of it
Terms and conditions of service: These conditions regulate the use of the services offered by Walmart Family Mobile. This also integrates different services such as the Walmart Money card system, and Walmart+ Delivery & Pickup.
Pricing policy: Walmart offers an online price-matching policy that allows customers to purchase products at the same prices offered on other online retail sites
In addition to these, there are conditions designed for interaction via the Internet with the official platform. These clarify the respective permissions that the company requires to grant certain benefits, among which, of course, is the two-step verification.
References
"Home." Home, https://one.walmart.com/content/usone/en_us/company/programs/home2SV.html. Accessed 11 May 2023.

"OneWalmart Site Policies." OneWalmart Site Policies, https://one.walmart.com/content/usone/en_us/company/site-policies—support.html. Accessed 11 May 2023.

"Walmart Privacy Notice." Corporate – US, 1 Oct. 2015, https://corporate.walmart.com/privacy-security/walmart-privacy-notice.