Walmart represents one of the most important retail stores in the United States. Every year, they seek better options and customer benefits to highlight and keep their loyalty to the maximum. This is how it is possible to know the price of a Walmart eye exam, to know the Walmart pharmacy hours, or how to send money orders with Walmart; definitely, it offers great things to its customers.
It is worth mentioning that, in addition, it has unequaled offers for later payments or installments. However, we must consider a series of facts when making this request, and to manage it, we must have a good financial history to support us.
Walmart and its relationship with Afterpay
Recently, Walmart has been growing considerably in terms of both branches and new customers, and payment options have been in total transformation, from debit cards and credit cards to cash and Afterpay purchases.
This last option is quite popular, and they have been continuing to apply it with several related platforms. One of these applications involved is Afterpay, which is responsible for lending money to pay for services.
This is finalized within at least six weeks and is usually applied for small purchases or service payments. Unfortunately, Walmart does not work with this platform today, but it is being developed with many others.
How can I buy now and pay later at Walmart?
Here the retail store with branches also in Mexico and Panama that give you the option to pay through the following applications:
Quadpay
Affirm
PayPal
CareCredit
Each application comes with a different benefit and different options, the amounts granted depend on the activity you have and the services provided by the application, as well as the payment times.
| | |
| --- | --- |
| | Description |
| Affirm | Option to pay from 3 to 12 months |
| PayPal | Payments in 4 installments. You can opt for purchases from $30 to $1500. |
| CareCredit | Credit for purchases of medicines and medical services. |
| Quadpay | Four installment payments over a six-week period. |
Affirm
The platform gives you the option to pay from 3 to 12 months, if you want to do it earli,er it is also possible and without any problem. To activate this option, you must enter their website, and there you will be asked to select Walmart.
After that, you can select a scan code in the store for subsequent payment in installments. If the purchase is online, in payment options you will see Affirm as the method of choice and you will have to fill in the information of interest.
PayPal
Another option in this list is PayPal, which works depending on the financial activity that the person has had in their account, payments can be executed in 4 installments (the normal is that).
This presents shopping vouchers that can range from $30 to $1500, ideal for any purchase at Walmart. In turn, if you wish to pay in more installments, the interest could increase a little more.
CareCredit
It is also important to discuss CareCredit, a credit granted for the purchase of medicines and medical services you need, this is essential due to the high prices of medical services in the country. An option for this is always helpful and Walmart allows you to use this in the best way to get the medicines you require.
Quadpay
Quadpay works for you to split your payment into 4 installments over a period of 6 weeks. It can be used with any type of Visa card. This option can be used online or in-store. To opt in, you must download the Quadpay app and locate Walmart within the app using the search function.
It is always recommended that you assemble a shopping cart, either physically or online and at checkout locate the Quadpay option, so that it generates all the information required to cancel. At this point, generating a cart will help you to have established the total amount to be paid, which will be financed by the application.
What applications are not accepted by Walmart?
In addition to Afterpay, this retailer does not accept certain applications for credit or installment splitting. At this point, Sezzle and Zip are also not allowed by the staple giant.
This is because they often do not complete agreements for their use or are simply not used specifically for this.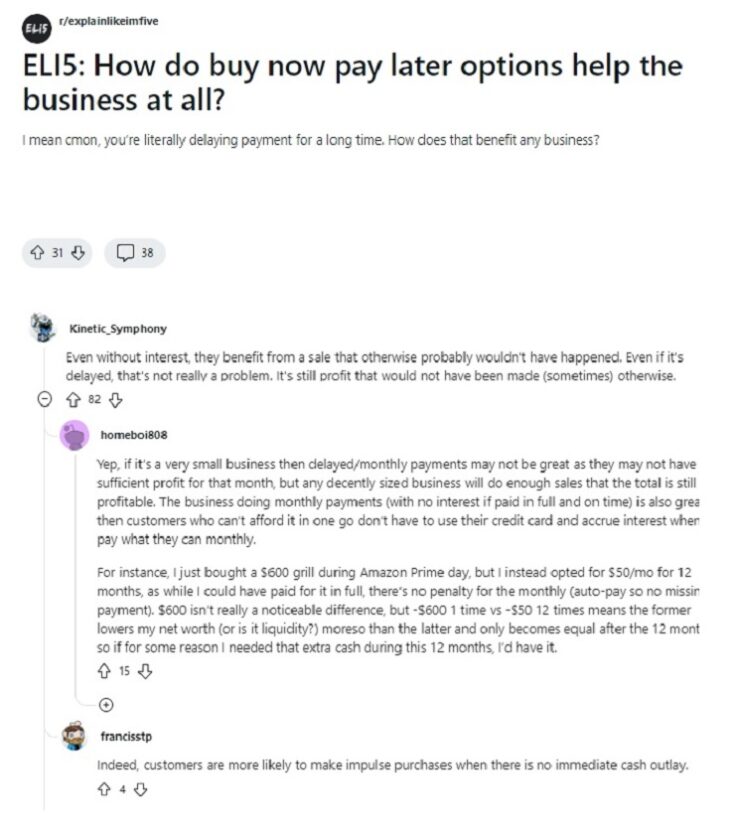 Of course, the option should always exist to provide opportunities for the shopper. Walmart has been known to give good shopping alternatives to the regular consumer and those who are not.
What products can I purchase with this buy now and pay later option?
There are several products that we can purchase with this buy now and pay later option. Currently, these items can be toys, video games, products for your baby, musical instruments, and jewelry, among other things.
On this topic, not all Walmart items can be purchased with this option or loan and installment applications. The following items cannot be purchased this way:
Alcohol
Pet food
Baby groceries
Personal care items
Now, if you are wondering if Walmart generates any interest for this payment method, the answer is that it does not generate interest for your purchases, either online or physically. You only have to cancel what is established by the applications and the installments to be paid.
Keep in mind that Walmart is not responsible for the payment methods used nor for any subsequent problems. These applications are mutually related, but in customer service matters they are freely separated.
References